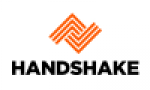 B2B Commerce is how every product arrives on every shelf, in every store.

B2B is different. It's complex. It's about relationships.

We believe that the experience of B2B buying and selling can be better. That suppliers can build even stronger relationships with their customers.

We've made it our mission to help manufacturers & distributors grow their business by making it easy for their customers to order the right products from them, in-person and online.

The Handshake B2B Commerce platform makes buying and selling simple, intuitive and mobile. Sales reps and their customers can rapidly place orders on any device, anywhere, anytime.

Pen and paper, faxes and phone calls - your time is over.

As a Front End Engineer at Handshake, you'll build beautiful and responsive web applications that make use of our RESTful data-services. Working on the same team as Product Managers, Designers, iOS and Android Engineers, your applications will be a critical part of how products reach shelves worldwide.
Handshake connects great brands to local retailers and their customers. The software we build replaces the antiquated paper-and-clipboard-based systems used by brands and their salespeople, allowing for more products to reach more retailers with less cost, at greater speed and with less environmental impact.
The Problems You'll Solve
Handshake Engineers solve difficult technical problems to make the lives of our users easier. Some of the biggest challenges our Front End Engineers are solving right now are:
Handshake Direct
Our iOS app replaces printed product catalogues, clipboards and order sheets, allowing sales professionals to quickly search a complex web of customers and products, and to even more quickly place an order for a new or existing customer. Handshake Direct extends this functionality allowing stores to buy directly from all their brands through a web application that's improved daily by Front End Engineers. In addition to allowing our customers to customize their experience without their own web developer, we're also working on building advanced search and recommendation capabilities.
Integrations Management
Handshake has to seamlessly integrate with a complex ecosystem of sales software that brands use to manage their customer relationships, accounting and logistics. Working closely with Python Engineers, our Front End Engineers are helping to take the process of integration from months of programming to minutes of configuration, mapping, importing and exporting.
You're a Great Candidate If You ...
communicate and collaborate well

take a pragmatic approach to programming

care about technical excellence, but care even more about business value

are a seasoned JS expert

have experience with one or more front-end web UI frameworks (React/Redux, Backbone, Angular, etc.)

have worked with git

know your way around a *NIX machine
The Benefits of Working at 'The Shake'
Comprehensive medical / dental benefits.

Competitive salary / equity

Spacious office in NoHo with plants, a shower, a fully stocked bar and plenty of bike parking

Unlimited Vacation and PTO
Find more startup and tech jobs in NYC