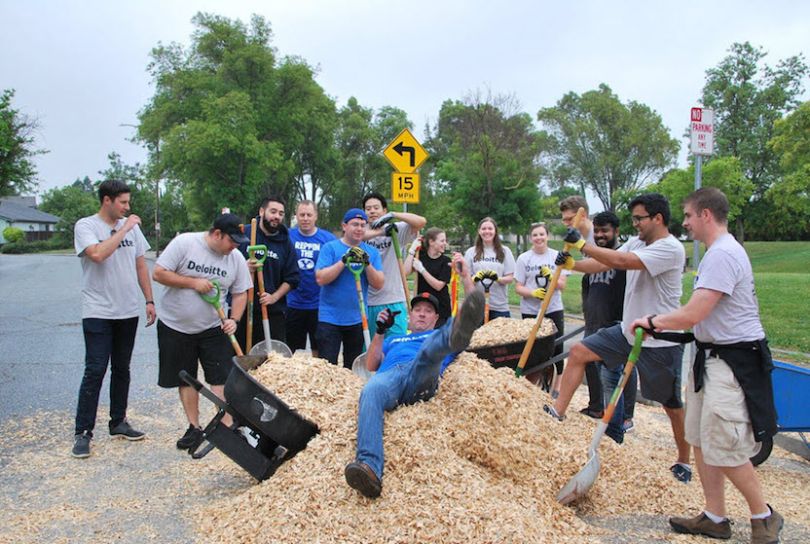 Cooking competitions and regular games of bingo are probably not what comes to mind when you think of working at Deloitte — one of the largest professional services organizations in the world. But that's a big part of what makes it unique to work at Deloitte Digital, a division of Deloitte Consulting LLP that provides creative digital consultancy for clients and projects of all sizes.
In 2012, Deloitte Digital launched "studios" around the globe as a way to offer the flexible, creative work experience of a startup or agency with the credibility and proven track record of a major corporation. The result is a company culture that attracts some of the best creative talent out there.
Kate Law, who manages brand sponsorships and social media for Deloitte Digital, has been with the company for five years, and has held roles across multiple departments within the studios. She gave us a behind-the-scenes look at what it's really like to work there.
What initially attracted you to Deloitte Digital?
Deloitte Digital had only been around for about a year and a half when I joined. The brand was new, and I was looking for a change. I specifically was looking for a company where longevity was possible and where opportunities would be plentiful.
It turned out to be so much better than I expected. Coming from the hotel industry, I had so much to learn. So many people here wanted to help me succeed and grow, and I had never had something quite like that before.
Which words would you use to describe the team and why?
For starters, leadership is very accessible. We can reach out to them at any time with anything. I remember I wanted 10 minutes to talk to the big boss, and he gave me more than two hours — he even skipped a few meetings to speak to me.
Secondly, we like to have fun. Our team loves to prank each other, and there are some truly good ones that we've managed to pull off. Think: beef jerky desks, Lego desks, shuttlecock curtains, etc.
Finally, we're supportive. I've had a few different roles at Deloitte Digital — office manager, marketing coordinator, producer and now this one — and I felt so much support from my teammates throughout the entire journey.
In my five years here, I've never had a day where I didn't want to go to work."
What are some team-wide traditions that help encourage camaraderie?
Our team sits across Seattle, Chicago and New York, so getting together can be difficult. On our team meeting calls, we're sure to give shout outs of appreciation to everyone who has worked hard on a project, and we share photos and videos of the celebrations with the rest of the team afterwards. We also have lavish team dinners when appropriate. If someone is visiting from out of town, you better believe we're taking them out for dinner. And when we all happen to be in the same place, it's even better.
How is Deloitte Digital different from any other team you've been a part of?
My team is full of incredible people — they're so supportive, encouraging and knowledgeable. Being part of this team makes me want to be better every day. In my five years here, I've never had a day where I didn't want to go to work. Crazy, isn't it?
How does the culture at Deloitte Digital enable you to grow professionally?
Learning is a big part of our culture. Lunch and learns are fairly commonplace and there are consistently scheduled events and workshops to facilitate that. We have LinkedIn learning accounts and we're able to expense classes, trainings and workshops.
How is Deloitte Digital able to act like a startup?
Deloitte is a huge company, but a huge company can't successfully function and operate without nimble teams. We have great leadership at the top of each group providing guidance and instruction about where we're headed. My team has extremely accessible leadership who are transparent and guide us.
How does Deloitte Digital empower you to drive innovation?
There are a number of marketing teams and strategic marketing planners within the firm, so it's always great to connect and see what their teams are working on and what they're planning on doing. We like to bounce ideas around in our internal team meetings, which include our production team, as they also provide great insight and additional knowledge of things we may not be aware of. We stay up to date on general news to stay in touch with what our competitors are doing and where they're headed. It's a bit like crowdsourcing information.
What is something that would surprise us about Deloitte Digital?
Culture within the studios is a big deal. Every studio is very proud of the culture they've cultivated. For example, Seattle hosts a holiday bake-off and other cooking competitions every year; Denver has a ski bus and takes camping trips together, and all studios get involved with bingo. It's just a good environment. We work with really great people who know that we spend more time at work than home, so we should enjoy it.