Company cultures don't just create themselves. Building a company that treats its employees with respect (and the occasional happy hour) is a collective, concentrated effort. Built In NYC spoke with the following NYC tech teams to learn the ins and outs of crafting a meaningful culture.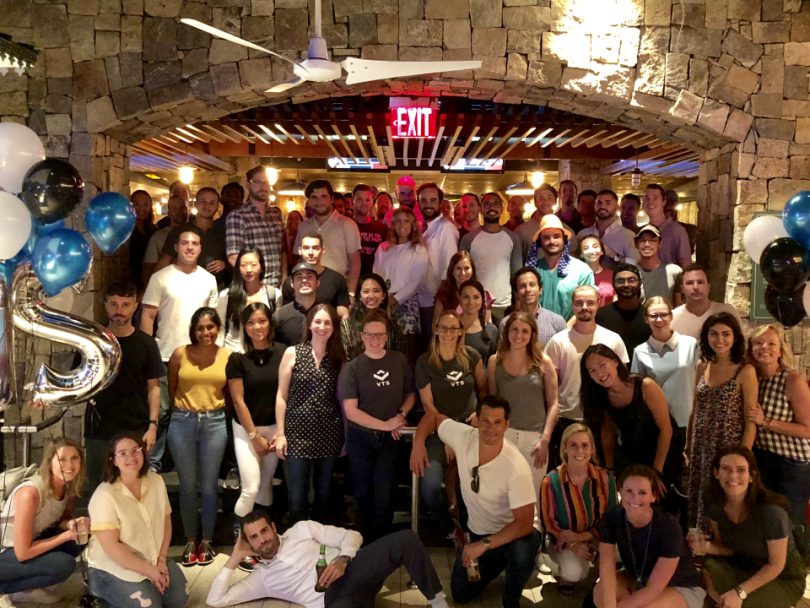 Since its 2011 founding, VTS has established itself as a leader in disrupting the real estate industry. Their platform helps landlords and brokers manage their assets and workflows all in one seamless space. SDR Riley Christopher explained to Built In NYC how, behind the scenes, VTS thrives on a "work hard, play hard," culture.
Tell me about a recent company event that stands out.
A few weeks ago we celebrated summer with a themed happy hour. Our office is conducive to these kinds of gatherings — which we do often! The sales team is close-knit and  fun crew, so we find a way to celebrate our wins both large and small!
Broadly, how would you describe your company's culture?
The VTS culture is work hard, play hard. Teammates are super motivated and ambitious. We take our work seriously, but not ourselves. As a result, people really do enjoy coming to work each day.
What do you think that building a solid company culture contributes to an organization's broader business goals?
A solid company culture comprised of diverse backgrounds leads to a wide range of perspectives and ideas. Also, we look for  self-starters who aren't afraid to speak up and voice their opinions when they see a need for change. This gives our company the ability to move quickly but thoughtfully.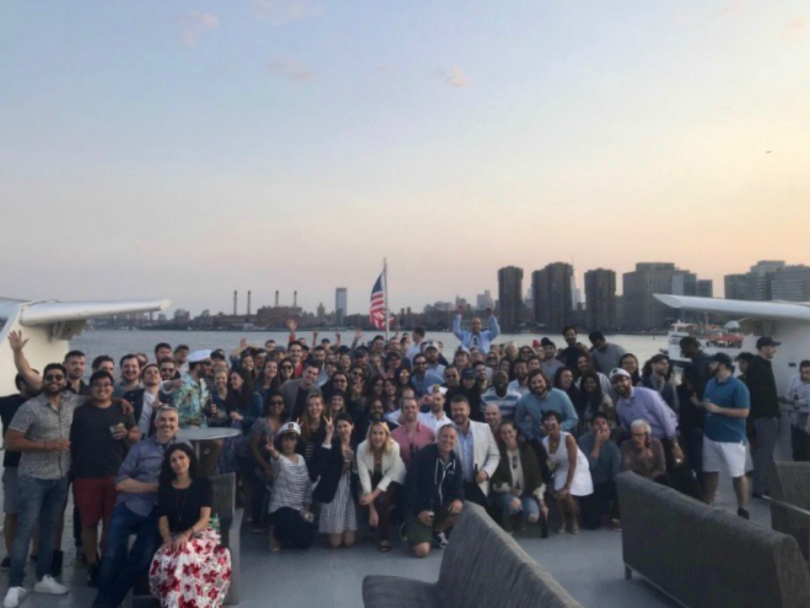 Stash's chart-topping app works to make investing accessible to everyone. VP of People Operations Natalie Ledbetter told Built In NYC how the team behind Stash is rooted in camaraderie.
Tell me about a recent company event that stands out.
This summer, we chartered a yacht (aka the SS Stash) for our entire team as a way of saying "thank you" to our employees for all of their dedication and hard work. The boat was outfitted with beach toys, our own personal DJ and a massive dance floor. While this trip was a blast and received rave reviews, it's the smaller, more strategic efforts that I believe are essential to our success. Whether it's our monthly "Dinner Roulette" series which includes eight random employees from different levels and departments dining privately with our co-founders, to our women's Lean-In groups that facilitate support and the building of bonds amongst  Stash's women, we want to provide every opportunity for Stashers to build strong, lasting relationships and alliances across the org.
Lastly, as we have many thought leaders at Stash, we consistently partner with meetup groups and associations to give them even more exposure to the community. In recent memory, we have hosted events and had Stash speakers share with NYC Fintech Women, Out in Tech and Women in Machine Learning, and we have several more slotted for fall.
Broadly, how would you describe your company's culture?
The client is our hero: Above all, we listen to, educate and support our client, putting them first in everything that we do. This begins with the type of people we hire: Are they reflective of the people that we are trying to serve? Have they had similar life experiences? Are they able to step into the shoes of our customers with empathy if they aren't the ideal customer profile? Because this is essential, our culture has become one of relentless support to our customers and by extension, our employees. We are passionate, inclusive and incredibly open to feedback, new ideas and ways to make Stash better. We are not risk-averse, and we urge our employees to test new approaches and ways of the thinking. We share information top-to-bottom, transparently, from our financial health and metrics to any plans for fundraising. And finally, because our founders have such an amazing sense of humor, we always — and I mean ALWAYS — encourage laughter and fun. Whether it's a Mariachi band for a surprise serenade, a day where the entire company dresses up like our very first employee (without the employee's knowledge, but he figured it out quickly), or a Stash quiz night we are always looking for opportunities to connect with one another for laughs.
What do you think that building a solid company culture contributes to an organization's broader business goals?
In Stash's case, we've decided to think of our culture as the engine for the business, and we've harnessed it as such. Because this is directly linked to hiring, we've been very intentional about the people that we've hired from the very beginning. We knew that we needed people who could move fast, think creatively and push boundaries so we baked scenarios into our interview processes that would test for that. We looked for people who truly aligned with our mission, and for people who were empathetic and wanted to help and serve others. From a culture perspective, those are the same people who believe wholeheartedly that Stash is a team, and that it's their duty to support, aid and lift up their colleagues so that we can win together.