After more than a decade as one of the top players in the video streaming industry, Dailymotion took a leap it never had before.  
In 2017, the global video streaming service decided not just to rebrand but to completely reinvent itself. They revamped its design and launched a whole new branch of business with its B2B partner solution and advertising services. That shift not only started to generate revenue that allowed the video service to continue to grow, but it also provided a wealth of data that started a better user experience.
We spoke with Dailymotion's chief adtech officer, director of data scientist and core developer about how they're paving a new path into Dailymotion's future.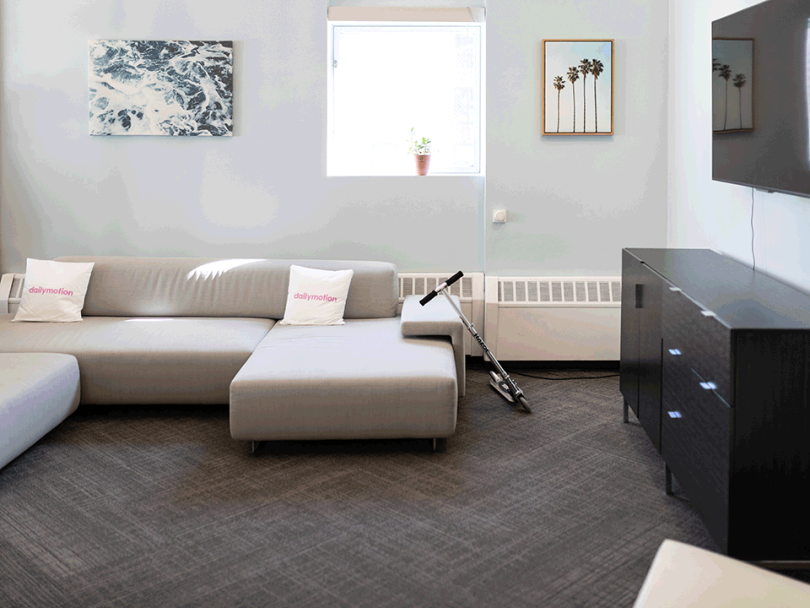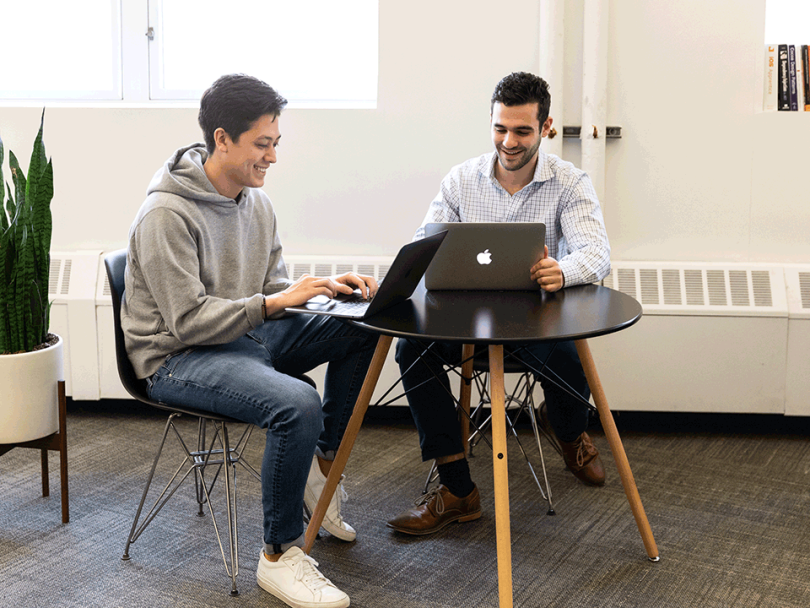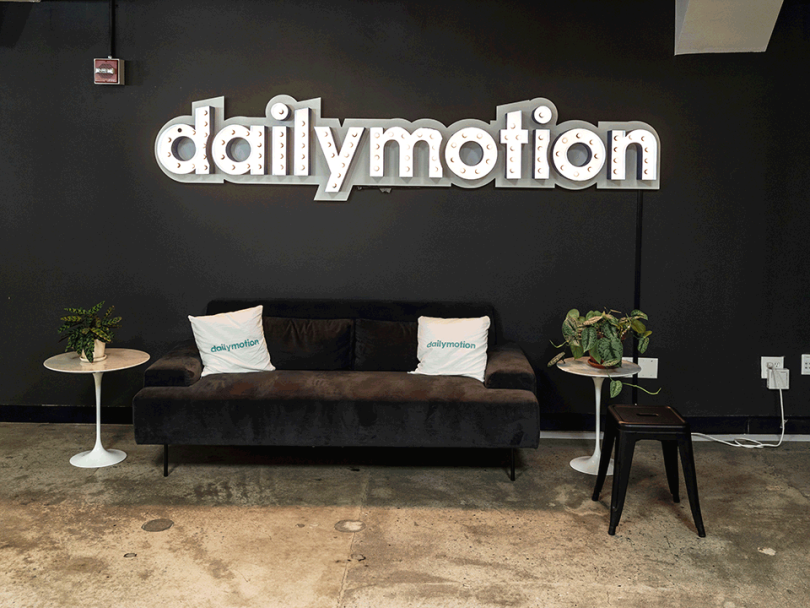 FOUNDED: 2005
EMPLOYEES: 330 (85 local)
WHAT THEY DO: Dailymotion is a global video streaming and adtech service built on algorithms to deliver sports, music, entertainment and news videos.
WHERE THEY DO IT: Headquartered in Paris, with offices in New York, London and Singapore, among other cities.
THE BENEFITS: Dailymotion team members receive fully covered health benefits and commuter benefit coverage, among other benefits and perks.
BUILDING BRIDGES: It didn't take long for Marine Notté to make an impact on the global video streaming and adtech service. Read more about how employees shape Dailymotion's culture and make a local (and global) impact.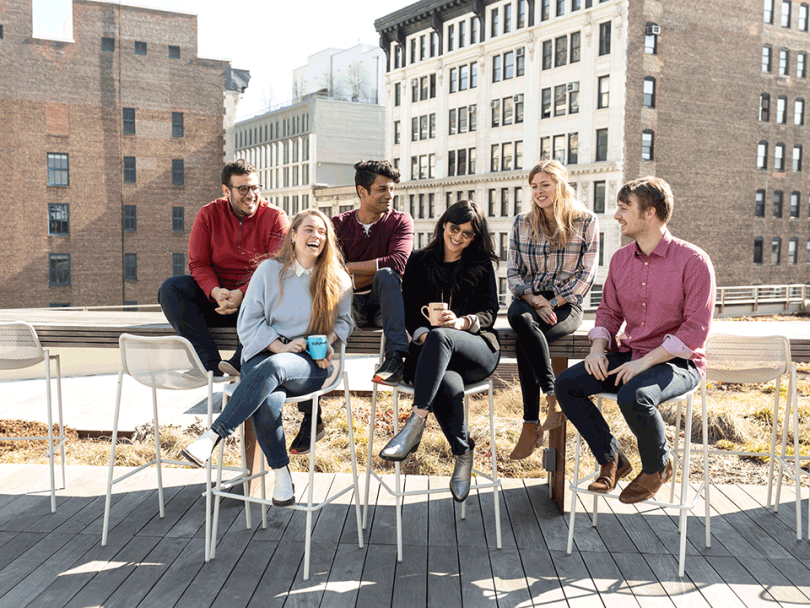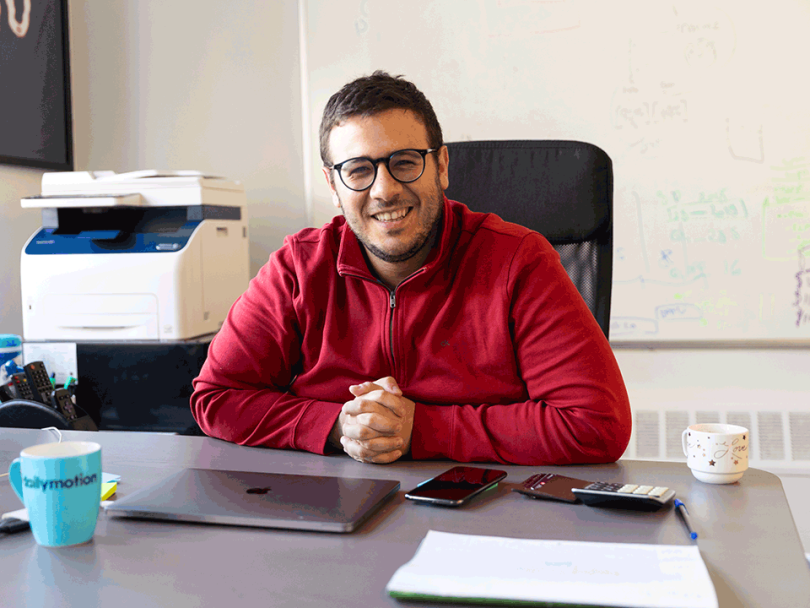 Bichoi Bastha, Chief Adtech Officer
Bichoi joined Dailymotion's Paris headquarters 10 years ago as an intern. He's come a long way since then and now oversees Dailymotion's advertising division, which encompasses 90 team members spread across the globe. His team identifies growth opportunities and generates revenue through its tailored adtech solutions.     
BEYOND WORK: Bichoi is a globetrotter and an avid soccer fan, particularly when it comes to cheering on Les Bleus (France's national team) in the World Cup.
There are many competitors in the video streaming industry. Following Dailymotion's 2017 reinvention, what sets it apart from other services? 
Dailymotion underwent a radical transformation in June 2017 by rolling out a new destination video service designed to elevate premium content from leading publishers based on four main verticals: news, entertainment, music and sports. We also designed a more premium experience, with a completely re-engineered UX and a new video player technology.
Today in the market, you're either a video service or an adtech platform. We've combined a powerful video player technology and a robust adtech platform together. This makes us capable of knowing more about our users and provide better engagement to our advertisers.
One of your team's biggest projects was to rebuild Dailymotion's monetization service. How did you come to the decision to rebuild the service from scratch?
Dailymotion used to depend on third-party solutions to monetize its video inventory. We wanted to make Dailymotion a self-sufficient platform with ownership on its roadmap and sources of revenue. This would give us more control over the revenue chain and provide better value for our sell-side and buy-side partners.
I moved to the New York office, hired a gifted team, and we were able to launch the product within 18 months. Today, our service is directly integrated with all major demand partners and serves all Dailymotion revenue.
What impact has that service had on Dailymotion?
Programmatic buying and selling are complex with a large number of adtech vendors playing different roles along the chain. This fragmentation presents a daunting challenge since each vendor decreases the value and transparency of programmatic transactions. As a result, advertisers face larger costs, and publishers face limited revenue growth and are blind to how their business is performing.
With our ad service, we have more control over transactions and can offer better capabilities and service to our clients. We launched ourselves into a new playing field, controlling a larger portion of the programmatic chain and cutting middlemen fees. We're building what we think the future of online advertising will look like, which will put the user at the center of the transaction. We don't think advertisers will be interested in advertising on sites that don't provide a respectful user experience.
We're building what we think the future of online advertising will look like, which will put the user at the center of the transaction." ​
Dailymotion's makes it a priority to empower team members to take action. How do you apply that value to your team as a leader?
I want my team members to constantly look for opportunities and to challenge the status quo. Once they have identified potential partnerships, products or applications that could add value, I want them to take action. Set up the call, make the business case and assess the feasibility. Turn ideas into projects.
I push myself to do this as well. A team member in Singapore took the initiative to brainstorm a new ad format that we could build to provide something different in the Asian Pacific. She built the business case, presented it and we allocated a team to develop it. Not only was this format a success locally, but we expanded it to all other markets and it's one of our key differentiators for our advertisers today.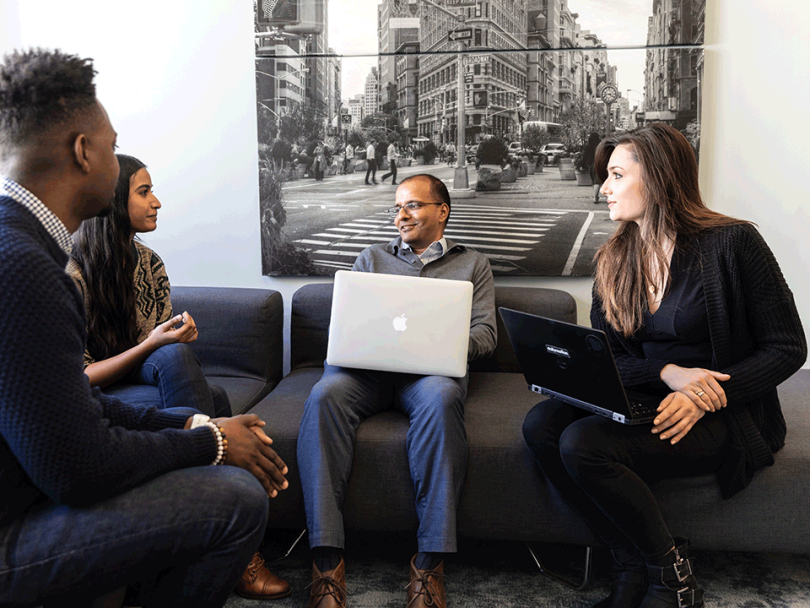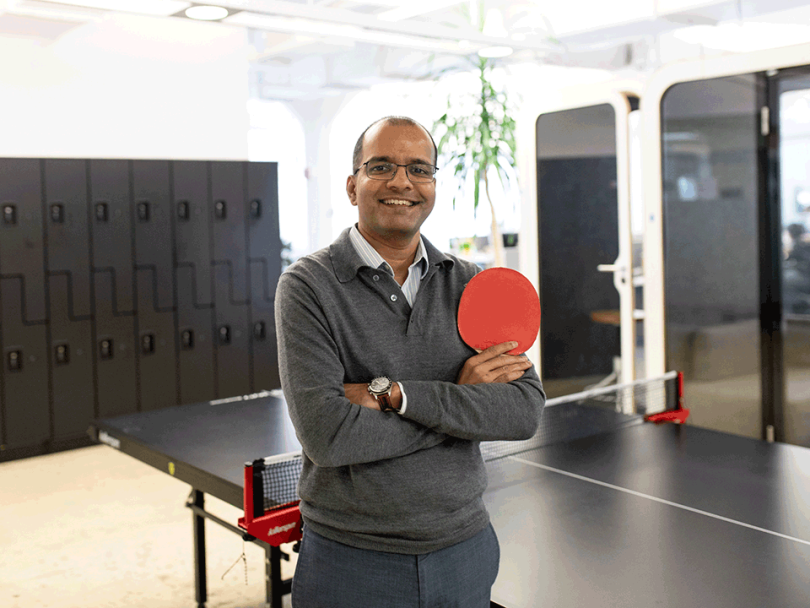 Yesh Srinivasan, Director of Data Science
Yesh and his team turn data into machine learning and optimization models that generate revenue and yield management, prevent fraud, moderate content and protects brands.
BEYOND WORK: Keeping up with the latest in technology can be a second job in and of itself, but when Yesh does have free time, he enjoys reading nonfiction books — preferably ones that don't remind him of work.   
You came from a computer vision and machine learning background. What attracted you to Dailymotion?
I started my career building algorithms for real-time video systems. Along the way, I switched to working on more general optimization problems, and in the past few years, I've focused on machine learning algorithms for adtech. At Dailymotion, I had the opportunity to combine all those skills. I had the opportunity to build optimization, computer vision and machine learning models at scale for one of the largest online video sharing platforms in the world. It also doesn't hurt that I can get away with saying, "I am building my dataset for our brand safety model" when someone catches me watching last night's TV. 
What role can data play in video streaming?
Data is the new oil, and it is no different for us. The insights from our data influence nearly every business decision. We continuously build new models and update existing ones that leverage our data to drive decisions in real time. With data, we can recommend videos and playlists, identify fraudulent behavior and optimize pricing for our inventory.
Data is the new oil, and it is no different for us. The insights from our data influence nearly every business decision." 
How does your team interact with other teams and integrate your data insights with their projects?
We are constantly sharing insights with the business and product teams and rely on their feedback to create the best models to reach our KPIs. We also work very closely with data engineering, DevOps and core engineering teams to build and deploy scalable, fast and resilient models.
Since we're a geo-distributed company, we try to leverage the work of one team across multiple products. For example, we used a topic classification model built by data scientists on the user engagement team for video and playlist recommendations and contextual targeting.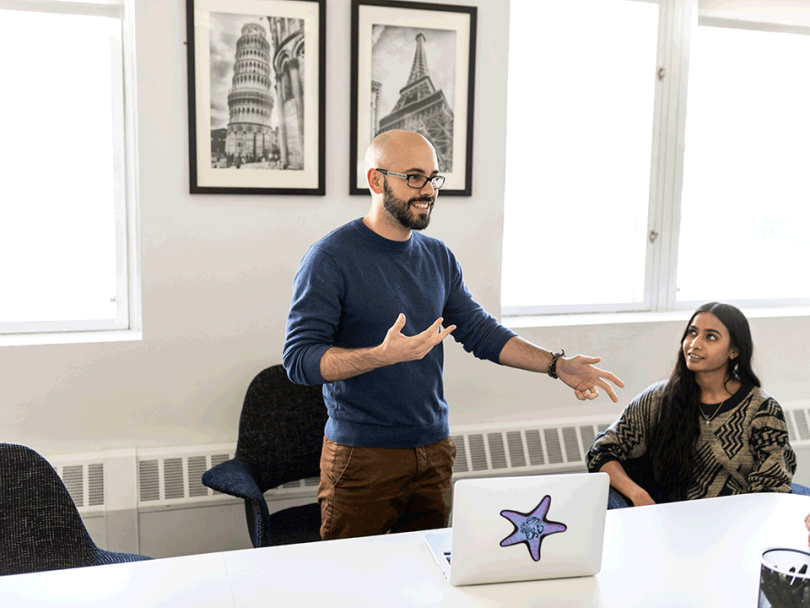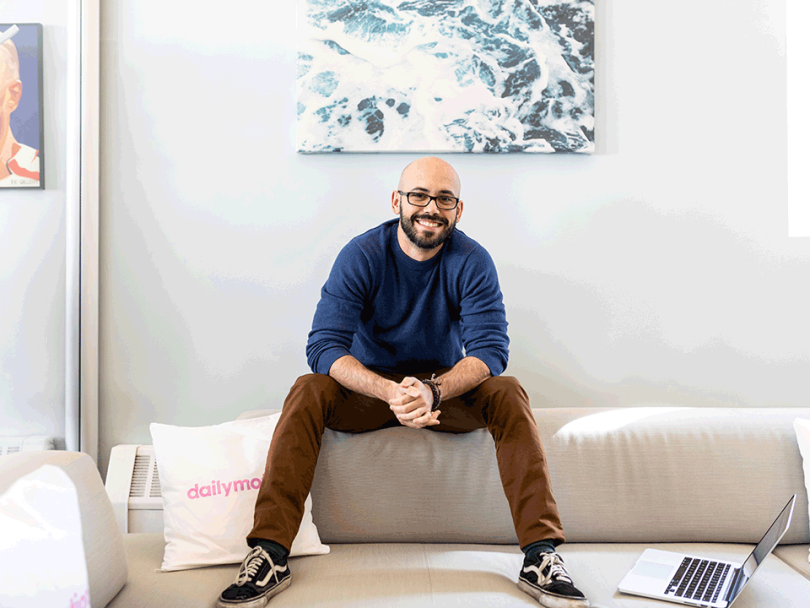 Juan A. Cornejo, Core Developer
Juan is responsible for maintaining and scaling internal tools for the partner product team, communicating with engineering and product leaders on all-things projects, and implementing solutions for content demands. 
BEYOND WORK: A man of nature, Juan enjoys surfing, mountain biking and snowboarding and is in the process of getting his first scuba diving certificate. 
You've had the opportunity to work in Dailymotion's London and New York offices. What have you gained from those experiences?
Both offices are great places to work. For starters, they're both conveniently located for lunch and an after-work drink on Thursday. In the London office, I was the only engineer, but I had so much support from my team members in New York. I also had the opportunity to travel to the Parisian headquarters on several occasions for internal training and to practice my French. I'm now working in the New York office, which has allowed me to get acquainted with other parts of our adtech product at different stages.
Many of the processes and most of the new services are well defined, which saves us valuable time and allows us to focus on researching new technologies — and squeeze in a few extra ping-pong matches."
Your team also adopted a new stack. What did that transition involve?
Co-existing with engineering teams on other projects is something that should be standardized in order to cross-collaborate efficiently. In the past few years, we received training on Kubernetes and GraphQL so that we could make some of our existing projects compatible with the new stack. It was challenging, but I learned a lot during the transition.
What advantages does the new stack provide?
The biggest advantage has been the scalability and speed at which we're able to execute new projects in production. Many of the processes and most of the new services are well defined, which saves us valuable time and allows us to focus on researching new technologies — and squeeze in a few extra ping-pong matches.