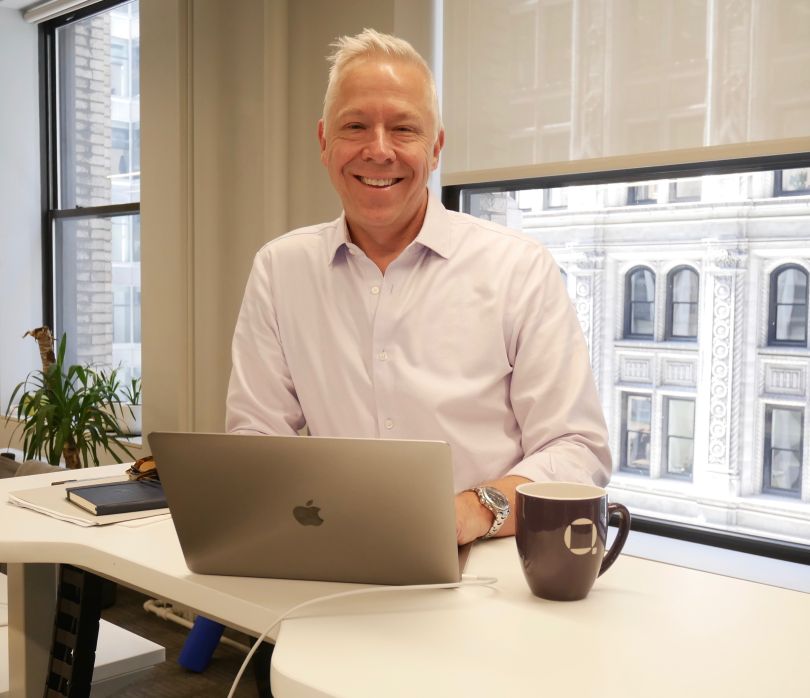 How does one build a roster of humble, smart and curious engineers? 
Besides leading with honesty and integrity, Quartet Health's Chief Technology Officer John Vandermay has cracked the code on building a successful team by emphasizing employee engagement, top talent and the company mission.
He also incorporates a healthy dose of fun outside the office with everything from ice skating to axe-throwing.
Quartet Health removes the silos in mental healthcare by connecting physicians, mental healthcare providers and insurance companies. The company's data-driven, integrated approach allows patients to get the care they need, when they need it. 
Vandermay supports that important work and the company mission by fostering an unstoppable team of talented engineers. 
"The biggest opportunity for us is to create a digital healthcare system where mental health is treated just like any other health condition, and every person receives the care they need," he said. 
We caught up with Vandermay to learn more about who he's seeking to hire and how his team uses advanced technology like artificial intelligence and machine learning to solve major industry problems. 
What drew you to work at Quartet Health? Was it the company mission? The perks? The leadership?
Quartet is a team of innovators who leverage artificial intelligence, machine learning and software technology to help ensure that people with mental health conditions get the care they need. I'm personally motivated by our company's mission and excited to join during a period of strong growth, working alongside a talented team to drive Quartet's bright technical future.
What values are held on the engineering team? 
Quartetian's live by our values: be an advocate; seek diverse perspectives; show up in earnest; build trust and be kind. We recently released version 1.0 of "Case Manager," a new way for multiple care-professionals from different specializations and locations to collaborate on a patient's mental healthcare. 
When we kicked off the project, it had ambitious timelines and expectations. The initiative required the team to show up in earnest and build trust among teammates from other disciplines (UX, front end, API, data platform, security, product management, QA, etc.) to make and keep their commitments. Not only did the team successfully deliver Case Manager on-time and in-budget, but the response from our customers was great! 
By collaborating and building trust across the project team, we were able to launch a critical feature which will enhance care-collaboration and outcomes for patients through improved access to mental healthcare, which is in direct support of Quartet's mission. We respect and value teams and individuals who show up each day in earnest with a positive attitude to deliver amazing results and collaborate across teams to build trust.
Quartetian's live by our values: be an advocate; seek diverse perspectives; show up in earnest; build trust and be kind."
What are some of the qualities and skills that make for a successful engineer on your team? 
Successful engineers at Quartet have a great attitude, are quick learners and support team members in their learning. They are also strong technical problem solvers, results-oriented and able to work under pressure.  Whether delivering new features, effectively dealing with legacy code, or building an entirely new product — it all happens more naturally and reliably when working with a team that cares deeply about each other's work. A great attitude always wins at Quartet.
What's your biggest technical challenge at Quartet Health? How do you work to overcome it?
The volume and breadth of data formats and APIs that we integrate with pose particular challenges. Among those challenges include the various types of data that we consume and health system integrations enabling information flow in real-time between all parties involved with our applications. Making complex data interchange in a way that is both seamless and useful to patient outcomes is difficult to get right.  
What's your tech stack? Why did you choose it?
We have a fully HIPAA-compliant and Service Organizational Control 2-certified application stack running in AWS that is deployed multiple times per day using Docker and a CI/CD pipeline. The hardened stack itself is abstracted into distinct layers that are owned by each of our technology guilds, but built out and enhanced by our full-stack squads. The stack consists of React, React Native and Node.js for our UI, a Spring Boot API that interfaces with our Postgres operational data store as well as our Redshift data warehouse. Customer data is ingested using Apache Airflow and Spark. We have a very clear penchant for community-based technologies, which explains why we chose this stack — it's secure, widely used, proven and well-understood by software engineers, thus helping us onboard new team members quickly as we grow.
How is your team using advanced technology like machine learning to solve major challenges in the mental healthcare industry?
We have a compact team of talented data scientists who are passionate about advancing mental healthcare through technology and services. We tackle two main challenges using machine learning: one is enabling proactive and preventative action, and the second is improving speed and quality of care. A set of supervised machine learning algorithms allows us to identify patients with mental health conditions based on data. The goal here is to enhance existing patient and primary care provider outcomes by integrating an informed proactive dialog about mental health. 
Traditionally, once patients and providers recognize the need for mental healthcare, it can take months to get connected to care. With Quartet, our algorithms explore and match from a wide network of mental health service providers to optimize for timely access. These algorithms will learn from previous matches, time to care etc. to help match patients to a suitable mental health provider. Our business intelligence team does an incredible job analyzing and condensing these results into meaningful insights that Quartetians constantly monitor and leverage to improve our product and corporate performance across the board.
We have a compact team of talented data scientists who are passionate about advancing mental healthcare through technology and services."
How do you create a team feeling among your engineers? 
We have regular game nights and fun team-based events such as escape rooms, ice skating and (gulp) axe-throwing. Some of our best ideas come to the forefront when people aren't thinking about the problems they're working on, and instead are having fun with others in their squad! 
We also have a weekly department-wide standup to provide updates across the organization, which is powerfully transparent and empowering across all levels of the team. I love openly engaging with the engineers one-on-one at their desks to talk about tech or new ways of building stuff in the context of our product and technology roadmap. The open conversation goes a long way for helping team members understand what I think, and for me to understand what the team is thinking. It goes without saying that I also love to connect with the team over great food at our catered company lunches, or happy hours.
Looking ahead, what's something in the healthcare industry that you view as a threat, and something you see as an opportunity? How do you plan to get in front of those
NYC is a great place to find incredible talent and build a world-class engineering team! There is tremendous competition for talent in our industry, including top-notch engineering talent. At Quartet we build transformational products to serve the healthcare industry, ensuring that we have driven, creative engineers to help us continue on this trajectory, and that is the key to our success.