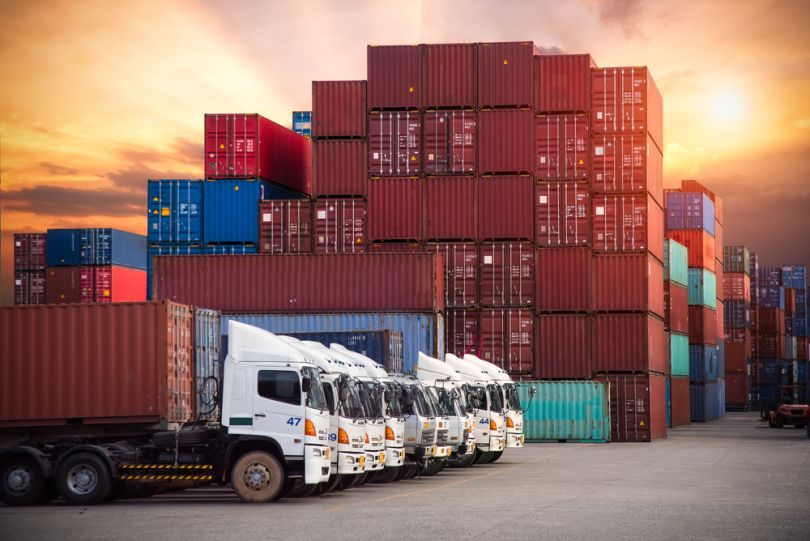 As conversations surrounding carbon emissions and climate change intensify, the shipping industry often comes under fire for its gas-guzzling ground transport. 
One New York City startup is looking to make a dent in the industry's waste — in terms of both fuel use and truck drivers' time.
Digital logistics company Loadsmart provides on-demand truckload shipping to businesses of all sizes through a simple online platform that offers instant quotes. The company announced Thursday it raised $19 million to overhaul its approach to drayage, or short-distance transport.
As it stands, truck drivers often end up stuck at marine ports, waiting on a specific container. Trucker congestion at ports wastes 15 million person-hours and 2.3 billion gallons of fuel each year, according to FreightWaves research.
Loadsmart is pushing for an approach it calls "container-agnostic," which means drivers will get the best container available and get on their way. The new funding will help the company expand efforts to improve the flow of shipping containers at marine ports, which makes life easier for truck drivers and port operators. 
Loadsmart estimates its initiative will reduce drivers' wait time by 25 percent and port operators' "container shuffle" by 50 percent, Loadsmart CEO and co-founder Ricardo Salgado said in a statement. 
Additionally, Loadsmart is working to improve driver visibility and tracking by tapping into data from the electronic logging devices truckers carry and centralizing it on a platform cargo owners and recipients can access. While getting fragmented industry players to adopt the same application is an uphill battle, Loadsmart is chipping away at the logistics industry's data silo problem.
To reach its goals, Loadsmart needs to build out its team with tech talent, including front- and back-end engineers, data scientists, UX designers and operations consultants. The company went from 30 employees to 200 in the past two years and plans to hit 300 by the end of 2019.
"We're hiring like crazy, and we will continue to do so," VP of product development Hunter Yaw told Built In. "Hiring is the number-one use for the money we've raised. A lot of that is specifically tied to our entry into port drayage."
For Loadsmart, convincing drivers to adopt its time-saving container search tool and cargo owners to abandon traditional phone calls and emails in favor of an online portal is no easy feat. It needs agile developers and designers who are up to the task.
"You need [the transition] to be pretty much frictionless, because you're asking people to change the way they work," Yaw said. "If you don't make it easy, old habits die hard, and people are going to stick with what they already use."
The venture round was led by the nation's largest terminal operator, Ports America, and Maersk Growth, the investment arm of the world's largest ship and supply vessel operator. 
This latest investment brings Loadsmart's total funding to $53.4 million, including a $21.6 million Series A in 2018.