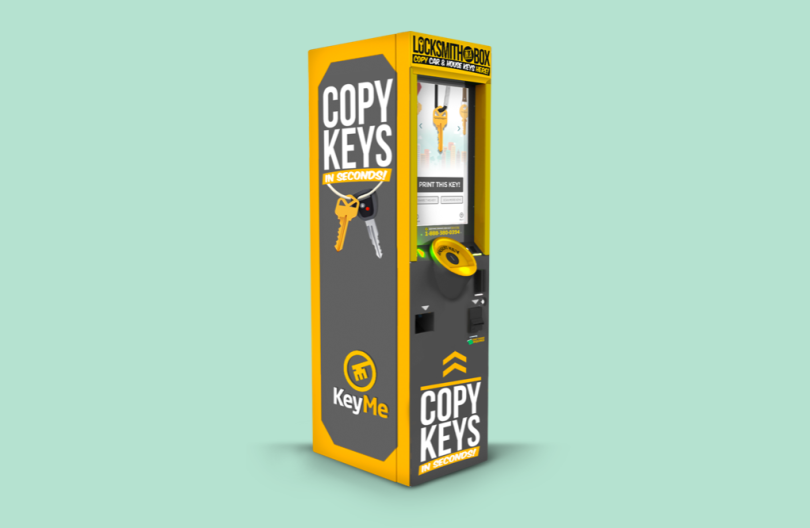 While we use passwords to access our online accounts or facial recognition to unlock our phones, most of us still rely on little pieces of metal to get into our house or car. That's not to say that keys are obsolete just yet, but the process behind their construction could use a refresh.
KeyMe has created robotic kiosks that can duplicate keys, so you don't have to visit a traditional locksmith. 
The New York-based company's innovation is sparking investor attention. On Tuesday, KeyMe announced it raised $35 million in a financing round led by Brentwood Associates. This follows BlackRock's $50 million investment in KeyMe last year.
A KeyMe kiosk uses AI computer vision to generate a 3D model of a key, which the company says is 10 times more accurate than traditional key copying. The kiosk then creates copies on the spot, or mails them to your address.
KeyMe can provide duplicates for house keys, mail keys and padlock keys, as well as car keys, RFID cards or key fobs. Because KeyMe also stores digital copies of your keys in the cloud, the kiosks come in especially handy if you're ever locked out.
"We're building a new type of robotics and AI company to challenge the customer experience standards in the $12 billion a year locksmith industry," KeyMe founder and CEO Greg Marsh said in a statement. "We are excited to work with the Brentwood team to expand our services to build the most trusted brand in the locksmith industry."
KeyMe's strength is its ubiquity. The company has over 3,000 kiosks located in retail stores like Ikea, 7-Eleven, Rite Aid, Kmart and Bed Bath & Beyond across 49 states. Through its partnerships with these companies, KeyMe is able to locate its kiosks in high-traffic locations in neighborhoods across the country.
The company says it is experiencing high demand for these kiosks, serving over 10 million customers annually.
"Leveraging incredibly sophisticated technology and delivering a highly differentiated, convenient and satisfying consumer experience, KeyMe is nonpareil in the locksmith industry," Eric Reiter of Brentwood Associates said in a statement. "With a rapidly scaling footprint across the U.S., potential for international growth, and significant additional consumer and home services to come, we are excited to be partnering with such an outstanding team."