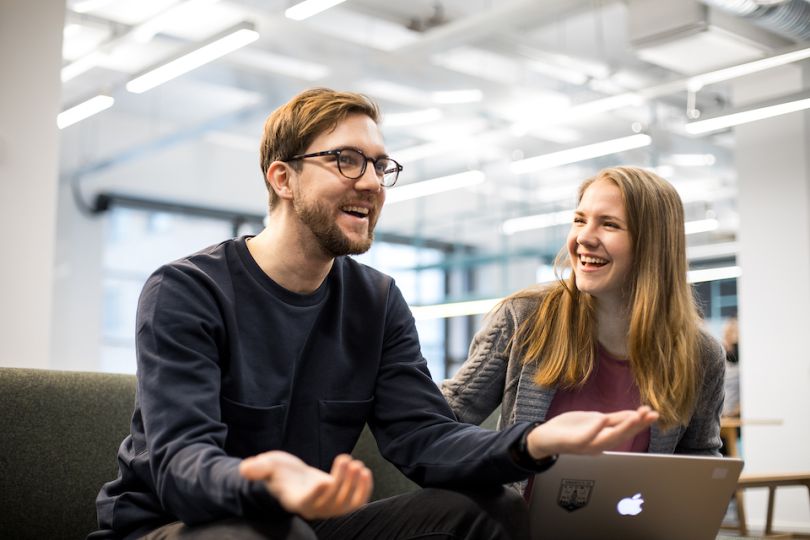 Many professionals — parents and essential workers aside — won't ever have as much "me time" as they do right now. 
Being thrust into remote work due to COVID-19 has provided some leaders with more opportunities to spend time with their families or engage in at-home hobbies. However, stepping away from work can feel difficult when home is also your office. It's easy for leaders to feel as though they should always be accessible as they manage a remote team. 
This type of "always-on" leadership can leave little room for self-care unless leaders create healthy boundaries and bake time for themselves into their schedules. And they should: Tech professionals across New York agreed that practicing self-care impacts their direct reports, too. When stress and anxiety build up, the entire team feels it. But when leaders make it clear that even they are stepping away from their computers to recharge, their teams feel more comfortable taking work-life balance seriously.
Self-care looks different for everyone — spending time with children, exercising and singing in the shower are all methods we've heard — but whatever works best for the individual leader is what they should pencil into their schedule. 
What self-care looks like for Tudesco: Making time for self-care is not only good for us as individuals, but also for those we interact with daily. For me, self-care comes in the form of exercise, sleep, a balanced diet, gardening and listening to motivational podcasts. 
Lately I've been enjoying Case Kenny's, "New Mindset, Who 'Dis?" podcast. He's taught me about the power of saying "no," what it means to never settle and how to categorize situations into buckets of things worth caring about and things that are not. This podcast has helped me tremendously because I tend to be an overthinker. 
When it comes to exercise, I am an avid runner and that is by far my favorite form of exercise. Recently I've also been doing high intensity interval workouts with Kaisa Fit, cycling on my Peloton bike, jumping rope, taking a virtual yoga class via Peloton and playing soccer with my dog, Jazzy, in the backyard. 
Feeling strong physically empowers me to feel strong mentally."
Balancing self-care and work at Fluent: I have two kids who start their days around 6:30 a.m. Luckily, I'm a morning person, so I set my alarm for 4:30 a.m. to carve out some time for myself and get a head start on the day. For the first two hours, I'm either doing laundry or catching up on work. Then I always exercise, which also typically includes stretching and meditation. Allowing my body to have a few minutes of calm after a tough workout gives me the clarity and perspective I need for the day. 
Come 6:30 a.m., I'm feeling energized and ready to conquer whatever is ahead. I make sure to be in bed by 10 p.m. on weeknights so I can get at least six hours of sleep. 
Advice for other leaders: Commit to making exercise a habit. Once a habit is formed, it becomes second nature. A consistent exercise routine helps to clear my mind of stress and anxiety, while also allowing me to sleep more soundly at night. Feeling strong physically empowers me to feel strong mentally, giving me the courage and confidence to tackle whatever comes my way in both my personal and professional life. 
What self-care looks like for Beyatli: Self-care is engaging in activities that are geared toward taking care of my mental and physical health so that I can reduce stress or anxiety and keep myself in shape. During the pandemic with no gym access, it has been difficult to get motivated to do cardio and lift weights the way I did at the gym. Instead, I go on long walks in the evening to get activity in. But I'm not stressing or feeling guilty because I'm not working out the way I used to. I take it day by day and remind myself that I can slowly phase in other activities when I feel motivated enough to do so. 
Another way I self-care is singing really loud in the shower. It's a bit embarrassing but it helps. To me, it's the equivalent of having a good cry, minus the puffy face.
Get as much sleep as possible and drink water."
Balancing self-care and work at ComplyAdvantage: I make time for self-care by putting activities into my calendar. Every day, or at least every other day, I follow a routine of finishing my work, taking a little break with an episode or two of my current Netflix show, then starting my walk. Routine is key. And one way to keep a routine is to have reminders set in a calendar.
Advice for other leaders: Get as much sleep as possible and drink water. Those two acts alone will help significantly with managing stress, anxiety and physical health. Not enough sleep can lead to a cycle of not being productive, which then demotivates a person even more. Water obviously helps with staying hydrated and healthy, but also helps curb appetite toward eating unhealthy foods.
What self-care looks like for Merrill: Self-care for me is recognizing the importance of taking a pause, like appreciating and acknowledging the things I've accomplished during the day. It's important to provide oneself with the time to decompress and refresh. When our devices are low on power, we know it's time to recharge them. Why wouldn't we do the same for ourselves?
In the past two months, lines between work and play have been blurred and our "off time" — the pauses we require to be our best selves— aren't always easy to find. So now we must create new habits to facilitate the balance we need in our lives. I take my "pause" by leaving all my devices behind and taking a walk or jog through nature or a nearby park. I stop to pause and breathe so I can get back to work with a fresh perspective. 
The healthier the team, the healthier the company."
Balancing self-care and work at Resident: Our company playbook stresses the importance of wellness among the team. We have an unspoken language conveyed through specific emojis. Our team will put those emojis on their Slack profiles when working out, eating, power napping, working intensely or taking a mental day. We always try to respect that time for teammates, knowing their self-care time is important. The healthier the team, the healthier the company. We cannot give our customers our best if we're not at our best, so we pride ourselves on wellness. 
Advice for other leaders: Self-care is no longer an option, it's a priority. Leaders have to bring their full selves because so many people are relying on us. So lead by example. There will always be times of burnout, so communicate to team members how you're feeling. That communication will create a trickle-down effect of respect and trust. Team members will then be more willing to acknowledge that they may be burnt out and speak about it before they're overwhelmed and their work becomes compromised. 
What self-care looks like for Shulman: I focus on staying active and staying connected to friends and family. I ride my bike and make sure to go for multiple walks per day. I also go on a fake walking commute every morning — rain or shine — before sitting down at my desk, which helps me clear my head before starting my day. And once a week, I go through my phonebook and contact a random friend over video chat. 
Look for ways to embrace the current situation instead of fighting it."
Balancing self-care and work at Kensho Technologies: Ben Horowitz wrote in his latest book, "Nothing signals the importance of an issue like a daily meeting about it." I rely on my calendar and make sure that I explicitly block off time for self-care, which take a few different forms. I have a recurring appointment Monday, Wednesday and Friday with a friend to do an abdominal workout in the afternoon over video chat. I also make sure I can be more spontaneous. For example, I will rearrange my schedule to take advantage of good weather and ride my bike.
Advice for other leaders: I think patience is important right now. The extent to which we effectively deal with the current situation will ebb and flow, and our self-care needs will evolve as the weeks pass by. I would also encourage people to look for ways to embrace the current situation instead of fighting it. We spend a lot of time and energy trying to make our lives feel exactly like they did in January, and miss opportunities for self-care that we might not have taken a few months ago. Embrace these chances, whether they take the form of a spontaneous afternoon bike ride, a quick smoothie break with the berries that need to get eaten, or wearing a college T-shirt that you probably wouldn't wear in public.
What self-care looks like for Montaque: My self-care is all about work-life balance. Remember to separate home and work, even though right now it's all happening in the same place. I created an office environment for myself that has helped me to set boundaries between work and downtime. If there's space, create a separate area that's designated as the "office." 
It's also important for me to remember to still make time for myself, and be careful not to let work completely take over. Especially now that video calls are our main means of connecting with co-workers, there's a pressure to always be "on." We run the risk of burning out much quicker than we might have in our normal office environments. I'm still finding new ways to get creative as I face mornings of back-to-back Zoom calls, but I make sure to take breaks when I can. Think about how to make space for moments of downtime, and create enough time to take necessary pauses throughout the day.
Sticking to my usual schedule helps me to avoid feeling like I now live at work."
Balancing self-care and work at Holler: While we're all adjusting to the new normal, I make sure to maintain a schedule and a routine. I try to integrate all of the things I would normally do if I was going into the office. I still wake up at 5:30 a.m., take my dog for a walk, shower and get dressed. I build in breaks and make an effort to take lunch, just like I would at the office. Because it is so easy to blend work and life while at home, I also make it a point to have a scheduled end to the work day. Setting up these divides and sticking to my usual schedule helps me to avoid feeling like I now live at work. 
Advice for other leaders: Take a step back and think about what schedule makes the most sense for a current living situation. There are ways to create structure, even though it may look exactly the way it did when a leader physically went to the office. The tricky part is enforcing that schedule. Set a time to be done every day and make sure to turn off at that time. Build in time to be with friends and family, virtually or otherwise. Take time to do things for yourself, too. 
There is a ton of pressure to be high-performing right now. If we aren't taking care of ourselves mentally and emotionally, we won't be able to succeed long-term. 
What self-care looks like for Van Degna: Self-care means finding ways to feel my best, which can change week to week, but my constant is staying active. I like to do a mix of cycling, pilates or barre, yoga and boxing, depending on my mood. Sometimes, I add in meditation or reading, especially in recent weeks.
We should allow ourselves time to reset and before getting back to work."
Balancing self-care and work at OwnBackup: I schedule time for being a mom as best as I can and plan ahead. It's important that I communicate with those around me about my needs and the importance of having time for myself. It's all about finding a balance that works for each person. Adapting and staying connected with ourselves is important. 
Advice for other leaders: Making time for ourselves may feel selfish, but it's more selfish if we are not feeling our best. Communicate needs with a support system. Don't suffer in silence and don't overthink things. Take that nap on the couch or go for a walk outside. Allow yourself time to reset and then get back to work.
Balancing self-care and work at Smartly.io: I find time to spend with my daughter, Ellie, to do some pleasure reading. I make sure to get out for a walk with my daughter every morning before getting my day started, or every evening after wrapping up. We either head to the park or walk around the neighborhood for ideally an hour or more. 
I used to do all my reading on my commute from my home in Staten Island, which obviously gave me plenty of time. But with working from home the last couple months, I've taken to turning in a bit earlier and doing my reading before bed. I get my reading fix in and end up better rested the next day.
A calendar event can be a good friend."
Advice for other leaders: Find a schedule that works and stick to it no matter what. The easiest way I've been able to keep boundaries is by using my calendar to block off the time. Without that habit, it was too easy for business to creep into all the open spaces between meetings or calls. There was no time for proactive work, which would then push objectives into time I should have been spending on things other than work. A calendar event can be a good friend in making sure ad hoc meetings don't impose themselves on free time.