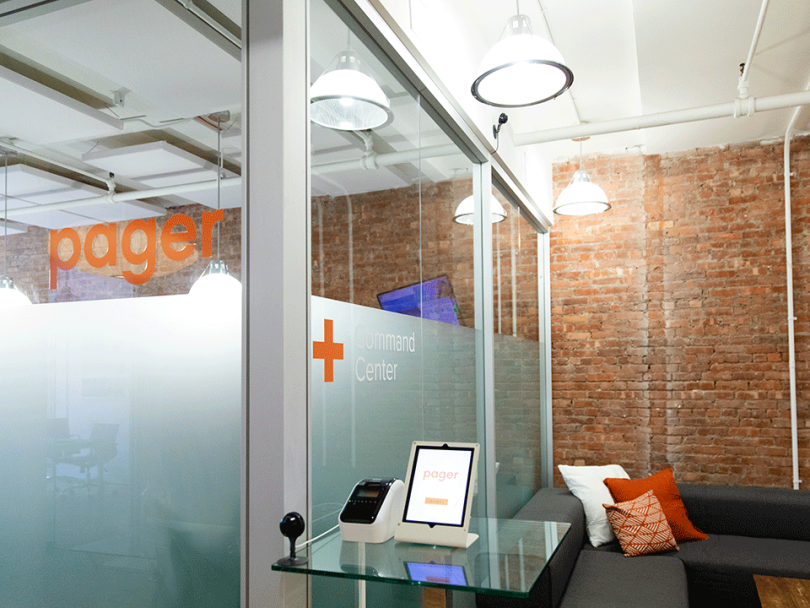 The connection between the positions of nurse navigator and junior data scientist might not seem immediately clear to many. 
But for Pager's Frances Cue, the career progression felt natural after the company's chatbot piqued her interest in machine learning. 
In her new role, Cue is still triaging patients based on their specific health needs. She's simply doing so through data science rather than the organization's clinical "Command Center." 
"My experience as a nurse at Pager is especially useful for projects requiring clinical data," she said. 
Unlike doctors or nurses who work in hospitals, the Pager healthcare team has a startup mentality when it comes to customer support: get feedback early and often. And that school of thought has allowed data and engineering professionals like Cue to connect patients with appropriate treatment plans using AI. 
Cue might be physically less accessible to patients than she was a few years ago, but in a world that's increasingly embracing virtual care, she says the closeness she feels toward Pager users hasn't waned. In fact, it's helped her become a better data scientist. 
"I am able to keep users in mind every time we build something or make changes to our codebase," Cue said. 
What Pager Does
Through secure chat, video and voice, Pager connects patients with fast access to care, and brings together different care roles and services into a single patient experience. The healthtech company is based in New York but is currently hiring for certain remote positions.
Describe your role and core responsibilities at Pager.
I started at Pager three years ago. I was a nurse navigator for the Command Center, where I triaged patients and advised them on appropriate care recommendations based on their symptoms and protocol. In less than a year, I was promoted to lead nurse navigator. I interviewed new candidates, trained new nurses and care coordinators and was involved in quality assurance projects. 
About eight months ago, I transitioned to a new role as a junior data scientist. Since starting this position, I've made a service that is designed to ingest data and persist the data in a database. I'm in charge of maintaining and expanding this service as needed. I also constantly look for problems and ask questions that data can answer. 
How does the Command Center team work with engineering? 
We don't just sell a technology — we actively use what we build. So the Command Center team is involved in providing user-experience feedback, reporting product bugs and errors on the user and consumer side, and speaking on behalf of users who aren't in-house. They also gather engineering-related information to help engineers debug issues. 
Engineers go through a Command Center orientation, which includes shadowing coordinators and nurses while they use the platform to help them better understand the product, user roles and expected encounter processes. This helps engineers understand the technology and how its end users work with it. It also begins to build empathy so there's a connection between what they code and how it's used to help people. It makes the coding itself less abstract. 
 
We don't just sell a technology — we actively use what we build.''

How did you hop from the Command Center to the engineering team? 
I was drawn to Pager's use of technology in the digital health field. In my two years of being a nurse at Pager, I could see the engineers creating solutions for problems and building products that improved user experience. 
I was very impressed when our chat interface was able to integrate a triage recommendation system, where a bot would recommend questions to the nurses in order to assist patients. This really piqued my interest in machine learning and data science. After finishing my master's degree in public health, I decided to take a data science bootcamp and inform my manager of my desire to transition to the engineering team.
Getting by with a little help from her friends 
"Our VP of engineering met with me shortly after I made my manager aware of my desire to transition roles," Cue said. Afterward, Cue and her team members made a concrete plan so she had certain goals to work toward. She also took advantage of Pager's professional development stipend and relied on pair programming and group sync-ups to help her acclimate to the machine learning team.
Can you give us an example of a project the two teams have collaborated on? 
The engineering department holds an annual hackathon week. During that time, engineers and the Command Center team are able to improve or upgrade product features or explore new ideas. This dedicated time allows both teams to make small but impactful revisions to the product. Command Center's input is necessary for an engineer to enhance a product feature. The engineer must understand the product and how it's being used, and what works and what doesn't, to know why certain features are implemented. Understanding the product from the engineering side and from the user side allows an engineer to get a more holistic view of the product. 
How does your experience on the command center team help you as an engineer?
I've used the product for over two years. Given this insight, it makes me appreciate the feedback we get from the Command Center team more. As a result, I am able to keep users in mind every time we build something or make changes to our codebase. I'm reminded that there is an actual human at the other end of that code who will be affected by these changes. 
Knowing that what we do can directly affect the Command Center emphasizes the need for clear interdepartmental communication. When engineering does a release or makes changes in production, communicating possible side effects can save time, energy and effort. Letting users know of possible downtime or feature enhancement ahead of time aides in preparing both teams for the changes. 
Coming from the Command Center also gives me a unique perspective of data. As a nurse, I've used our electronic health records and understand where clinical information is stored and documented. I'm currently working on a project about COVID-19's impact on Pager. For this initiative, I have to look at the clinical documentation. So it helps to know where to dig for the data, understand the content and be able to make inferences. My experience as a nurse is especially useful for projects requiring clinical data.