For This Team, Effective Collaboration Is Essential for Rethinking the Pharmacy Benefits Ecosystem
"There can be many approaches to a problem." How a team-centric mindset powers professionals at Truveris.
People often look to heads of organizations for guidance and expertise — in other words, the right answers to the high-level stuff.
Simultaneously, there's immense value in being inquisitive — a quality that Nanette Oddo, the recently appointed CEO of healthtech company Truveris, heartily embraces.
"Innovation starts with asking simple questions. 'Why do we do that?' 'What is the problem we are solving? Is this a problem or a symptom?' Leading with questions gives people a chance to start thinking about the status quo, and how we might build a better way," Oddo said. "When you challenge people around innovation, they blossom."
Previously the company's chief strategy officer, Oddo was named to the CEO position this August. She leads the company with an overarching goal that colleague Emily Magurne, a client experience manager, described as "to provide truth, knowledge, and understanding to the pharmaceutical and pharmacy benefits industry."
That objective requires the expertise of leaders like Oddo, the client-first mentality of members like Magurne, and the technical skills of engineers like Amninder Narota. According to the Truveris team, a collaborative style of work plays an important role in everything coming together.
"Innovation comes together as a collaborative effort. Innovation doesn't just depend on the person's individual ability; it's more so the team's vision," Narota said.
Built In NYC caught up with team members at the New York City-based company to learn how professionals from different teams coalesce around the goal of building a better-aligned pharmacy marketplace. Here's what they have to say about what they're working on right now and what's next for Truveris.
Nanette Oddo, CEO
For Oddo, hitting business goals is important — and creating a strong culture is key to doing so.  
The importance of innovation: "Truveris' objective is to break down barriers in the prescription drug market that create cost and inefficiencies for employers and patients. Innovation is how we meet this objective. We're constantly iterating on our technology, which creates powerful insights about how people access medications. With these insights, our team of pharmacy experts partners with our clients to improve the network that connects patients to the drugs they need. At the end of the day, the goal of our innovative approach is to help people lead healthier lives."
Leadership style: "I want to lead the way that's natural to me — being transparent, asking questions, providing support, making sure people know that the company cares about them. Creating a career path for our people and supporting them with mentorship is also core to our culture. I want to make our people feel rewarded and recognized — that's a hallmark to our success and requires constant communication.
Key goals as CEO: "I want to have such a strong culture that it can pull people together, even in the remote work environment that our team values. I want us to be enthusiastic about giving feedback to each other, so that folks never question if they did a good job."
Looking ahead: "We have such a great team, and that team has really rallied around our mission. It's awesome to see people embrace change and new challenges. I think the future looks incredibly bright, not only for Truveris, but for our space. Truveris offers so much opportunity for upward mobility, impact and inclusion, and I'm excited to see how our team grows together."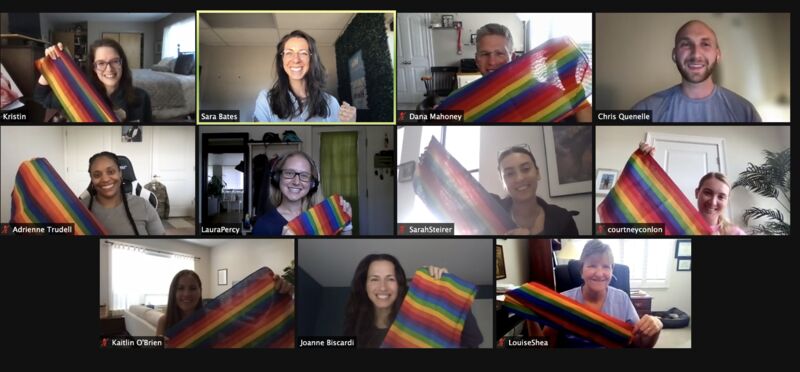 Emily Magurne, Client Experience Manager
A member of the Life Sciences team, Magurne recently hit her two-year anniversary at the organization.
How innovation comes together: "We're trying to come up with innovative, different and disruptive ideas on how to ultimately help patients. We have a lot of teammates who come from all different walks of life within the pharmacy, healthcare and technology ecosystem. By having all these different perspectives, we can really come up with some innovative ideas."
Current projects: "On the Life Sciences side, we're working on how we can utilize what the engineering team is doing in terms of improving our processes to further our mission with our clients. Specifically, I'm working on a project to help pharmaceutical manufacturers capture the entire lifecycle of their patients through our CRM tool, truConnect. That's something that we're really excited about. With the collaboration of the product and engineering teams, we're going to be able to execute on that.
Another project that we're iterating on, which is very innovative, is our truCheck solution, which is the only real-time benefits check solution of its kind on the market. It helps patients get a real-time estimate of what their prescription will cost them out-of-pocket, which unfortunately isn't always clear to patients before they get to the register at the pharmacy. To see how much truCheck has grown and changed is really exciting."
Team culture: "We have a culture of honesty where we use vulnerability as a strength. No idea is stupid. No question goes unconsidered. We work together to come up with the best solution. The only way we can do that is by providing an environment where people feel comfortable to do so."
We have a culture of honesty where we use vulnerability as a strength. No idea is stupid."
Looking ahead: "Transparency, affordability and engagement is what we bring to the market, but it is also reflected within our internal culture. I'm able to have honest conversations with not just my boss, but all of my teammates. I feel like there's always room for growth here, with an open-mindedness about where people can grow and the projects that they can work on."
Amninder Narota, Senior Software Engineer
Narota's current projects include incorporating new tools into the Truveris infrastructure with the goal of creating an industry-leading engineering stack.
How innovation comes together: "There can be many approaches to a problem. Every day starts with discussing the best way to solve a problem, and that's when the influx of ideas occurs. We plant the seed and that seed becomes a tree. That's deeply ingrained into the engineering side."
Current projects: "Something exciting my team is working on is continually enhancing our infrastructure. We're bringing everything to run on the most recent, coolest tech that's available on the market, through which we can be more efficient, get more analytical data, and make the systems smarter."
Team culture: "Our engineers are extremely talented and creative. Since our source code is incredibly vast, if something changes somewhere, that could affect another service of another team, so collaboration is the most important aspect of our engineering culture here. We are all on the same page and have the same values."
Looking ahead: "I see myself growing. Recently my manager and I came up with ideas on a project I'll own that is tailored to my specific professional interests — and directly impacts Truveris' growth. I've never experienced a company working so closely on its employees' career growth. I used to be a full-stack engineer; now, I'm not just a full-stack engineer, but I'm also working on the infrastructure as code because that's a route I want to take."