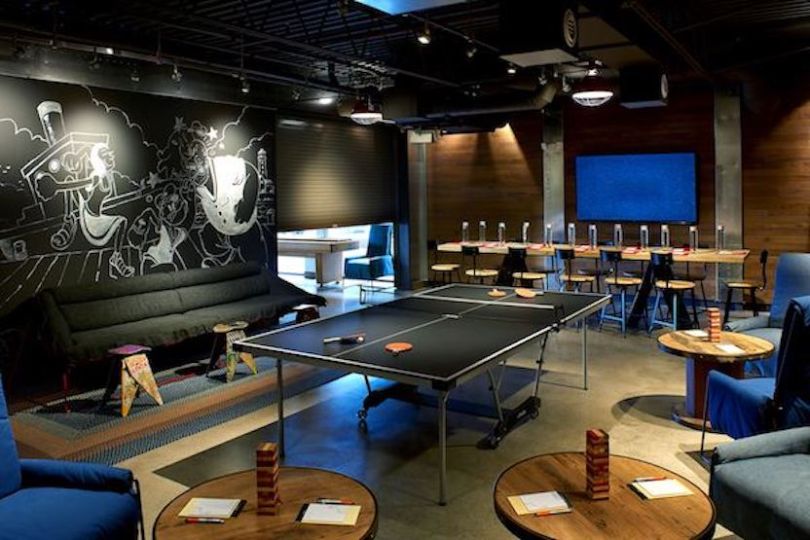 Leave it to a venture capitalist to turn lemons into a whole lemonade stand.
Ron Shah was working as a VC investor when his office flooded, forcing him to find a new conference venue for his colleagues. There was little time — and even fewer resources — to do so.
That's when Bizly was born.  
"I tried to book my meetings at nearby hotels, and it was a completely outdated and manual process that was costing the corporate market and the hospitality industry billions of dollars in value," said Shah, CEO and co-founder. "Every company I spoke to recognized the problem but didn't have a very good solution. That's when I knew we had something big on our hands."
Founded in 2015, Bizly is a platform that lets meeting and event planners book space in hotels and restaurants — think of it as a WeWork for small business meetings. Planners can get all the necessary information they need on a space, including price, capacity and contact details, and reserve the venue in just a few steps.
The benefits are twofold: Companies can reserve meeting space, and hotels — which have taken a few punches from  Airbnb — get more business. It's this model that Shah says helped make Bizly attractive to investors.
"VCs generally look for very large market opportunities with favorable competitive dynamics," he said. "Enterprises spend $100 billion on small meetings just in the U.S. and there is no viable competitor in the industry."
Shah's decades-long experience as a VC prepped him to build a business model that would attract investors. So he added two additional elements he knew every startup needs to have: a proprietary feature (so well-funded companies can't compete) and an awesome team.  
"With Bizly, we've built the most employee-centric meeting booking experience on the planet. We're the only platform with hotels and restaurants, the right mix of instant booking and custom booking, wrapped around automated compliance and reporting for the enterprise," he said. "I'm also fortunate enough to have a team that's created billions in value over the last two decades.
Bizly currently has 15 employees and is hiring developers and sales professionals. As the team grows, so do their goals.
"Our short-term goal is to establish ourselves as the most employee-centric platform for small meetings," said Shah. "The longer-term mission of Bizly is to be the world's most employee-centric booking platform. Employees have to deal with so much internal pain around booking and purchasing, and we want to create the platform that really responds to their needs and creates a great buying experience in every dimension of their work lives."
Image via social media.
Know of a company that deserves coverage? Let us know or tweet us @builtinnewyork.