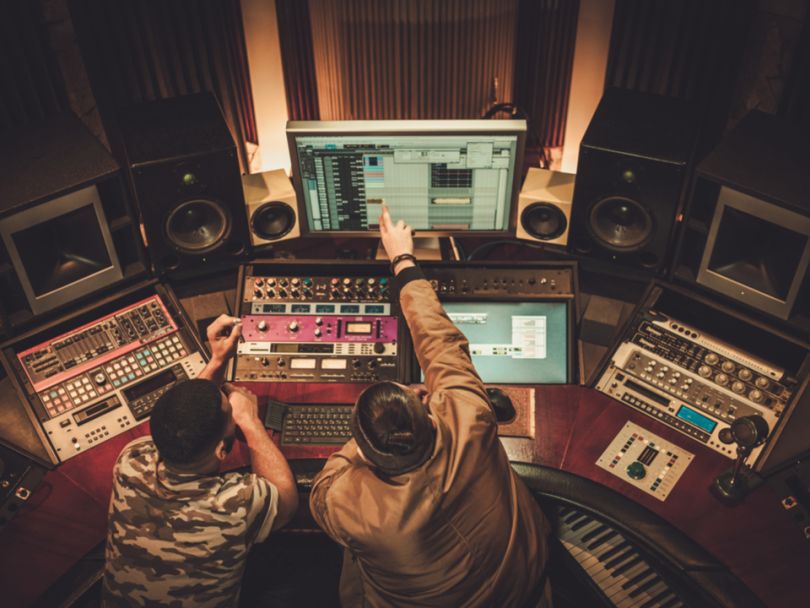 With streaming services dominating the music industry, it's becoming increasingly difficult to convince people to pay for music.
But Splice, a startup that just raised $35 million in its Series B round, is turning that notion on its head by creating a service that sells music, in the form of sounds and samples, to music-makers themselves. While it may seem strange at first glance, Splice is actually closing one of the biggest legal loopholes in today's music industry — and clearly, investors think so too.
Founded by developer Steve Martocci and sound engineer Matt Aimonetti, Splice has now pooled $47 million in total funding since its inception in 2013. 
Our vision is big...[we want] to transform the way musicians create and collaborate."
The team at Splice is aimed at paving the way for innovation across the music industry — from production to collaboration. "Our vision is big," said CEO and co-founder Steve Martocci in a statement. "[We want] to transform the way musicians create and collaborate, to foster a culture of openness in music, and to uncover new revenue streams for artists through artist-to-artist marketplaces."
Leading the most recent round is VC firm DFJ Growth, with Union Square Ventures and True Ventures returning. 
"We realize the impact Splice has on the music industry, and with the funding, we are accelerating their vision to enhance their platform for today's music creators," said DFJ's Randy Glein in an official statement.
Splice's functions are many: it serves as a community for music producers by offering rent-to-own plugins for music software, unlimited cloud storage space for tracks in the works, and — perhaps most notably — access to millions of royalty-free samples.
This last feature has proven popular with artists on both sides of these recordings. In addition to this latest funding, Splice recently announced that artists who use the platform to monetize and distribute their samples have collectively earned $5 million, with that number increasing 324 percent each year.
In the music world, sampling — the art of using bits and pieces of another song to create a new song — is an omnipresent art. Everyone from Kanye West to Britney Spears leans on this auditory repurposing to create their music.
But the use of musical samples often lands artists and their producers in murky legal waters. While urban legend suggests a sample is legal if it's less than seven seconds, the truth is that repurposing any piece of copyrighted music, even a second-long sound bite, is illegal.
Making matters more complicated is the fact that court systems have set a handful of different precedents. While some artists have gotten away with using repurposed music, others have been slapped with major lawsuits.
Splice aims to mitigate that risk, and with $35 million in the bank, it could just be the next great innovation in music making.