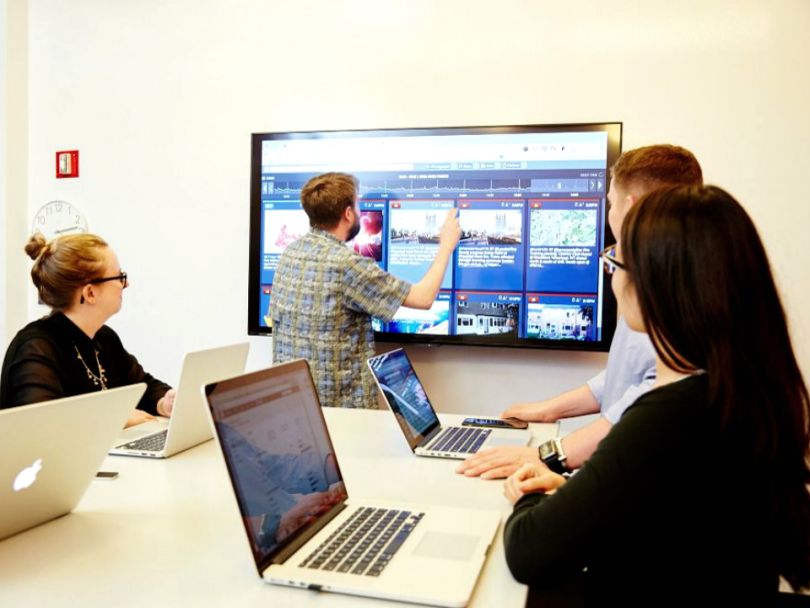 It takes a sharp, laser-focused mind to lead a company such as Dataminr, whose work quite literally involves sourcing leads for breaking news from social media before word has spread even to the editorial staff of CNN or Al Jazeera. When you're writing the code that goes into accessing and distributing real-time activity to top-tier media outlets, you must be even sharper. Dataminr's information-gathering algorithms are trusted by hundreds of news, security and public sector firms for as-it-happens updates, and this is why Dataminr trusts Tom Woolway as their vice president of engineering.
Woolway grew up in a small English town before studying Engineering Science at Oxford University. Woolway told Built In NYC he has always enjoyed creative problem-solving and studied everything from "building bridges to computer science" while at university.
After earning his degree, Woolway maneuvered his way through the technology world, holding positions at Cisco and Twitter as well as a handful of other startups. By the end of his stay at Twitter, Woolway was based in Boston and "looking for a company in which I could balance the ability to contribute a lot but still be afforded the opportunity to continue learning at the same time."
The team [at Dataminr] is incredible. I learn something from my colleagues every day."
Ultimately, Dataminr emerged as the perfect fit for Woolway's skills and interests. "The team is incredible," Woolway told Built In NYC. "I learn something from my colleagues every day. Everyone here is great to be around, and that came out loud and clear when I was interviewing. Many places say that they have a 'no egos' rule, but Dataminr is the first place I've ever worked where that's actually true."
Though Woolway may be high in Dataminr's ranks, his daily routine reveals he is in the weeds with his engineering team every day. "My job is really designed to help the team ensure we find events quickly and across a wide diversity of topics," explained Woolway. "We take publicly available information and use the latest innovations in machine learning and cloud computing to filter out the valuable nuggets of information; from natural disasters [to] Beyoncé's twins."
"After we classify every breaking event," Woolway continued, "we then route the alerts to each customer who can act on that information. This all happens in a matter of seconds so that our clients are the first to know about critical breaking information."
In between these active sprints for information and distribution, Woolway uses the downtime to work one-on-one with his team, optimizing the process. "One of my jobs is to remove anything blocking the teams from getting what we need in order to make the company successful," he said. "I spend a lot of time meeting with everyone on the team, as well as other teams in order to determine what we can do to make our work easier and faster."
At the heart of engineering is the ability to solve problems creatively, and one of Woolway's greatest achievements has been balancing Dataminr's growth and day-to-day functionality with major behind-the-scenes projects.
We have an incredible opportunity for our developers to both start and revolutionize our entire stack."
Woolway told Built In NYC that Dataminr's engineering team is currently very close to replacing several major pieces of the company's original architectural code, an innovation that will speed up the company's already lightning-fast technology.
"We're also working on new ways for people to receive the most relevant alerts, as well as making it easier for larger companies to give relevant Dataminr alerts to all of their employees," Woolway explained.
Part of this success rests on the fact that Dataminr's team is expanding each day, with plans to continue on this upward trajectory. As Woolway put it, "at the rate our team is growing, we have an incredible opportunity for our developers to both start and revolutionize our entire stack." Under Woolway's leadership, this is the type of opportunity that is becoming a reality.