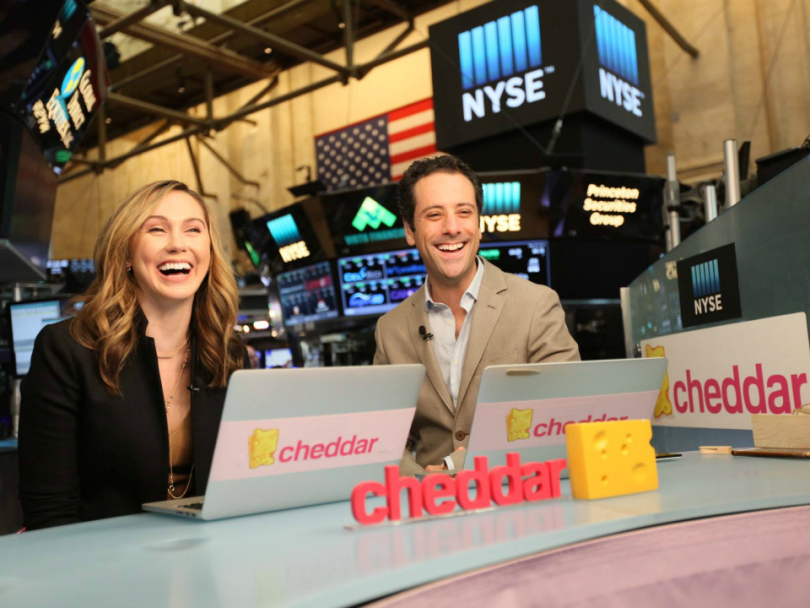 In the two years since its launch, financial news streaming service Cheddar has carved out one of the most unique spaces in millennial-targeted media — and investors are taking notice. On Monday, the company announced it had raised an impressive Series D round of $22 million.
Thanks to the funding, Cheddar's total valuation has soared to $160 million, nearly doubling its previous valuation of $85 million. The round was lead by Raine Ventures, who previously lead Cheddar's $19 million Series C round, raised in May 2017. Other investors included Liberty Global, Goldman Sachs and Antenna Group.
Cheddar was founded by Jon Steinberg, former president and COO of BuzzFeed News. The channel, available on most streaming platforms and devices, broadcasts business, finance and tech news aimed at the millennial market. Its punchy tone and unique niche of coverage has seen viewers flock in droves. Cheddar broadcasts in a cable-style format, but without the constraints of a traditional news network.
With the latest round of funding, Cheddar plans to expand their range of coverage toward an international audience. According to reports from the Wall Street Journal, Cheddar is working to bring their news service to international markets, as well as land a spot on Snapchat Discover.
Those stateside can also expect the launch of Cheddar Big News, a separate news network under the same umbrella that will focus on general-interest stories. Cheddar Big News is slated to launch as early as April 2018.
As if this isn't already an exhausting enough to-do list, Cheddar plans to grow its team of 130 employees to roughly 200 in the coming years. In the past year alone, the company has beefed up its editorial staff with key hires from publications like The New York Times and Business Insider, enabling them to craft high-quality content that reaches hundreds of thousands each day.
Cheddar's ambition and growth is a breath of fresh air in the media space. As news organizations grapple with pivots to/from/around video, Cheddar seems to be onto something seriously special — and there's nothing cheesy about that.