Hold on to your keyboards, people — you're about to get an exclusive look into the weird and wonderful world of NYC's tech offices. As the muggy days of summer approach, think of each unique space as the cool oasis of your dreams.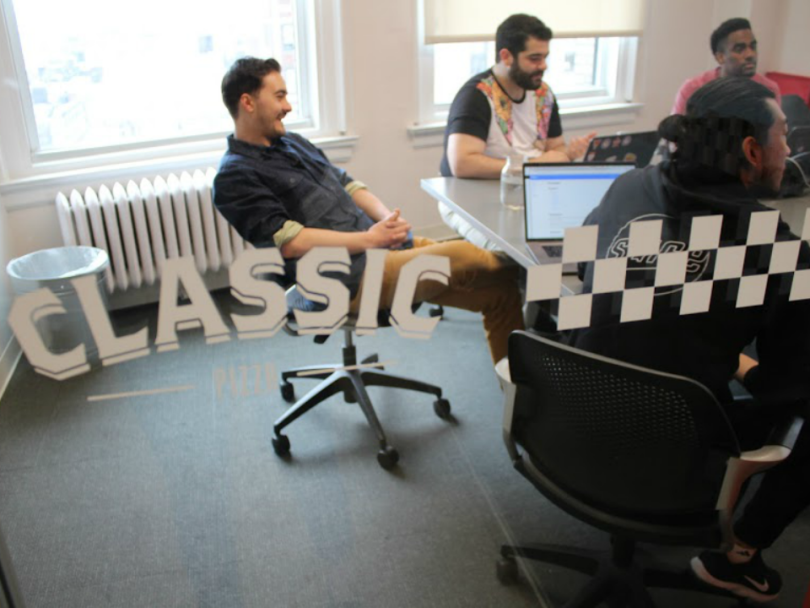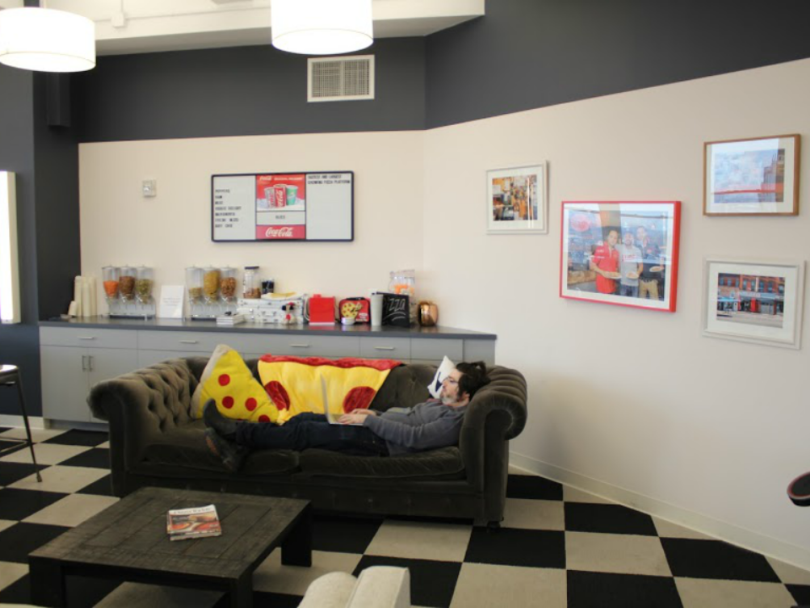 What they do: Slice helps more than 9,000 pizzerias in all 50 states reach customers in their neighborhoods by powering them with the delivery data and analytics necessary to compete in today's food delivery market.
Office stats: 92 employees work in Slice's 18,2000-square-foot space, which has served as home to these pizza professionals since 2017.
Just like the movies: A Slice representative cited the office's "private bookshelf lounge," as their favorite part of the space. "It's a private office that can only be accessed by pushing a book on the bookshelf."
You are what you eat: "Slice wanted to evoke the feel of a real, authentic, local pizzeria in every space of the office," said Slice. "From the classic checkered floor to the changeable letterboard menu, you can find little touches scattered throughout — right down to the colors on the walls (brick, dough, and charcoal to represent the pizza making process). Each conference room is named after an actual pizzeria that is near and dear to CEO & Founder, Ilir Sela's, heart — and marked with glass decals featuring classic old pizzeria signage fonts.
They continued: "The walls of the office are covered on photographs featuring many of the pizza makers Slice represents. It's a great reminder of the local heroes we are working so hard to empower and equip with the tools to succeed. We couldn't be more proud of our Slice family pizzeria network."
"Speaking of family, the large auditorium space is designed for family-style lunches (specifically pizza lunches, obviously), filled with many classic metal tables that can be found in pizzerias across the U.S."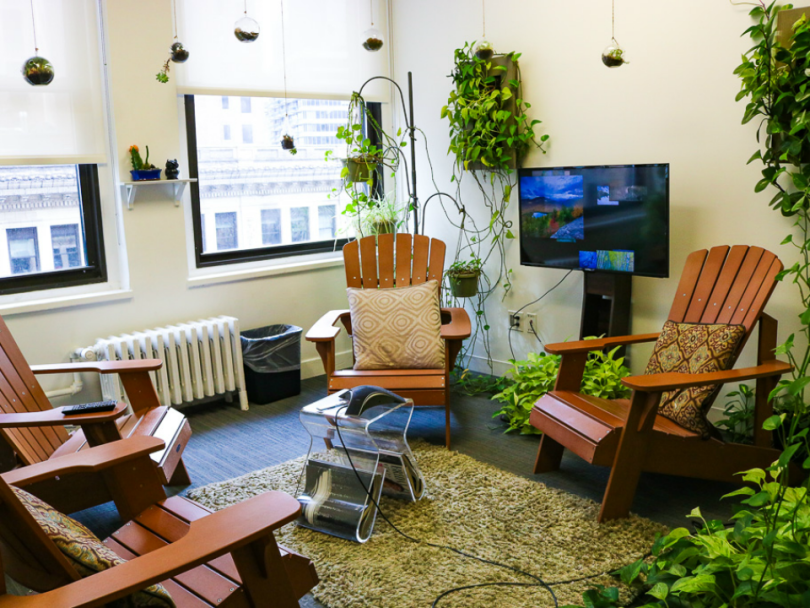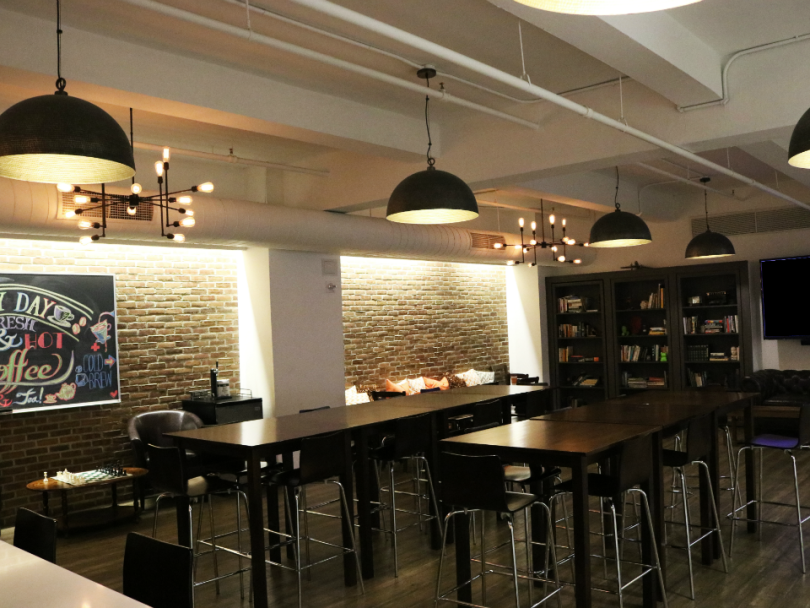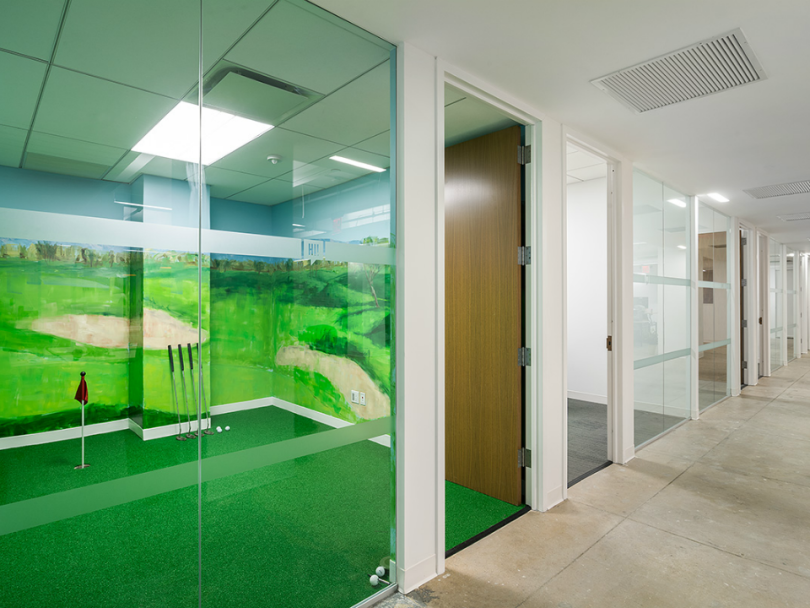 What they do: Smartling helps companies such as British Airways, Pinterest and WeWork grow and expand their businesses into global markets. Using Smartling's powerful technology, companies are able to deliver truly native brand messaging to readers around the world.
Office stats: 93 employees work in the 27,000-square-foot space, which Smartling has occupied since 2014.
Open office, open minds:  "Our open-office design has themed meeting rooms surrounding the perimeter. Some of these rooms include a Starry Nights Room, Golf Room, and even a secret Speakeasy Room," said Beatriz Ruiz-Albini, Smartling's director of human resources and recruiting. "However, one of the most popular spaces is the Green Room. This room has floor to ceiling plants and natural light, overlooking Broadway. This is a perfect combination for a zen break from the hustle and bustle of the main hub."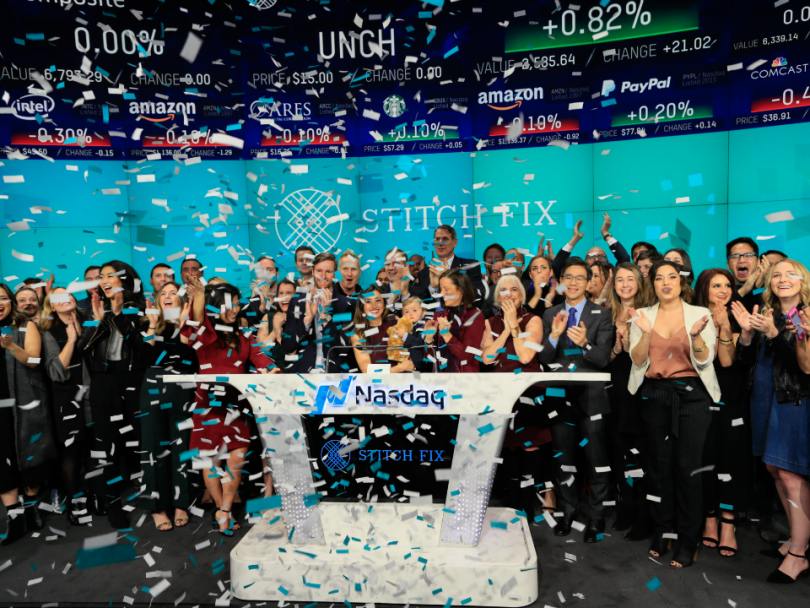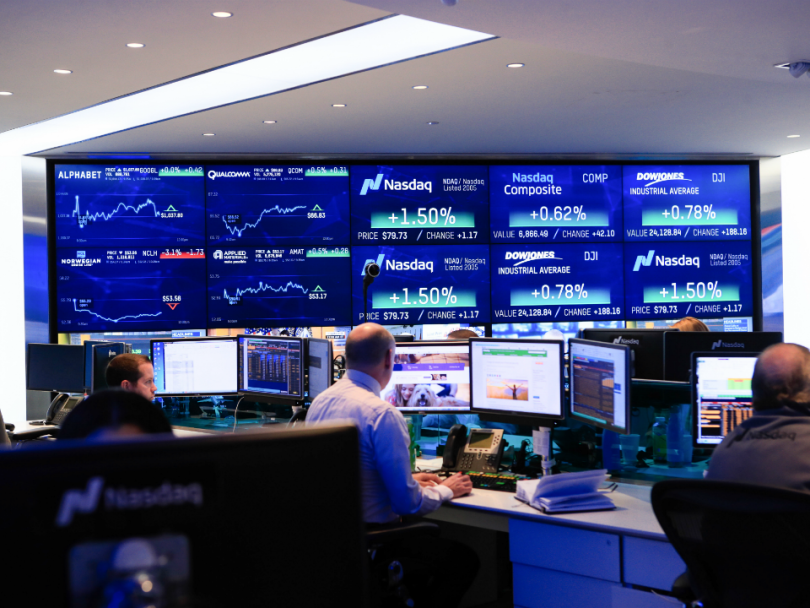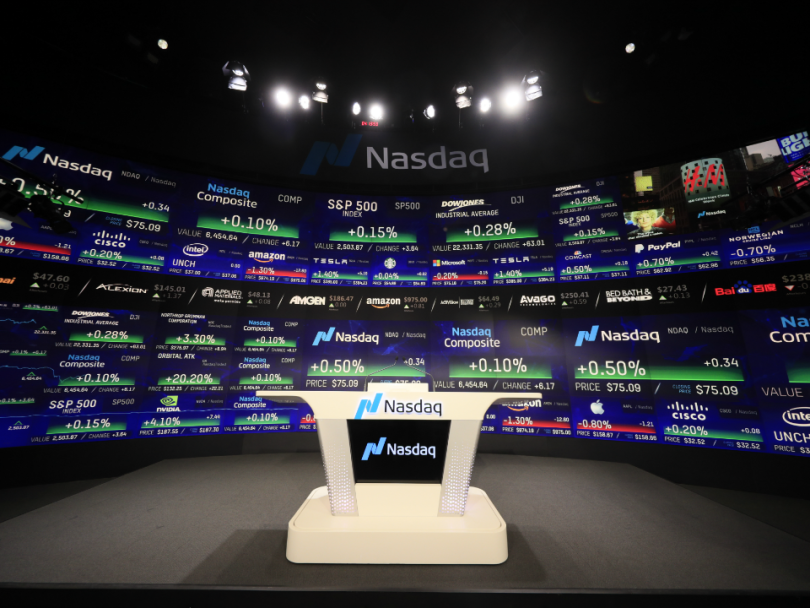 What they do: Nasdaq, one of the most iconic names in finance, helps technology companies around the world raise capital through public markets. Nasdaq's technology powers more than 90 marketplaces around the world.
Office stats: 700 employees will soon head to Nasdaq's brand new Times Square office each morning. The new 145,000-square-foot facility builds on to the pre-existing 42,000-square-foot site. Nasdaq first built the site in 1999.
An age old tradition: Emily Pan of Nasdaq's corporate communications division cites the Opening and Closing Market Bell as a fan favorite at the office. "Nasdaq MarketSite is also home to prime-time business shows including CNBC Squawk Box, Fast Money and other social media productions," she said.  
Big plans: "The 10th floor will be home to a state-of-the-art event space as an extension of the Nasdaq MarketSite and feature a 2,100-square-foot outdoor terrace overlooking Times Square, above the world-famous Nasdaq Tower, for Nasdaq clients and prospects with the capacity to host more than 400 people for corporate events," said Pan.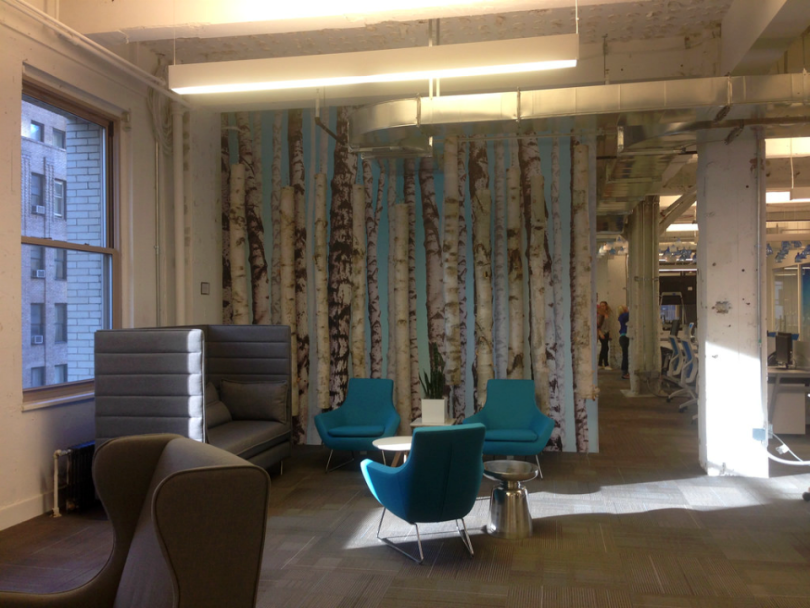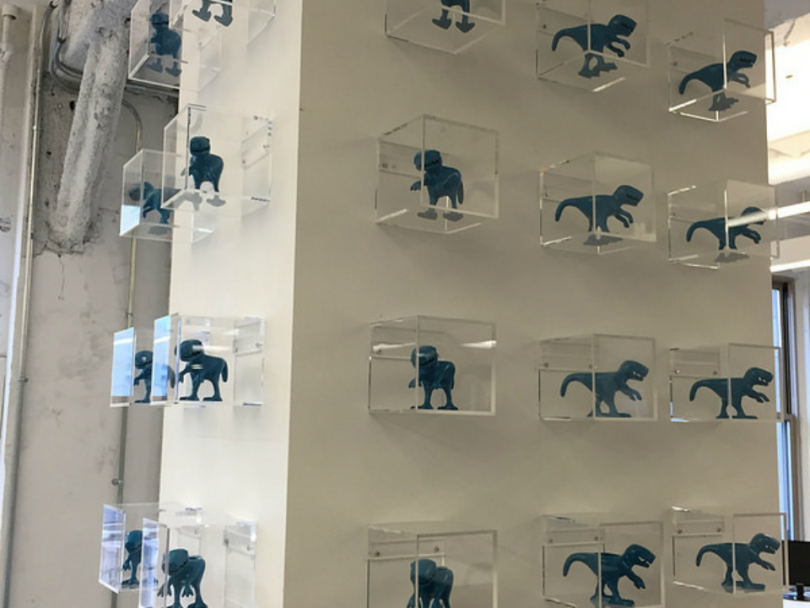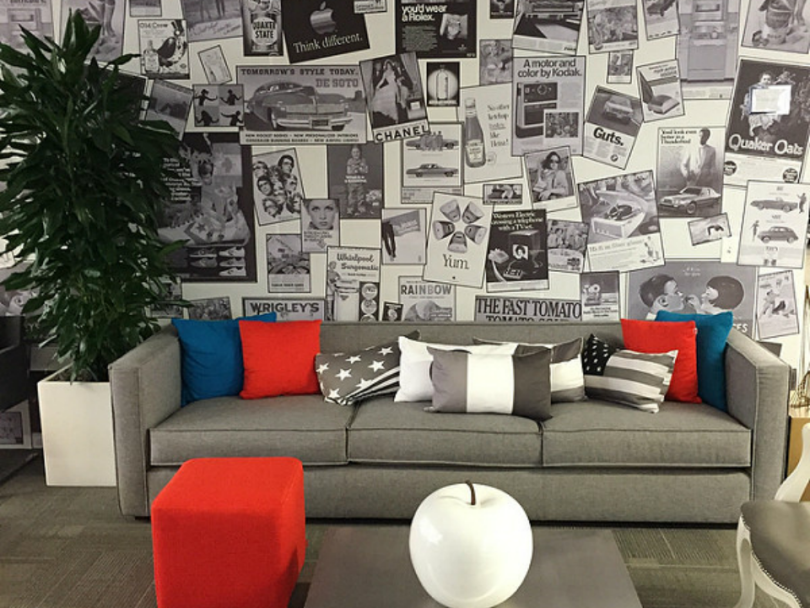 What they do: At PubMatic, the dedicated team helps media companies and media buyers around the world find automated advertising solutions that drive business to new heights.
Office stats: 62 PubMatic employees spend their days inside the 15,000-square-foot office, which the company has called home since 2014.
Feels like home: "We have a number of small meeting nooks with the feel of a cozy living room that foster creativity and collaboration," said Jeff Hirsch, CMO and head of U.S. publisher development. "People can either brainstorm the latest product innovation they are working on or engage in friendly competition with a game of chess or connect four (or any of the number of games we have around the office)."
Quirky (and tasty): "Our space is decorated with dozens of toy dinosaurs hidden around the office that remind us all to innovate and be biased toward action to ensure we don't go the way of the dinosaur," Hirsch explained. "We have a fully-stocked kitchen and pantry with fresh fruit and other grocery items as well as a number of coffee makers (for both hot and cold varieties) so all employees can count on being fueled up for their day."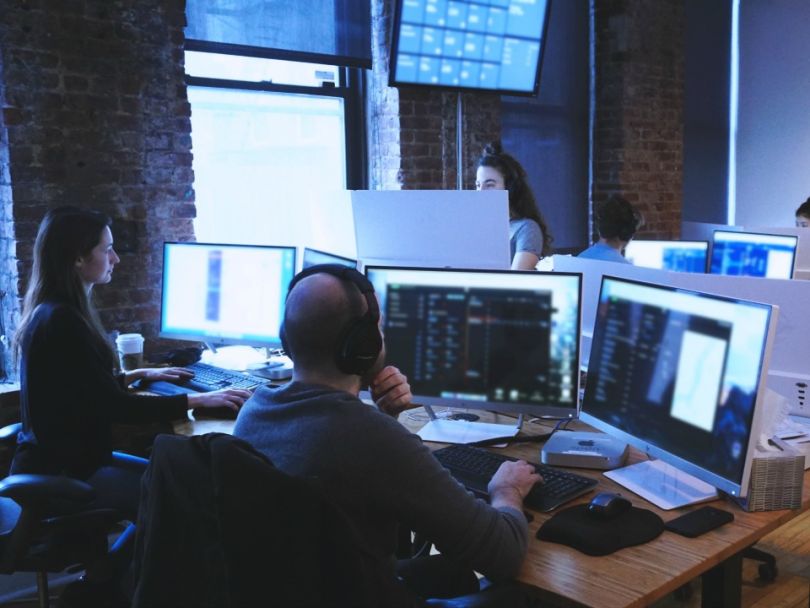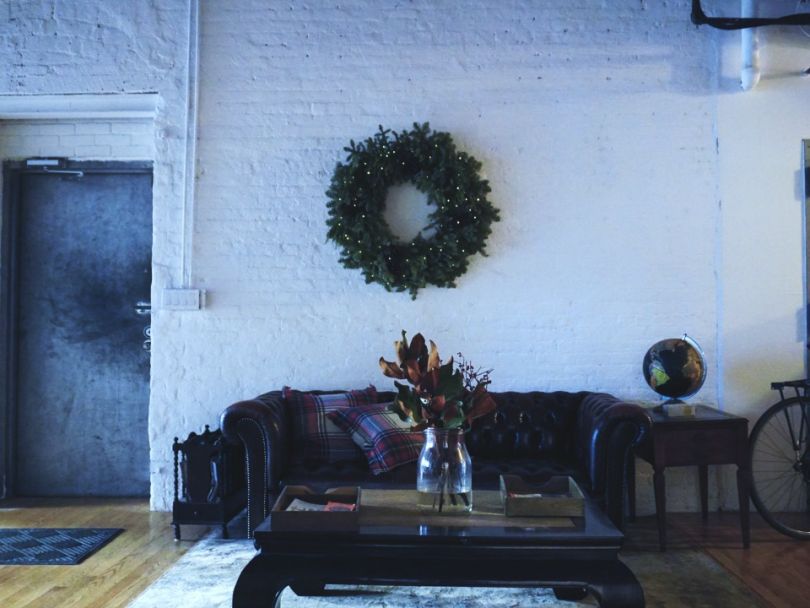 What they do: Citizen is the force behind one of New York City's favorite apps. The company's platform uses your location to alert you to potentially dangerous incidents in your area such as fires, robberies and more. Citizen also allows users to upload photos and videos of the incident, if they can safely do so.
Office stats: 40 employees work in Citizen's 4,000-square-foot space, which has served as home to the company since 2017.
Beyond nine to five: "We are a 24/7 operation, with employees powering the Citizen app around the clock," said Lea Artz, Citizen's head of newsroom and central operations. "The Citizen office is never empty [and] we take great pride in our office vibe. It's brightly lit, big, open and incredibly creative. We work at our standing desks, and celebrate company milestones on a rare Lower Manhattan deck space attached to our office. That's our go-to collaborative workspace whenever the weather is nice enough."