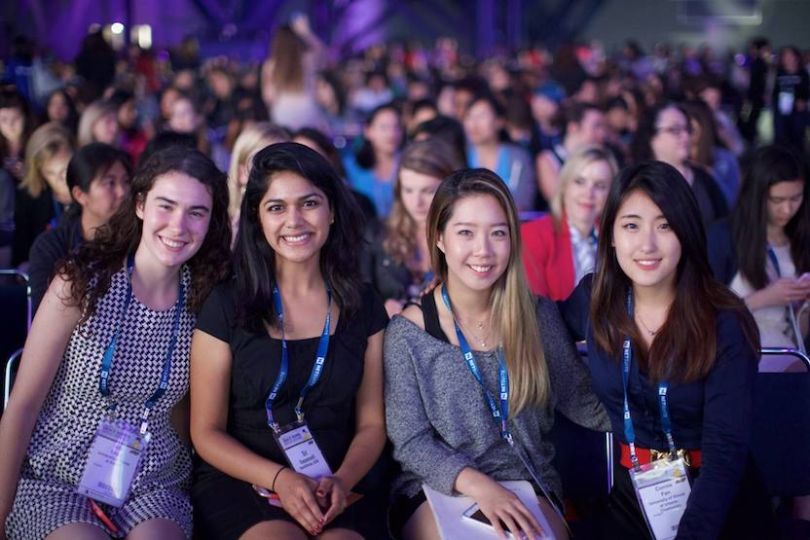 Every year, women from all over the world gather together for the Grace Hopper Celebration, a series of conferences that highlight technical research from and for women in the industry. Hosted by AnitaB.org and the Association for Computing Machinery, the conference is being held Sept. 26 to 28 in Houston.
As you might expect, the women of NYC tech are heavily involved in the event. We caught up with seven women who will be attending, and learned why they're so excited to be a part of the community.
Staff Software Engineering Manager Lauren Ellsworth will be representing Flatiron Health at the conference. She hopes to take in talks and panels and bring advice from industry leaders back to her team.
What is your advice for making the most of the event?
I think the trick to Grace Hopper is making sure you are fully charged and ready to meet everyone every day. I pick my must-attend talks in advance, and make sure I line up my schedule to make that happen. From there, I pick off-hours to visit the exhibition hall, so the crowds will be a bit less and I can have a chance to talk to different companies about what they're working on. I keep my evenings free for all the events; it's usually the best time to meet new people and catch up with friends from across fields.

Why do you think an event like this is important?
I've worked with more than a dozen engineering teams in my career, and up until last year, I had never worked with another female software engineer on my team. Grace Hopper is a reminder of all of the talent, possibility and inspiration in the technology industry, and is especially poignant for those of us with a lot of experience in male-dominated teams. There is a joy to being able to relate to the people around you, to hearing ideas from a diverse set of individuals, and to working with people who are perhaps not the norm in the tech industry. The Grace Hopper Celebration of Women in Computing is just that: a celebration and an overwhelming reminder of women in computing, our history in this field and our capacity to be instrumental in the future of technology.
Software Engineer Su Tan is attending Grace Hopper this year to learn from a crowd of accomplished women and bring some insights back to Squarespace. She walked us through her networking plan.
What is your advice for making the most of the event?
Be prepared to network! It's easy to just stick with the friends you know when there are so many other people at the conference. However, the Grace Hopper event attracts people from really diverse backgrounds who are at different points in their career, so my biggest piece of advice is to try to maximize that opportunity by meeting new people and connecting with them about their experiences. And of course, remember to exchange information and reach out to the people you meet after the conference is over.
Why do you think an event like this is important?
We need an environment for women and other minority groups in our industry to share their work, to support and inspire each other in their pursuit and love for technology, and to help one another in developing their career. This event is a great opportunity to meet other like-minded people who are currently — or have been — in a similar situation and who have the same hopes, dreams and worries as you. It is incredibly empowering to know that you're not alone in your experience, and that there are other role models, mentors and peers out there who are as interested in your success as you are in theirs.
Senior Director of Product Marissa Chacko is representing Foursquare at the Grace Hopper event. While she's excited to learn about emerging technologies, her reasons for attending stretch far beyond her personal goals: She's most looking forward to inspiring — and being inspired by — younger generations of women in tech.
What is your advice for making the most of the event?
I love the talks, but I find the most engaging part of the conference is connecting individually with women I meet in between sessions, at the booth or over breakfast. I make sure I have a mix of time to do a bit of everything so I am not just a passive listener.
Why do you think an event like this is important?
Women in tech can often feel isolated. Coming to Grace Hopper is a great reminder that you are not alone. Particularly for senior women leaders, it's important to see the future generation as a reminder that we need to be clearing barriers, mentoring, and fostering environments where they will thrive.
Senior Director of Engineering Amy Wang will also be representing Foursquare at the Grace Hopper event, which she attended last year. There, she'll connect with like-minded women and bring back helpful tips for her team.
What are you looking forward to most about the Grace Hopper event?
I'm most excited to network and talk to some swarm users; last time we went, we learned so much from the senior tech women program. It was beneficial to connect with and learn from lots of other smart technical ladies and get inspired — and I hope to do the same this year!
Why do you think an event like this is important?
It is important to make everyone realize that women are a formidable force in the tech world — and there are so many of us out there. It helps break down barriers and make women feel less alone in the industry.
Software Engineer Sharell Bryant is returning to the Grace Hopper event this year to learn about new technologies that interest her — and she's already excited to share what she learns with her team at edtech company Teachers Pay Teachers.
How will you make the most of the event?
I plan on making the most of my second Grace Hopper event by attending sessions across the different tracks that are available this year. Particularly, I'm looking forward to joining sessions that can help me with my career development, applications of technology that I'm familiar with, and new and emerging technology that I want  to learn more about. I look forward to leaving with ideas to share back at work, new goals, and new connections.
Why do you think an event like this is important?
It's important for me to have an event like Grace Hopper because it both highlights and celebrates the accomplishments of women in computing that are often not as visible as I would like. It's also a super special experience to be in such a supportive space with people who are ready to answer questions and share experiences openly and honestly. The energy and positivity I felt at the event last year was extremely motivating, and I can't wait to experience it again this year!
Software Engineer Jessica Laughlin has been looking forward to attending Grace Hopper since she learned about it in college. She's making sure to diversify the sessions she attends so she can make the most of her experience and bring back her findings to the team at marketing tech company Bluecore.
How will you make the most of the event?
My strategy was to diversify my session registrations. I have a mix of technical sessions (like Real-Time Stream Joining and Intro to Quantum Computing), personal development sessions (like Shattering Imposter Syndrome), and networking sessions (like Speed Mentoring). Since Grace Hopper delves into the technical, personal and interpersonal ways to be a female technologist, I wanted to take advantage of everything the conference had to offer.
Why do you think an event like this is important?
I was lucky enough to find computer science while attending an all-women's college. I frequently tell people I don't think I would have pursued it in a co-ed environment. I didn't feel like I was coming in to the program at a particular disadvantage to other students, and the environment was incredibly supportive. It is important for me and Bluecore to support the advancement of women in tech. Events like Grace Hopper offer a time and space for women to network, find inspiration and bring learnings back to our everyday environments.
NS1's VP of Engineering Renee Orser is not just attending the Grace Hopper event, but also speaking on a panel during the session "Getting Real About Career Transitions (And How to Ace Them)." She, along with two of her colleagues, will speak from personal experience on the exciting turns they've taken throughout their careers.
How will you make the most of the event?
I will arrange recruiting meetings ahead of the event with talented candidates, find a handful of networking discussions to learn from others in our field, and prepare and build up momentum around the panel talk.
Why do you think an event like this is important?
Exposure to individuals with similar career paths and experiences allows us to feel confident in our own work and our own roles at our companies. Grace Hopper helps convene many individuals who we wouldn't be able to easily meet otherwise.