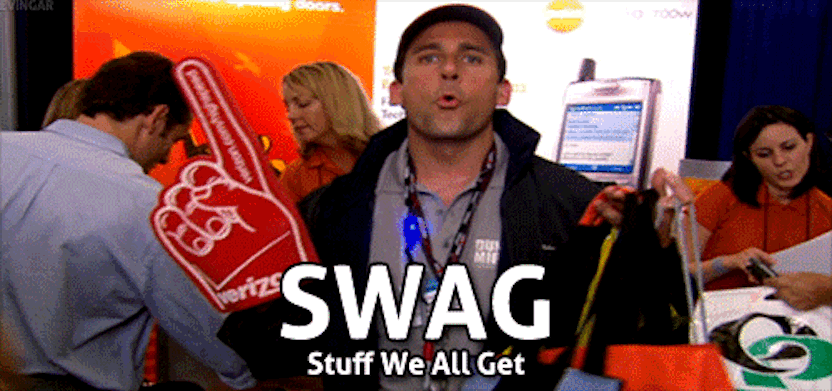 If you've been involved with startups for a while, chances are high that you have a bin somewhere in your apartment that's full of company swag from previous jobs.
Chances are also pretty solid that the bin is rife with unused items like branded koozies and pens — unless you work at a company that takes swag seriously.
The following NYC tech startups went far beyond the standard company gear and decided to give employees items they'll actually appreciate (toy sloths, anyone?). See which items have teams raving about their company swag.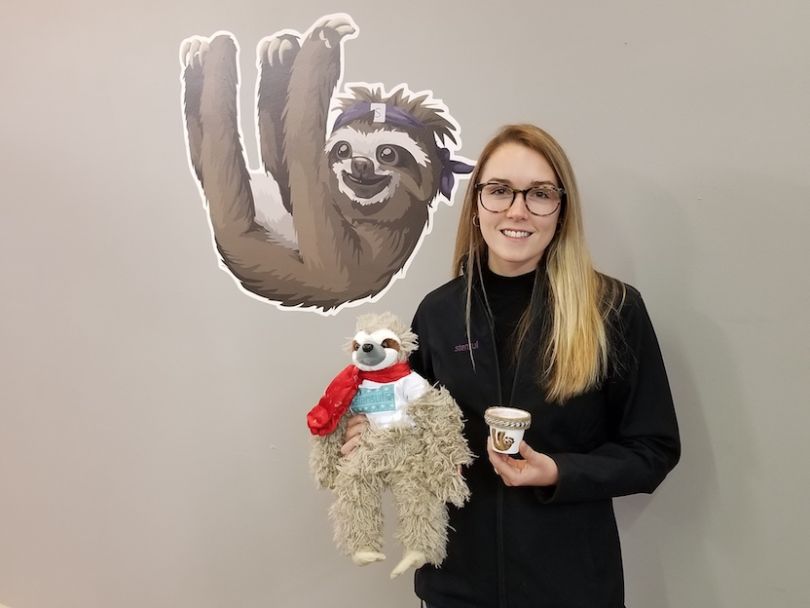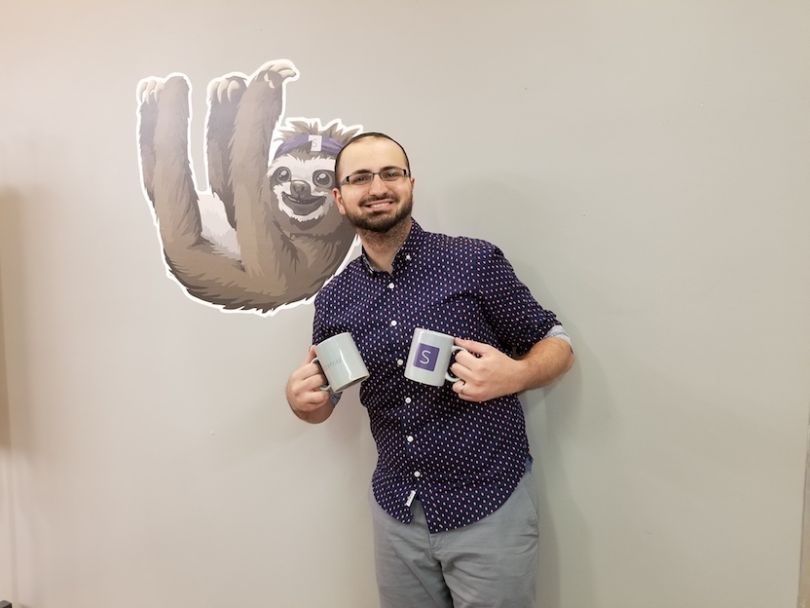 Email marketing platform Stensul is best known for two things: helping companies deliver effective, mobile responsive emails and being exceptionally quirky. Any company that appoints a sloth as its mascot knows a thing or two about keeping things fun and interesting. Customer Success Associate Kelly Dynan talked about the stuffed Stensul sloth and other company gear she loves.
What's your favorite company swag item?
My favorite swag item is my stensul Colombia jacket. It was given to me on my first day, and it is perfect for the office when the AC is on the fritz or if I am quickly running out with coworkers for a cup of coffee. Next up is the stuffed animal version of our mascot, a sloth! We just got the holiday themed sloth in, and he is just too cute — perfect for taking a quick photo or just making people smile. Lastly, is a mini ceramic pot with our sloth on it. We sent a bunch of potted succulents out this year as part of our holiday gift, and I took one from the leftovers (don't tell the sales team!).
What's your dream swag, if budget wasn't a concern?
I would love Stensul-branded athletic gear. I know it's not super out-of-the-box, but nothing would give me more motivation than to bring something with a sloth on it to the gym. At least one of us can be lazy!
When it comes to cool swag, video creation platform Frame.io knows what employees really want — and for Senior Recruiting Coordinator Janine Grillo, it's not necessarily the most glamorous of items. She told us about all of the smallest things that make her happiest.
What's your favorite company swag item?
My favorite swag item is our Frame.io hair ties — though they're one of the smallest pieces of swag, they're also the most frequently used! I also love our branded workout shirts, which we all wore to a cycling class we took as a group. And finally, I love our branded t-shirts that we wore during Pride Month.
What's your dream swag, if budget wasn't a concern?
Branded Apple watches!  I don't know if this would even be entirely possible, or how much customization we would be able to do, but these were considered as an option for our work anniversary presents — the price tag was ultimately too hefty, but I can dream!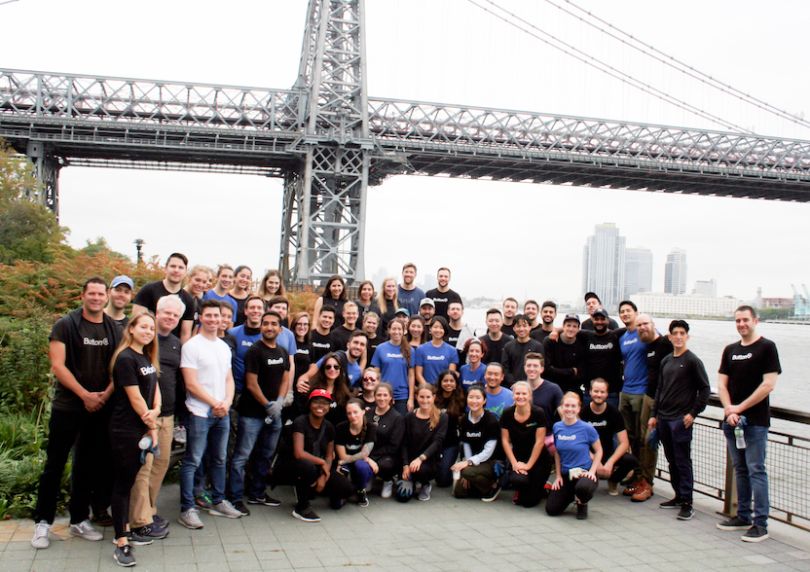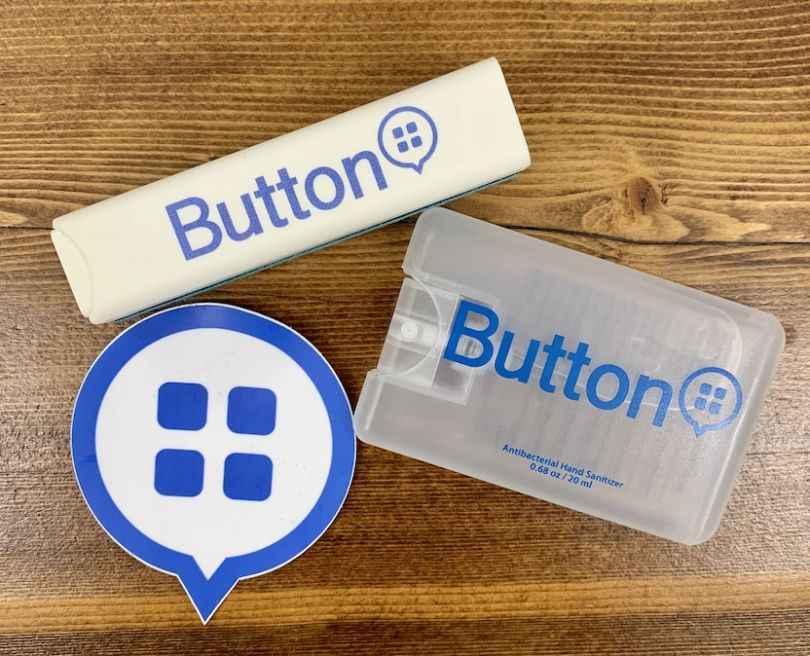 Mobile partnerships platform Button is all about functionality and comfort — at least when it comes to branded company gear. Office Experience and Facilities Manager Brian Kustera showed off all of the best swag, and told us one item he's secretly hoping for.
What's your favorite company swag item?
The Button-branded spray-and-wipe monitor cleaners are amazing. It's a frequent reminder of the company we love working for and how satisfying it is to clean a dusty, fingerprint-covered screen. I also love our branded hoodies and umbrellas that keep us prepared for the erratic NYC weather.
What's your dream swag, if budget wasn't a concern?
I've always thought a really nice carry on bag would be great for frequent travelers — plus, it would give great brand exposure and be easily recognizable on a conveyor belt!