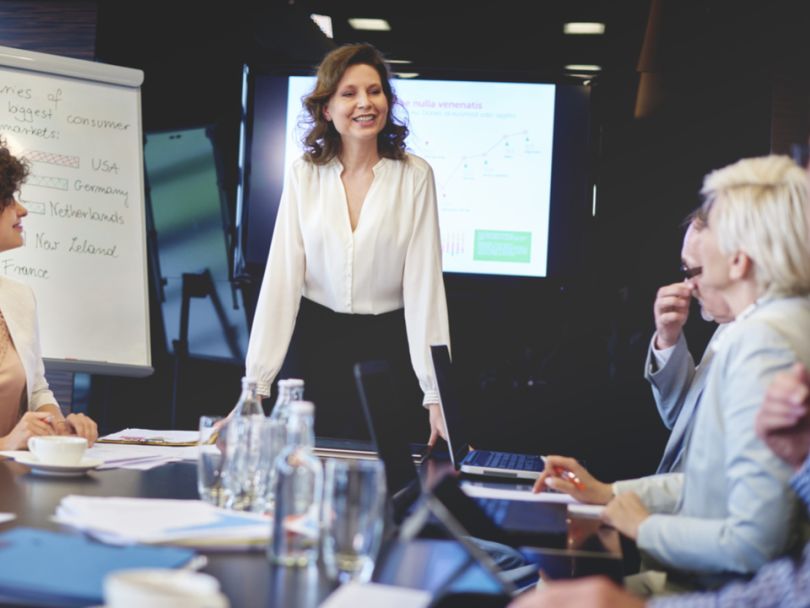 New York City tech moves so fast, it can be hard to keep track of who's who. Fortunately, Built In NYC has the recap you need to keep tabs on the city's most significant leadership changes. So who will be leading the next great chapter of NYC tech? Find out below.
Augury uses artificial intelligence to build products that help systems work longer, harder and better. Recently, the company welcomed Elke Wong as head of customer success. Most recently, Wong served as vice president of SMB and local market strategy at PebblePost, and has held a variety of senior level, customer success-oriented roles.
Applecart recently welcomed people-expert Hannah Olshansky as the company's newest Head of People. Olshansky will be relocating from Boston for the role, where she most recently served as the global talent brand manager. Founded in 2013, Applecart builds marketing and networking technology that helps companies leverage real relationships.
In January, real estate tech firm Breather announced it had appointed Bryan Murray as the company's new chief executive officer. The company's founding CEO, Julien Smith, will remain with Breather as chairman of the board. Prior to his new appointment, Murphy served as president of Tomorrow Sleep, and vice president at eBay. Murphy's appointment comes after Breather raised $45 million, for a valuation of $122 million, in June of 2018.
Last month, Collibra announced the appointment of tech industry veteran Jim Cushman as the company's chief product officer. Cushman brings with him 20 years of experience in the enterprise data arena, where Collibra specializes. Previously, Cushman served at Veeva Systems and Novetta Solutions. Now, Cushman will take up his new mantle at Collibra to help the team build and implement new products and data solutions.
DigitalOcean, maker of developer-friendly cloud storage solutions, has a new chief technology officer. Barry Cooks joins the DigitalOcean team with more than 20 years of experience, including his most recent role as vice president of research and development at VMware, and a host of other executive positions at Virtual Instruments, Sun Microsystems and more. Cooks' appointment comes a few weeks after DigitalOcean's tapping of Jeff Giannetti and Anthony Ricco for the roles of chief customer officer and chief marketing officer, respectively.
One of the world's most well-known media companies, Discovery, recently announced Avi Saxena's appointment as chief technology officer for direct to consumer. Saxena is familiar with working in such high-profile roles, and most recently served as vice president of technology for Amazon Marketplace, and also worked at Microsoft in the past. Saxena's new role will oversee the development of Discovery's direct-to-consumer technologies and platforms, such as the Motor Trend group of publications.
iHeartMedia, the umbrella company of fan favorites like iHeartRadio, has a new executive vice president of their SmartAudio Intelligence division. Company veteran Hetal Patel will be stepping into the role. Among her many senior roles within the company, Patel most recently served as vice president of consumer and corporate insights.
Information Builders, a leader in the business information space, has a new CEO in the form of Frank J. Vella, who has been with the company since his appointment to a chief operating officer role in 2017. Following rapid success and growth in that role, Vella will now take the reins as CEO to continue capitalizing on growth opportunities. Vella succeeds founder and former CEO Gerald D. Cohen, who will remain with the company as chairman of the board.
Design workflow platform InVision welcomed a true content expert onto their executive team: Susan Kaplow brings more than 15 years of content-related experience, including her most recent role as chief content officer for Apartment Therapy Media. Kaplow has also held leadership positions at Refinery29, SheKnows Media and more.
Client acquisition platform JumpCrew recently announced its newest vice president of SEO and content. Gordy Casasco joins the company following a tenure as associate director of SEO at Huge, one of the city's premiere digital agencies. Casasco joins JumpCrew at a time of pivotal growth: In 2018 alone, the company raised $5.4 million in VC funding, expanded its workforce by 200 percent and cracked $30 million in annual sales.
User insights platform Alpha recently announced two key additions to its C-suite: Tom Burg joins the company as senior vice president of marketing. Burg's key experience in the field of marketing has involved leadership roles at Google, Criteo and DoubleClick.
Kyle Langenbach is also a new addition to the team, and will serve as vice president of product management. Previously, Langenbach served as head of product at Warner Music, where he oversaw the creation of the first platform for independent artists to distribute and promote their music.