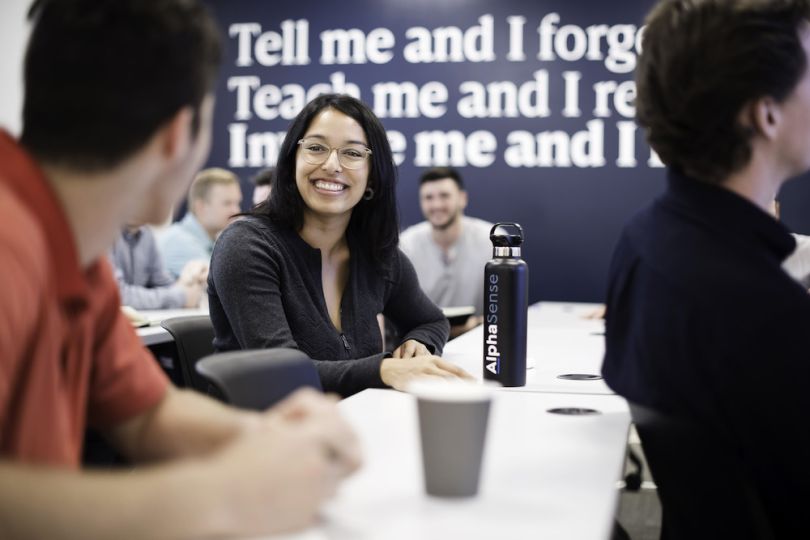 Thanks to the internet, companies have more information at their disposal than ever before, but keeping track of it all has never been more difficult.
The web has created a fractured landscape that can lead critical information to slip through the cracks. A simple Google search on a rival company's earnings could yield hundreds of links that could take hours or days to sort through to find relevant information, while combing through internal archives for data can be equally difficult. 
Whatever you're looking for, AlphaSense will find it and send you to where it exists."
To address that, AlphaSense has built an AI search engine for market intelligence, designed for enterprise companies and investment firms. The engine helps companies sift through thousands of internal and external content sources to ensure nothing is missed, providing a critical edge for those companies, Kiva Kolstein, AlphaSense's CRO, told Built In.
"If your entire job is based on making sure you have all the information you need to make a decision — and these are million-, billion-dollar decisions — you have to mitigate the risks of missing something," he said. "Whatever you're looking for, AlphaSense will find it and send you to where it exists."
After accruing more than 1,000 customers, AlphaSense is doubling down on its product. The New York-based company announced today that it has raised $50 million in Series B funding to help it do so. The round brings the company's total funding to $90 million and has it positioned to scale. 
"The extraordinary foundation we've built at AlphaSense gives me great confidence we can scale," Kolstein said. "It's been an exciting and wild ride since I got here two years ago, but I can't think of a more exciting time to be here than right now." 
AlphaSense launched its AI search engine in 2011. The engine is designed to help companies cultivate market intelligence from thousands of sources of content from broker research to company presentations to national or niche news. 
Users can enter a search term, like "Tesla's growth in China," and then find every bit of information that matches with that search. It will even bubble up concepts related to those terms, Kolstein said.
"We enable users to get to the specific thing they were looking for more quickly than they could otherwise," Kolstein said. 
Since its launch, the company's product has been used by more than 1,000 enterprise customers, including more than 50 percent of the S&P 100 corporations, and 66 percent of the largest global investment firms. 
With this investment, the company aims to continue to add new features to its AI engine and expand on its extensive library of content and reports it can search. AlphaSense also plans to significantly grow its 200-person team.  
The round also brings Innovation Endeavors, the investment firm founded by former Google CEO Eric Schmidt, into the fold. Innovation Endeavors led the round, and its founding partner, Rick Scanlon, will join AlphaSense's board.
Soros Fund Management also participated in the round, along with other existing investors.