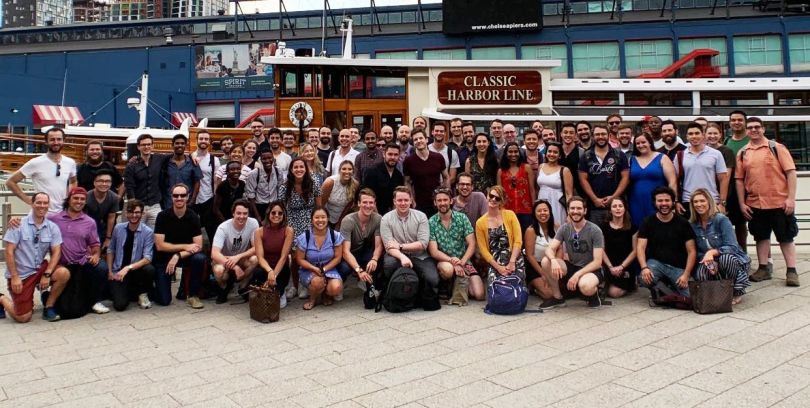 Simon Data announced it raised $30 million in Series C funding this week. The New York City-based customer data platform plans to use the cash to expand its marketing presence and grow its machine-learning and customer modeling capabilities.
Founded in 2014, Simon Data is a marketing tool that pools data from companies' disjointed technology systems, uses the information to segment customers into profiles and then uses artificial intelligence to recommend marketing strategies for specific customer types. It then tracks the success of its recommended marketing campaigns, which can include email, push notifications, SMS messaging and more.
"Every single year, the amount of data collected increases three or four times," Simon Davis, co-founder and CEO told Built In. "Businesses are measuring [their footprints] in new and diverse ways. Any piece of data that's relevant to the customer, we aggregate into our platform and make it available and actionable." 
Polaris Partners led the funding round, with participation from .406 Ventures and F-Prime Capital. That brings total investment in Simon Data to $63.8 million. 
Dave Barrett, managing partner at Polaris Partners, said the investment was about extending Simon Data's ability to deliver customized customer experiences. 
"Simon Data pairs a disruptive new data science-fueled technology with a partnership approach that's designed to help enterprises deliver a new generation of customer experiences," Barrett said in a statement. 
The company is on track to increase revenue 250 percent year over year, Davis said, although he declined to disclose specific revenue numbers. Simon Data charges a yearly subscription fee to companies to use its product, which ranges from the "low hundreds of thousands of dollars" for smaller firms, and in the millions for larger companies with a greater revenue pool, employee count and measurable data. 
Davis credited growth to word of mouth, as well as industry interest in customer data platforms. He said Simon Data has less than 100 customers, all of which he defines as "fast-growing," with at least $50 million in annual revenue, or "large enterprises" with $1 billiion or more in annual funds. Clients include ASOS clothing company; Equinox Fitness; Venmo mobile payment platform; and more. 
"If you're just getting started, you're a three-person business, you should use Mailchimp," Davis said. "If you start to have a more sophisticated business, more sophisticated brand. ... suddenly a three-person company grows to a 300-person business, that's when we'll start having conversations."
The company plans to use the funding to add customer modeling capabilities to the platform, so clients can better understand customer behavior. As an example, he named an OpenTable customer who used to book a reservation for a weekly date night but now stays in. 
"What does that mean for you? Is it normal, abnormal, should OpenTable care?" Davis said. "Or should OpenTable expect that Labor Day's coming up and they're on vacation?" 
Simon Data also plans to expand its machine learning capabilities to help clients "think about different moments that a customer might have in their journey with a business." For instance, in the case of a customer who bought a pair of shoes online. 
"What does it take to get you to buy a second pair of shoes?" Davis said. "What kind of shoes? Full-priced or something on discount? Given how you browse for shoes, would we expect you to buy the next pair immediately or buy the same pair when they wear out in three months?" 
The company plans to add about 40 people to its approximately 90-person firm over the next 12 months, and is looking for engineers, data scientists and "aggressively" expanding its customer success and sales teams.