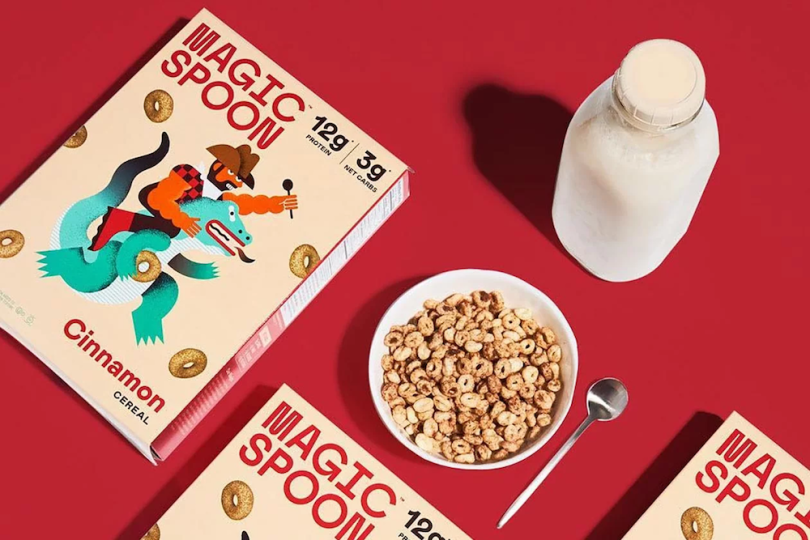 Technically speaking, Magic Spoon makes cereal, but when you look at the ingredients the company uses, it hardly looks like cereal at all.
Most of the cereals we loved as kids — think Frosted Flakes, Froot Loops and Lucky Charms — are all made of either corn, soy or wheat and lots of sugar. The result is a mass-produced food with little nutritional substance and plenty of empty calories.
Magic Spoon's cereal, on the other hand, has no corn, wheat, rice, soy, corn syrup, cane sugar, gluten or GMOs. Instead, it's made from whey protein, tapioca flour, coconut oil and natural sweeteners, giving it 12 grams of protein per bowl with 110 calories and 3 net carbs.
But with flavors like Cinnamon, Frosted, Fruity and Cocoa, it invokes Saturday morning cartoons, more so than a health food.
Magic Spoon launched in April 2019, and it's been gaining momentum since. On Thursday, the company announced that it raised a $5.5 million seed funding round. The company plans to use this funding to build its small team and keep up with demand (Magic Spoon says that it sold out three months' worth of stock in the first weeks after launch). The company also hinted at new flavors and products in the works.
Currently, the only way to get a box of Magic Spoon is through its website, and that's by design. Magic Spoon told Built In that it's been approached by various retailers, but by staying direct-to-consumer Magic Spoon has been able to get better feedback from its customers. It even admits to cold calling customers to ask for their opinions on the cereal.
According to them, Magic Spoon taps into a sense of nostalgia that many health-conscious adults have long forgotten.
"Many of our customers haven't had cereal since college, when they started paying attention to their diets," Magic Spoon co-founder Gabi Lewis told Built In. "But with Magic Spoon they're able to rediscover cereal in a guilt-free way."
At $39 for a four box case, Magic Spoon's cereal isn't exactly cheap. But the founders say that's because of the ingredients that go in it. Magic Spoon's ingredients more closely resemble what you'd find in a protein bar, and the price reflects that.
You can also sign up for a monthly subscription of Magic Spoon cereal at a discount. The Magic Spoon co-founders told Built In that this is especially popular because of the habitual nature of breakfast. For example, you wouldn't want to eat the same exact meal for dinner every day, but when you have the same cereal every morning it just becomes part of your routine.
So do the co-founders eat Magic Spoon every day? Of course.
"We created Magic Spoon because we love cereal," Lewis told Built In. "We essentially made a product for ourselves."