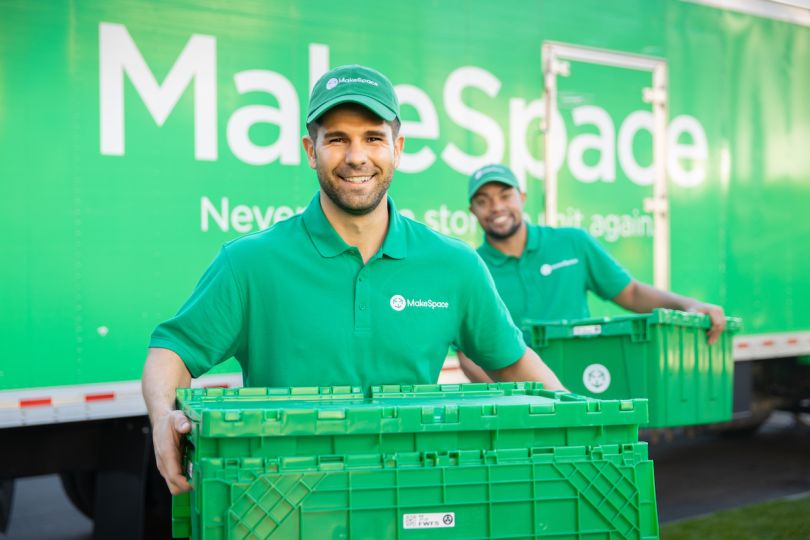 MakeSpace, an NYC startup that provides a hands-off storage solution, announced Thursday it raised $55 million in financing from information management provider Iron Mountain. CEO and co-founder Rahul Gandhi says this funding will be used to expand into new markets, innovate its product and grow its team as demand for the company's service surges in response to the COVID-19 crisis.
Gandhi and his co-founders came up with the idea for MakeSpace in 2012 after another crisis: Hurricane Sandy. They all had various experiences storing their things and found that, unlike services like ride-hailing or food delivery — both of which have become increasingly more convenient with the arrival of companies like Uber and Grubhub — the storage industry had not changed at all.
So, they decided to make a storage company that is centered around technology and convenience. Instead of making the consumer do all the heavy lifting, MakeSpace handles everything. All a customer has to do is make an appointment, then a transportation team will come to their home, take their items to a MakeSpace storage facility and deliver it when the customer wants it again. Customers only pay for the space they use and, with the MakeSpace app, they are able to keep a full inventory of each item they put into storage. That way, if they want a specific item or box returned to them, they can request it more easily.
This model was tailor-made for a time like this, when everyone is trying to mitigate coming into close contact with strangers. This is why, Gandhi believes, MakeSpace has been doing so well. If a cooped-up family needs to make more room in their house, or if a restaurant needs to put their furniture into storage since it is temporarily closed, he says they're going to use the company that allows them to do what they need to do while remaining socially distant.
"The incumbents are facing a ton of demand level issues and we've had the entire opposite problem. We're stretching to just keep up with the demand that we have and it's because people see the convenience element," Gandhi told Built In. "They call it the four D's — death, downsize, divorce and disaster — that's what has typically moved people into having to go figure out a way that they can get into storage. But when you get into a situation like this, which no one can predict, that convenience aspect is so critically important."
Even before the pandemic, Gandhi says this industry was ripe for change, likening the traditional players in the storage industry to real estate developers. These companies buy cheap property in underdeveloped or developing areas and then sell their storage units to consumers as if they were apartments.
"Basically, they're landlords at heart. That's how they've designed their service," Gandhi said. "From a consumer perspective, there's no differentiation. If you're going to Public Storage or CubeSmart or Life Storage, the only difference is what sort of unit size they have available in that particular building, what color their logo and the paint inside the building is, and the person that you're talking to. It's the same service that's being sold everywhere, which itself is a $38 to $40 billion industry."
To date, MakeSpace has raised about $150 million and grown very quickly, expanding into more than 20 markets last year alone. It is now in 31 cities across North America, making it about four times the size of its next biggest competitor, according to Gandhi. He says the company would not have been able to scale this quickly without its partnership with Iron Mountain, which has built a massive storage and trucking infrastructure over the last 70 years.
"They have this infrastructure that comprises over 1,500 warehouses in 50-plus countries. The strategic angle of it was, what if we took our technology and marketing and consumer-first service and we married that with the infrastructure that they had created?" Gandhi said. "Without having that strategic vision that we had to put this partnership together, I think it would have been a really long slugfest over decades to build that same infrastructure."
With its expansive footprint and innovative business model, it appears that MakeSpace is poised to continue its momentum even after this pandemic is over.
"We're in a watershed moment for this industry," Gandhi said. "We have the opportunity to be not just a visionary and innovator in storage, but so much more beyond that.... It gets me excited to see how we can really have an impact on that customer experience and think about what other industries we can start to tackle over time."