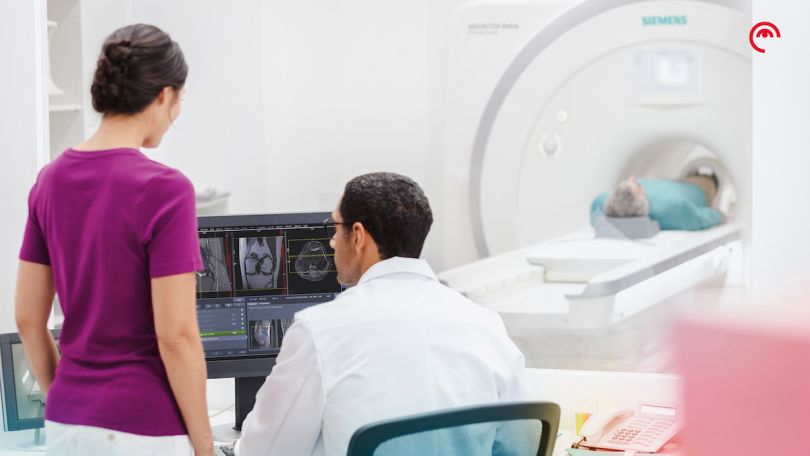 One in three people will be diagnosed with cancer during their lifetimes. Ezra aims to use AI to spotlight the disease before it's too late. The NYC startup recently announced it raised $18 million in Series A funds to make its cancer screening platform faster, and more accessible, to all. The company also plans to spend the cash on its Ezra COVID 360 system, which launched Monday to help survivors of the COVID-19 pandemic in New York understand the long-term impact of the novel coronavirus on their lungs.
"Our health system is very focused on the people treated for COVID right now, not as much for people who've had COVID," CEO Emi Gal told Built In.
Ezra's COVID 360 is available for $390 in NYC, and the company will offer 50 free plans to medical providers and first responders. The healthtech startup is also aiming to bring the tech to California in a few weeks. Its system expands upon a previous AI model the company launched last year to analyze data from full-body MRIs.
Through a partnership with Radnet, an outpatient imaging company, Ezra uses deep learning to clean MRI scanning images, reducing the number of scans radiologists need to perform to detect abnormalities in 11 organs in men, and 13 organs in women. Since the scans are more accurate, radiologists can perform fewer of them, and patients can be in and out of Radnet offices in less than an hour.
For individuals with abnormalities detected through Ezra's system, a company physician will spend about an hour going through the results with them, refer them to nearby specialists and can transfer their Ezra medical record to the doctor's system. The startup is currently operating in NYC, San Francisco and Los Angeles.
"If you were to get a full body MRI without Ezra, you would have to basically get scans of different parts of the body separately, and each of them would cost $2,000," Gal said. "You'd pay upwards of $10,000 for a full body scan and be in a scanner for three hours."
In addition to reducing the time and cost of a traditional MRI appointment, Gal said Ezra also allows people to detect cancers in their early stages, when patients are asymptomatic. The medical establishment only offers preventative screening guidelines for five types of cancer, like performing a mammogram to test for breast abnormalities. For individuals who have cancer in the brain, thyroid, liver and elsewhere, Gal said there are no annual screens a doctor can perform to catch the disease early. Ezra also allows individuals to catch these cancers before patients start showing symptoms, he said.
"We're taking MRIs of all those dozen organs that do not currently have screening guidelines, and screening people for cancer across those organs," Gal said.
Ezra's tech has yet to receive a nod from the Food and Drug Administration. Its systems are also not covered under any insurance plans, meaning consumers still have to fork over the $1,950 cost for a full-body scan out of their own pockets. Gal said the company has seen interest from self-insured employers.
"Large employers often bear the cost of cancer treatment for their employees themselves, and it is much cheaper to treat early stage cancer than late-stage cancer," he said.
The startup joins a rising tide of healthtech businesses using AI to diagnose diseases: the NYC-based Renalytix AI uses AI to diagnose kidney disease; the San Francisco-based Visla Labs uses AI to survey MRIs; the San Francisco-based Arterys uses AI to scan medical imaging tech; and more. Gal said Ezra's AI offers the lowest cost for direct-to-consumer MRI screenings and the company is currently working to develop AI systems that can decrease the cost of the screenings.
The Series A round brings total investment in Ezra to $22 million. The 30-person company will be hiring engineers and AI scientists over the next year.
FirstMark Capital led the round, with participation from Jeff Raider and Dave Gilboa, co-founders of Harry's and Warby Parker; Vlad Tenev, co-founder of Robinhood; Fred Destin, co-founder of Stride VC; and Andrei Dunca, co-founder and CTO of LiveRail.
Existing investors Accomplice, Seedcamp, Credo Ventures, Founders Future, LDV Capital, Esther Dyson, Taavet Hinrikus, Daniel Dines, Dave McClure and Jeremy Arditi also contributed.