The Real Winners Following S&P's Acquisition of Kensho?
The engineers.
Fintech AI company Kensho Technologies and its parent company S&P want their engineers to thrive in the workplace and beyond, and they're willing to pay extra to help.  
Take Hamima Halim.
Halim, who joined Kensho in 2018 as a software engineer, cashed in Kensho's $4,000 learning stipend last year for online machine learning classes from Stanford's Center for Professional Development. 
Now, she's a machine learning engineer, who spends most of her time using graph neural networks and Pytorch to solve document information extraction and optical character recognition challenges for S&P and its global rolodex of financial services clients. 
The rest of her time, Halim dedicates to Kensho's Team Impact.
"When we were acquired by S&P, we went from this frenetic level of engineering to a proper stable backing," Halim said. "Recognizing this new stability, our then CEO Adam Broun said that we could now pursue ventures that give back to our local communities."
Enter Team Impact, a volunteer-based initiative that runs on work time to deliver engineering projects for educational equity, climate impact and data journalism. Past efforts have included offering technical mentorship to local schools and community organizations, exposing the inadvertent funding of disinformation in programmatic advertising, and building an app that helps small businesses measure their climate impact more effectively. 
 
We went from this frenetic level of engineering to a proper stable backing."
"I spend about 10 percent of my time every month identifying new opportunities that Team Impact can support," Halim said. "Then we build out the specs and make sure the projects won't take up more than 10 percent of our engineers' time as well." 
That's more than 16 hours a month that Kensho allocates for its engineers to work on projects outside of their immediate business responsibilities, and it's all baked into Kensho's workstreams following its acquisition from S&P. 
Here are the other opportunities that were unlocked for Kensho engineers after S&P's purchase of the startup for $550 million in 2018. 
Invested in growth
Annual $4,000 learning stipend from Kensho
Annual $20,000 educational stipend from S&P, including tuition reimbursement toward student loans for eligible recipients
"Knowledge days," a monthly day dedicated to learning
Internal mobility program
What are Kensho's three core business areas post-acquisition?
Keenan Freyberg, Head of Strategic Initiatives: Our first workstream focuses on developing foundational AI-enabled capabilities that are geared toward structuring any type of unstructured data, like audio, video, images, and text. We offer different tools that derive actionable insights from each of those respective data types. Our product Scribe, for example, takes audio and turns it into text that our natural language processing tools can, in turn, find all sorts of insights in. These tools are independently useful but collectively composable, meaning they can be stitched together to meet custom use cases for our clients. 
Our second core area is focused on the discoverability of those insights. We have this amazing next generation document viewer that we call "Codex." This platform allows users to search across financial documents, and then overlay some of those capabilities in that first workstream. A good example would be "named entity recognition," which enables us to systematically distill the who, what, when and where from any transcript, filing or other piece of text. 
The third core area is what we call "side quests." Leadership has done a great job to leave room for people to pursue passion projects. This includes the work from our Impact Team as well as other outside projects that our engineers find important. For instance, a few colleagues built a COVID-19 vaccine finder site that was used to book more than 30,000 appointments. It's also not uncommon for these side quests to mature into staples of the other workstreams, like Scribe, which grew out of our R&D.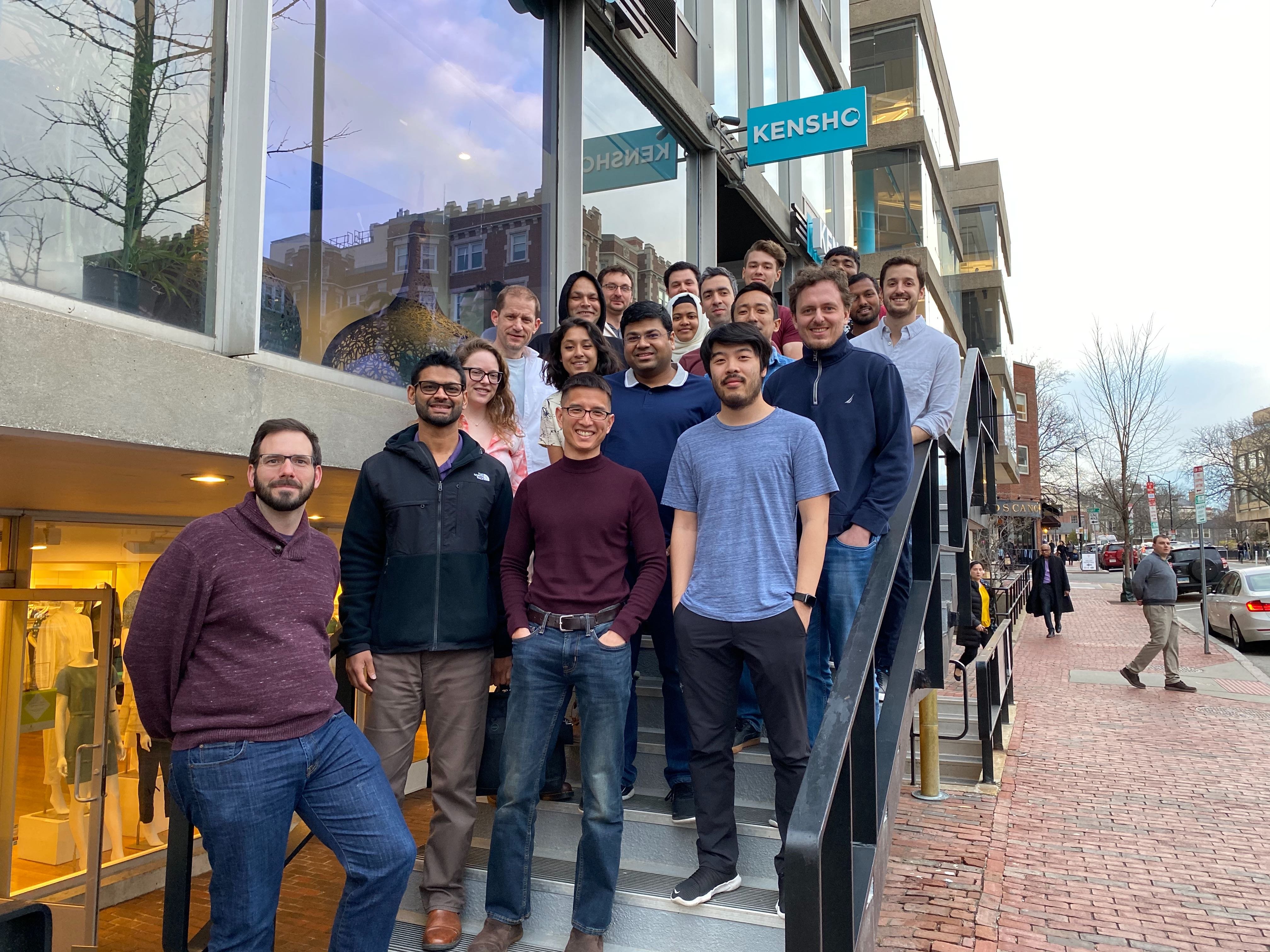 What opened up for Kensho following the acquisition? 
Melissa Whitehead, CTO: We were able to much more closely partner with an industry-leading company to build differentiated applied machine learning capabilities that enhanced their data and product offerings. Part of our playbook is identifying these opportunities within S&P itself, which allows us to get really close to user problems and figure out how to solve them. Many of the problems we're solving internally at S&P are also applicable to S&P's clients themselves. After we build and incubate products for internal use, we often jointly commercialize these solutions, like Scribe, through a couple of distribution channels that attract enterprise clients in addition to smaller niche clients.

Freyberg: The quality of the data is one of the best things about working here. Now that we're a part of S&P, we have tens of thousands of colleagues creating data that we can use to power our machine learning services. This serves as a really powerful tailwind for us and has created a great playground for machine learning. 
Inside Kensho's Techstack
100% cloud native (AWS)
Docker + Kubernetes (Amazon EKS)
Amazon RDS (PostgreSQL) + S3
Python
Django/Flask
ReactJS
Kafka

Has the acquisition impacted how Kensho's engineers operate at all? 
Hamima Halim, Machine Learning Engineer: When we joined S&P, we gained a group of engineers for in-house reliability testing to handle L1, L2 and L3 issues, which has been a positive experience. Before this, I worked on our Omnisearch search engine, which was one of the first projects that we had to do an internal handoff from our team to S&P. We learned that some of the technical assumptions we had baked into building a project for U.S. audiences wouldn't hold when syncing across the world for international clients. This spurred the development of an internal production platform for Kensho to build from, which today helps us architect solutions for multicluster, multiregion environments. 
Whitehead: The development of the production platform has enabled us to deliver solutions to S&P better than how we had been doing so in the past. Now, we can have a more SaaS-based system where S&P and external clients can leverage the solutions hosted there because these are production-hardened solutions. 
Freyberg: Plus, the impact our engineers are having on our user base is huge now. Hamima worked with a team of five to put out our search engine. Once it went live, the tool instantly impacted more than 150,000 users.
 

How do you think about innovation?
Whitehead: We're constantly looking at our portfolio of projects as well as standing up new cross-functional teams to strategically think about the next big project. In my role, I like to look at if I'm creating enough opportunities for people to take a pause and pursue different ways of learning or innovating. One way we do this is through our "knowledge days," which fall on the first Thursday of every month. Engineers are encouraged to sign off on knowledge days and learn a new skill or do a deep dive into something they want to explore. 
We're constantly looking at our portfolio of projects as well as standing up new cross-functional teams to strategically think about the next big project."
How does Kensho leadership provide support around professional growth?
Whitehead: We've created an internal mobility program to make sure that we're inclusive of the folks within our company when hiring for open roles. It's been very rewarding. I always tell people that if they are unsure of whether they would be a good fit for the role, to interview for it anyway. It's great practice and an explicit time to talk about your career and put yourself out there. Then leaders get this intel we can hold onto for when other opportunities arise that might be an even better fit.