As a company grows, so do its employees — and the health of the company is reflected in how its employees function and thrive. This relationship is apparent at Crossix, where the healthcare data analytics platform adopted values that emphasize teamwork, reward curiosity and encourage upward mobility. 
We spoke with a few team members to learn how they have personally grown since joining Crossix and what makes the company an especially great place to thrive.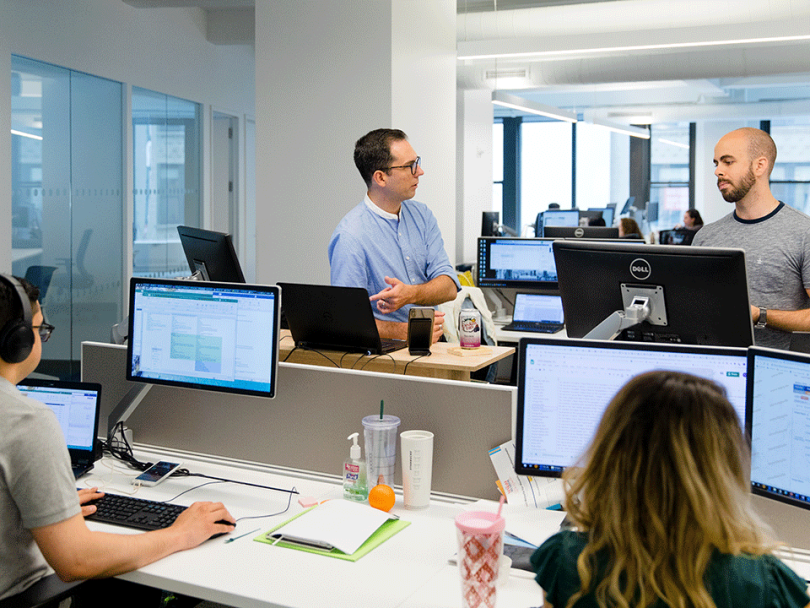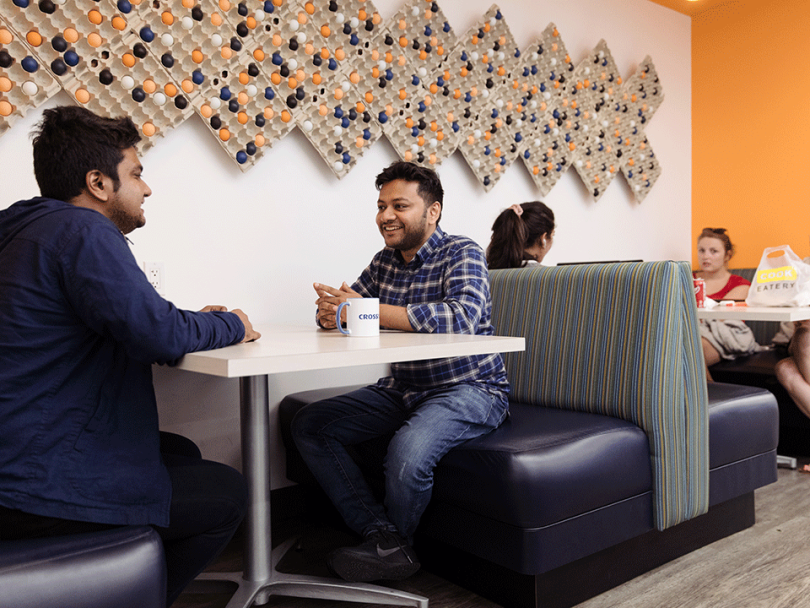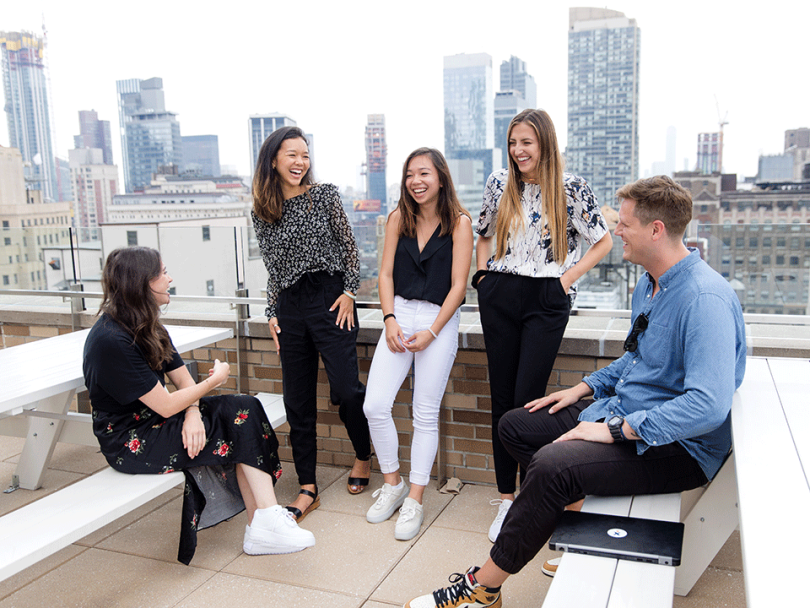 FOUNDED: 2005
EMPLOYEES: 202, 179 locally
WHAT THEY DO: The Crossix privacy-safe data analytics platform helps healthcare companies tie their marketing efforts directly to patient behavior without jeopardizing patient privacy.
WHERE THEY DO IT: Manhattan
CULTURE CLUB: Crossix has an employee-led culture club, where employees are encouraged to get involved. The goal is to make the office an inclusive, fun and warm place to be. The club plans events such as happy hours, diversity initiatives and opportunities to give back to the wider community. 
COMPANY VALUES: One Team, Break Down Barriers, Focus on Customers, Every Detail Matters, Curious and Kind, and Enjoy What You Do.
STRESSING CREATIVITY: In its quest to create privacy-safe solutions for healthcare companies, Crossix stresses collaboration and creative thinking. With these values in mind, the company has welcomed hires from a variety of career paths.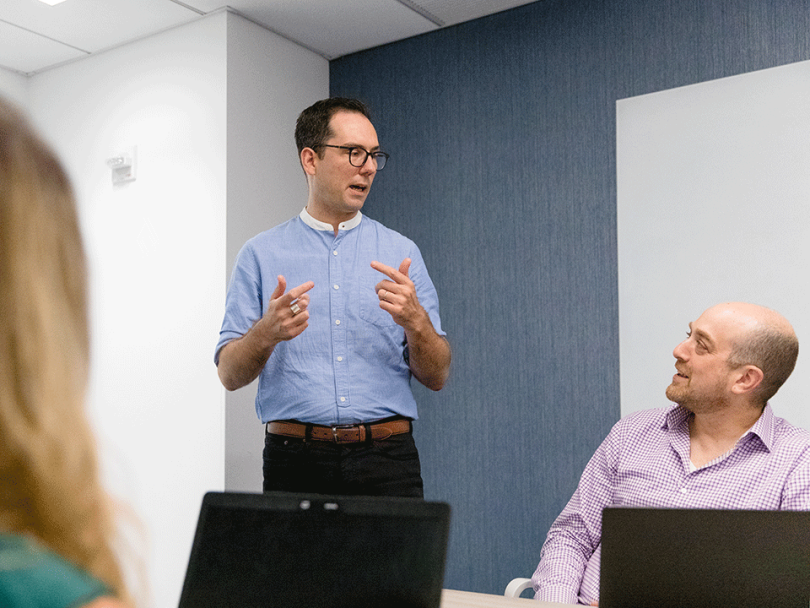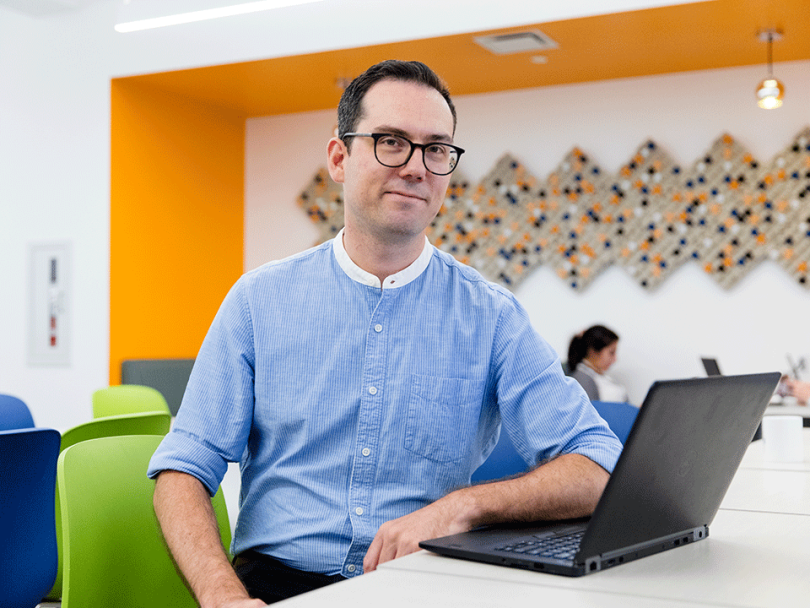 Duncan Clegg, Ph.D., Product Operations Manager
Duncan leads the development and activation of Crossix targeting segments across media channels.
BEYOND WORK: With a Ph.D. in American literature, it's no surprise Duncan is a big reader. 
What initially drew you to Crossix?
What intrigued me about Crossix initially — and to this day — is the unique niche that our founders carved out within the healthcare marketing space. They've found a way to tap into a resource that is incredibly challenging to access, and it opens up manifold possibilities — possibilities we continue to discover every day — and opportunities for Crossix and our clients. We've only begun to scratch the surface of what's possible with our data and technology.
 
We've only begun to scratch the surface of what's possible with our data and technology."

How has your office space evolved since you first started?
When I started, we were in a much smaller office on 6th Avenue that was perpetually bombarded by the sirens of emergency vehicles heading uptown. We're now in a building on a much quieter stretch of Broadway. Our current office is large and provides access to an amazing rooftop terrace with a spectacular view of New York.
How have you grown as a leader?
I've had the opportunity to grow into a knowledge resource for our business development and client service teams when their clients have questions about specific products or methodologies. They look to me to take the lead and confidently guide their clients to the answers and solutions they need to succeed.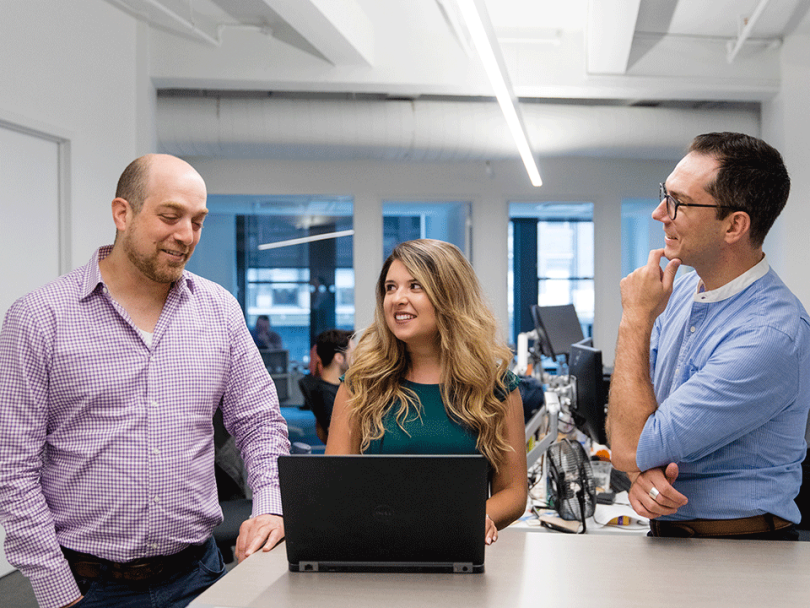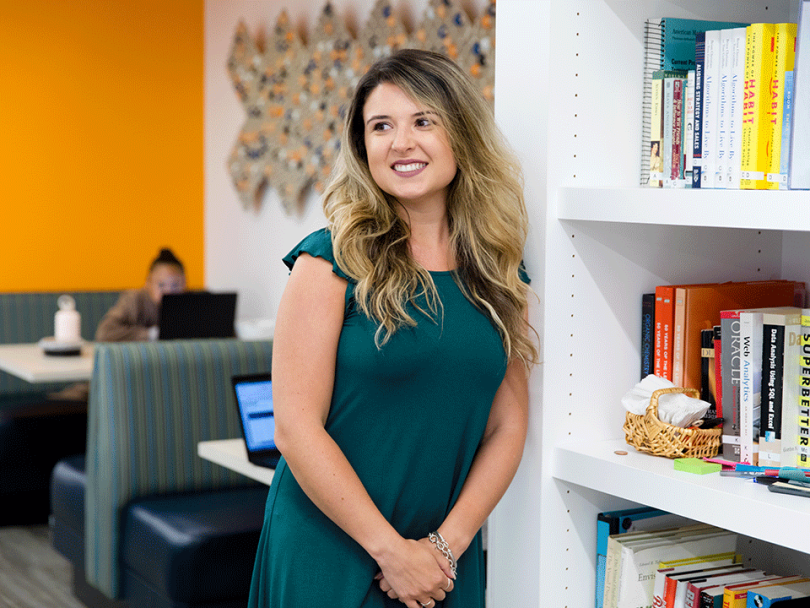 Lea Drumm, Product Management Supervisor
Lea is the liaison between the production and client analytics services teams on quality control, timely issue resolution and project management. She also works with various TV partners on measurement and data flows for TV measurement solutions.
BEYOND WORK: Getting away by either traveling or relaxing on the beach or in Central Park helps Lea decompress. 
What were your expectations when you joined Crossix? Has the company exceeded those expectations?
I remember joining Crossix as a college graduate and being really excited to start my career but thinking that it would probably take forever until I would have real responsibilities. To my surprise, I went through our formal training program and, in no time, I was working directly with our external partners on a daily basis. Crossix trains employees to be prepared in their role and take on ownership quickly. I was never intimidated to ask questions or ask for help, which was a concern of mine as someone so young and inexperienced. Personally, in my career, I value constant learning and being challenged in my role the most. Being bored or underutilized is a nonissue at Crossix — your time and hard work are appreciated from day one.
Tell us more about Crossix's training program. How has ongoing training helped you grow within your role and within the company?
Crossix has an extensive training program for new employees to prepare them for their roles. Our proprietary technology and analytics processes are unique, so we do our best to make sure new employees feel confident with the basics before jumping into the details. Experienced supervisors and above will lead formal trainings and provide a lot of opportunities to ask questions. We also have ongoing training through Crossix Academy. 
Crossix Academy offers optional regular trainings on various subjects, from running an analysis to project management and prioritization. These trainings can be a great refresher of things learned during formal training or they can teach you something new to help your day to day. Our company also provides training with external parties to enhance our soft skills. I've taken a bunch of them and find them super helpful in improving my communication and leadership skills. After a few years at Crossix, I was able to attend industry conferences to learn more about what's new in the market. It was interesting to hear perspectives from other companies and stay up to date on trends.
 
Changing roles and responsibilities to meet the needs of the team has given me the ability to learn new skills and work with new people."

How have you evolved since joining Crossix?
I've been at Crossix since I graduated from college, so as you can imagine, I've grown a lot! Working at a company that's growing as fast as Crossix requires you to really grow along with it. Since being here, my role and responsibilities on the product strategy team have evolved quite a bit. Changing roles and responsibilities to meet the needs of the team has given me the ability to learn new skills and work with new people. I've had awesome mentorship from my managers, and that's helped me shape my skill set, taught me how to be adaptable, and advanced my career to where I am today. For me, the most important part of any job is to always be learning and be part of a fast-paced, innovative company, and Crossix definitely achieves that!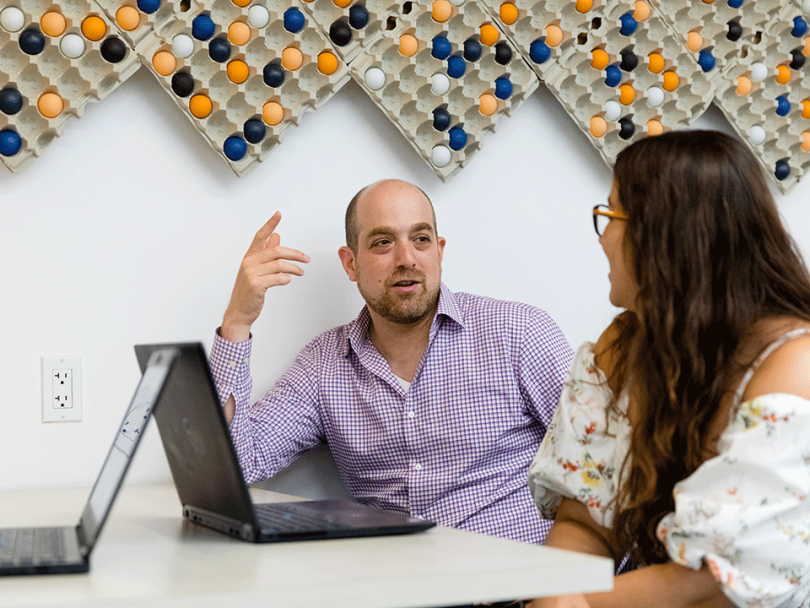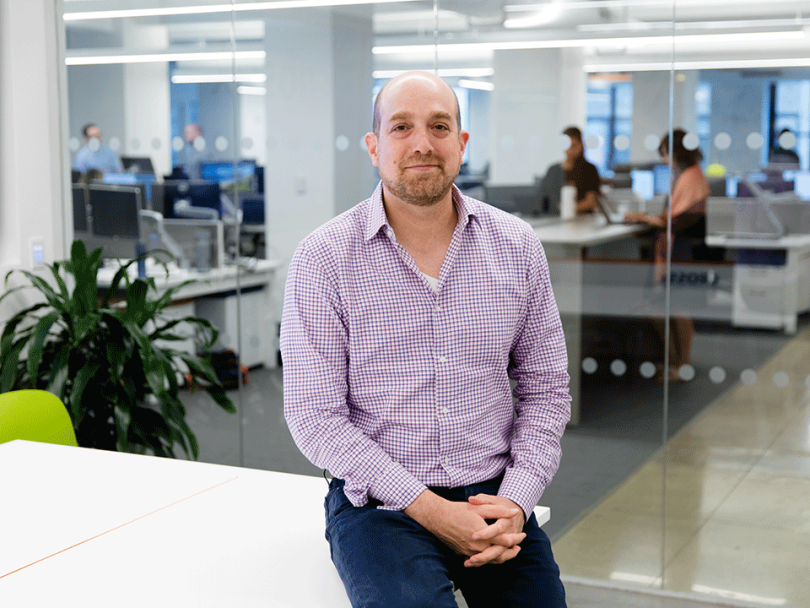 Daniel Stein, SVP, Product Strategy
Dan is responsible for all platform and audience products.
BEYOND WORK: Along with playing strategic games like backgammon and chess, Dan spends a lot of time listening to podcasts and the news to learn new things. 
What surprised you most as Crossix grew? What have you learned? 
Timing is really important. Over the past few years, we've developed great products that were ahead of their time and didn't take off, and others that spread like dry kindling. It's not just about identifying a market need, it's also important to gauge market appetite with products and offerings at a particular point in time. I was also surprised by the importance of establishing strong and strategic partnerships. Innovation does not happen in a vacuum — sometimes it's driven by the right partners deciding to work together.
How do you approach building out your team?
It's not just about skills, background and education — those are important, but you want to find folks who are aligned on the mission and the environment. Everyone on the team should be willing to do what they can — no matter how big or small — to get the job done. Besides that, flexibility is key. It's important to be adaptable and open to change depending on the situation. I also look for people who are naturally curious and have an insatiable desire for the truth.
 
It's important to be adaptable and open to change depending on the situation."

When did you realize you had a strong product-market fit? 
I think the moment was when clients started asking for DIFA, our cloud-based analytics platform, by name instead of asking for a study, report, analytics or something else generic. At that point, I realized, "Whoa, I think we have something here." For our audience and programmatic products, it was the organic growth we saw in our second year and every year thereafter — clients were coming to us! These successes are validations of the strategic approach, the execution and the continued product management required to keep clients happy.