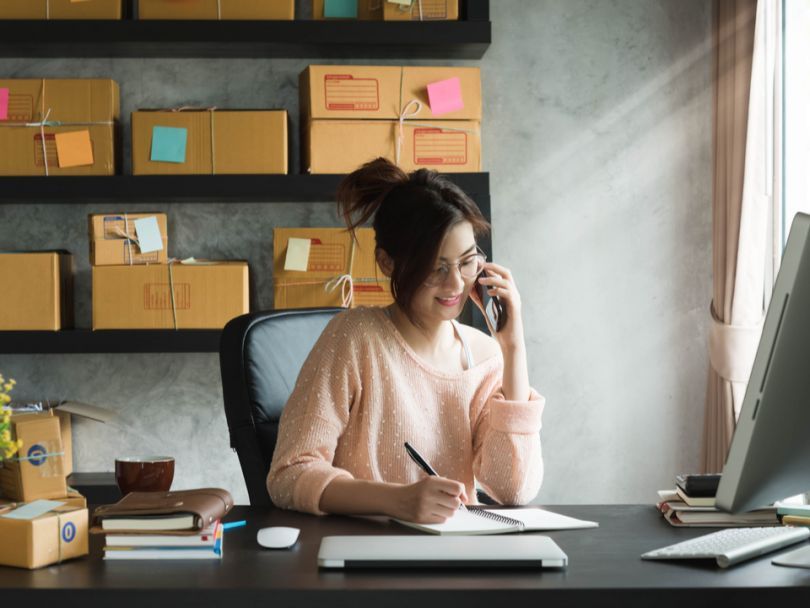 The decision to switch jobs is one that requires a great deal of thought. Some people make a list of pros and cons to help them figure it out, while others follow their gut. We asked six local professionals who sit on the product team at their companies to give us some insight into what it was that attracted them to their roles. Their answers might surprise you.
Before Product Manager Rotimi Oyewole came to JW Player, he held a similar position at a social media marketing company. He shared with us the exact reason why he made the switch — and why he's stayed for two years.
What were you doing before this, and why did you decide to make the change?
Before JW Player, I worked at a social media marketing software company, first as a technical project manager on the professional services team and then on the product team. I learned a lot from my experience working directly with customers on their marketing campaigns, then moving on to build solutions for our customers at scale. After a couple of years in that role, I felt the most important thing was choosing a company that could offer mentorship to help me continue to grow as a product manager. Fortunately, JW Player had an eclectic product team with varying ranges of experiences and backgrounds. As I hoped, I've learned a lot from working with both experienced product managers and engineers.
What's the main reason you chose to work here?
I wanted to work here because of the company's strong founding team and vision. Many startups have leadership teams that tend to jump on the latest consumer trend or technology and pivot fairly frequently, which can cause confusion or even hurt morale for product development teams whose projects get postponed or cancelled. JW Player's founder, Jeroen, originally built the roots of this company as a university student over 10 years ago wrestling with a personal problem: How can I easily embed a video player onto my website? He solved that problem and helped create this business through his first-hand experience with the same problem that our publishers face. To this day, while our product stack and mission has grown in scope, we have not really wavered from the original problem we were trying to solve. This kind of long-term conviction provides helpful direction for product and development teams.
How is this company different from any other you've worked at?
JW Player has a really unique culture — we have Dutch roots which you can quickly pick up on by the salted licorice that occasionally finds its way into the kitchen or in conversation with some of the most tenured employees who hail from The Netherlands. This extends to manageable and flexible work hours as well as the very generous healthcare benefits that JW Player offers, which are closer to what you might find in a European society. Additionally, all of the cultural, diversity and philanthropic efforts are born through self-directed committees, rather than something that HR or management projects onto employees.
Some people choose a new job based on perks, salary or other tangible rewards. For VP of Product Zahra Ladak, it goes much deeper. The daughter of a small business owner, Ladak found her calling at Fundera, a platform that helps small business owners flourish. She explained what else attracted her to the company.
What were you doing before this, and why did you decide to make the change?
Before Fundera, I led the product team at Zocdoc, where they were very focused on patient strategy and putting the patient at the center of all consumer decisions. In the same way that I got to fight for the patient at Zocdoc, I get to fight for the small business owner at Fundera.
I get to educate the small business owner and help them make a decision that meets their needs. If we focus on helping them make financial decisions, they can focus on on their craft. Supporting that effort excited me, as I come from a family of small business owners. My father moved from Tanzania to America and started a business creating and designing signs. Eventually, he moved on to a building and manufacturing business that created custom kitchens on a mass-produced level. I know that if there had been a platform to help my dad with business advice, whether it was financial, strategy or otherwise, I'd want to help create that.
What's the main reason you chose to work here?
I chose to work at Fundera because I'm excited about getting to modernize how small business owners can actually succeed with their businesses while focusing on their craft, rather than dwell on the financial decisions that tend to bog them down.
How is this startup different from any other company you've worked at?
I started at Google and WebMD, which were big brands that were mostly focused on ad revenue. Fundera has a mission-driven approach, and it has found a solvable problem, and I can see the solution. Also, at Zocdoc, I was focused on optimizing a system that had already been created. At Fundera, we're getting to create and build a platform that not only supports small businesses, but changes everything about how this industry works for them.
Product Manager Joyce Greenbaum has been with Amperity for four years. While it was her interest in statistics and storytelling that attracted her to the company, it's the action-oriented culture and skilled colleagues that has kept her there.
What were you doing before this, and why did you decide to make the change?
Before Amperity, I was an analytics consultant for the life sciences. My role sat at the intersection of statistics and business, and I was tasked with turning model outputs into strategic recommendations for pharmaceutical companies. I loved the combination of statistics and storytelling and knew it was something I wanted to continue doing. In college, I became interested in predictive analytics during an independent study in the Wharton Statistics Department and was excited about taking my career in that direction. I felt that using the scalability of software to make the latest statistical advances accessible to industry was a huge opportunity, so I started looking for companies in that space. Amperity stood out as an innovator, both in terms of statistical rigor and real-world use case orientation.
What's the main reason you chose to work here?
I joined Amperity because I was extremely impressed by the caliber of the team. At the time, Amperity was very small and early stage, but was (and still is) working with the biggest names in the retail industry. I knew Amperity was somewhere I could grow across many different dimensions. Within every team, from marketing to sales to data science, Amperity is filled with some of the sharpest, kindest and most creative people I have worked with. Because we have a strong culture of mentorship, people are always willing to share their knowledge, leaving you with a diverse set of perspectives when tackling some of the most complex problems in marketing.
How is this startup different from any other company you've worked at?
Amperity's culture is very focused on defaulting to action. We're growing fast, which means there's no shortage of problems to solve. If you identify something that can be improved, whether it's addressing an infrastructure challenge or switching up the vibe of a conference room, you're empowered to start digging into a solution. The ability to have such a big impact on Amperity is really motivating and makes it exciting to come to work!
Senior front-end developer Hailey Mahan made the move from a big corporation to a startup and has loved every moment of it. At Fiverr, she can see her work come to life on the site, and has the freedom to run with her ideas.
What were you doing before this, and why did you decide to make the change?
Before Fiverr, I was a front-end developer at a larger enterprise-tech company. While there, I became frustrated with how slow moving everything was. It took forever to actually see the work I had done implemented. It's the most rewarding feeling to physically see your work have an impact on the product itself. In addition to this, I didn't feel as if I was growing my skill set any longer; I was at a standstill. I wanted to know that the hard work I was doing had a direct impact not only on my team, but the company as a whole.
What's the main reason you chose to work here?
I mainly wanted to have impact on a global level. When I joined Fiverr, the company was much smaller than the one I came from, but the opportunity for making an impact was huge. And that same opportunity for impact hasn't changed even though the company has almost doubled since I started. I love that I'm truly able to push and advocate for my ideas and see them come alive on the site.
How is this company different from any other you've worked at?
Fiverr has been an amazing experience because I've been able take my role, build it and shape it into something that interests me. I feel like I am always having meetings that start with "so I want to do this crazy thing..." and Fiverr has supported me the whole way. In addition to what I've been able to do with my role, I've also gotten mentorship on different roles outside of engineering.
Lastly, Fiverr really takes care of its employees. From happy hours to Friday free lunches to company-wide overnights, they encourage employees to bond both inside and outside of work. I love it, of course, because people are amazing and I am laughing every day. I can walk into any of our offices around the world and it feels like home.
While some are drawn to the challenges and rewards of a startup, others are attracted to the opportunities presented at a larger corporation. Group Product Manager Dayo Famakinwa joined Merrill Corporation two years ago, and has enjoyed helping the team stay innovative and nimble ever since.
What were you doing before this, and why did you decide to make the change?
Before joining Merrill Corporation, I was a product manager at Insite Software based in Minneapolis. Insite is a B2B ecommerce platform that offers products to allow manufacturers and distributors to sell products online. I made the change because of the challenge. In Merrill, I found an opportunity to bring a new product to market while working with some of the most talented product managers, engineers and UX designers out there.
What's the main reason you chose to work here?
Working here is fun and gives you the opportunity to make an impact. On any given day, you are involved in all aspects of building and launching your product, from decisions on what we decide to build, to how go to market and communicate with external partners. On my product, there is no shortage of work to do and you are constantly prioritizing between new customer enhancements, sales and service requests, bugs and strategic initiatives.
How is this company different from any other you've worked at?
While Merrill Corporation has been around for a while, the product and engineering teams on our new initiatives function very much like a startup within a large organization. We spend a lot of time thinking about how we can foster innovation. The product leadership team encourages managers to explore new opportunities in the market. Much of my time is spent dreaming up new opportunities in our market and working closely with people in UX and engineering to come up with solutions to address customer needs. So far, it's been a fun, rewarding and occasionally challenging experience.
There are many pros and cons of working at a large corporation, and Joe Cofino may know this better than anyone. Before handling strategic partnerships at Beeswax, he worked at adtech giant AOL. He explained to us the key differences of both companies, and why he ultimately decided to make the move.
What were you doing before this, and why did you decide to make the change?
Before Beeswax, I worked for a few adtech companies including AOL and Criteo. Both of these companies were larger organizations that had found success in the space, but they lacked the dynamic excitement that's associated with smaller, more agile companies. I was looking to join an innovative firm where I could work on solving hard problems and surround myself with a best-in-class team.
What's the main reason you chose to work here?
The founding team's vision is what attracted me most to Beeswax. When I first heard about the company, the product strategy felt intuitive, which is not a word that's usually associated with adtech. As I learned more about the company, it was clear that our founders had thought through every element of the business and product strategy. Their knowledge of the industry and ability to execute against their vision made the opportunity too compelling to pass up.  
How is this company different from any other you've worked at?
Put simply, Beeswax is truly innovating in an industry where most companies have taken nearly identical approaches. Our SaaS pricing model coupled with our operational flexibility allows us to tailor our solution to fit the unique needs of virtually any sophisticated media buyer requiring advanced control and unprecedented performance from their programmatic practice. It also doesn't hurt that our CEO is a Twitter all-star.