Whoever said Halloween was a kids' holiday never worked at a startup — or at least not these ones. Offices turned into haunted houses and teams transformed into pop culture references all in the name of good fun. We talked to a few Halloween-loving companies to see how they celebrated the day.
With a name like Cockroach Labs, it's almost fitting that the SQL database would embrace the spooky season and go all out with Halloween festivities. Culture and Office Experience Manager Chelsea Lee explained how the team spent the day.
How does your team celebrate the holiday?
We held a costume contest and pie-tasting extravaganza. Also, with many of our parents stepping out to take their kids trick or treating, we also planned a low key celebration at the end of the day so everyone could break from work early and enjoy the fun holiday.
What's the best costume you've seen in your tenure at Cockroach Labs?
Two of my favorite costumes were from last year. One employee dressed as Inspector Gadget and came equipped with actual gadgets built into his costume — a flashlight and pen built into his gloves and a call-transmitting hat. Another great one was by one of our remote employees, who dressed up like the solar system. Her stomach was the sun, which held her future son and made for a great pun.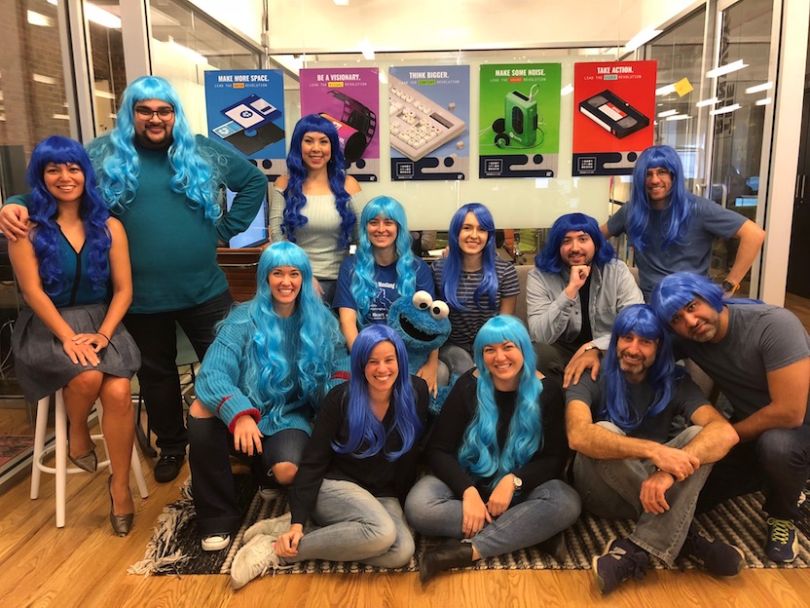 Marketing tech company Yotpo showed off their creativity this year with a musical spin on a Halloween costume contest. Office Manager Carly Tashjian told us what the team was up to all day.
How does your team celebrate the holiday?
This year, Yotpo celebrated Halloween like no other. Different departments dressed up as different song names — everything from "Purple Rain" to "Bug A Boo" was represented. From there, teams had to guess each other's songs.
We also celebrated with endless treats and activities, like guessing how many pieces of candy are in a jar, playing Halloween movies on our TV screens, setting up board games during lunch and, of course, having seasonal drinks and lots of Hallo-wine!
What's the best costume you've seen in your tenure at Yotpo?
Gingerbread men (redheaded employees covered in bread slices)!
Data technology company Reonomy celebrated the day with candy, costumes and an epic feast. Director of Talent Devon Satnick went over the details of the festivities.
How does your team celebrate the holiday?
One thing you can't seem to escape during the Halloween season at Reonomy are the endless bowls of candy: Reese's, Kit Kats, Hershey's — chocolate galore! We also plan a big "Spooky Halloween" lunch, with office decorations and delicious catered food from a local NYC favorite. We also have an in-office contest where we give out awesome prizes (Apple AirPods!) for Best Overall Costume, Most Humorous Costume, Most Original Costume, and Best Duo/Group Costume. We use these events as a way to spend time together, showcase our fun and creative personalities and most importantly, dive into some spooktacular grub!
What's the best costume you've seen in your tenure at Reonomy?
Someone once dressed up as a piece of gum stuck to the bottom of a shoe — a true New York classic. Honorable mentions include Darla from "Finding Nemo" and Khaleesi from "Game of Thrones" — dragons and all!