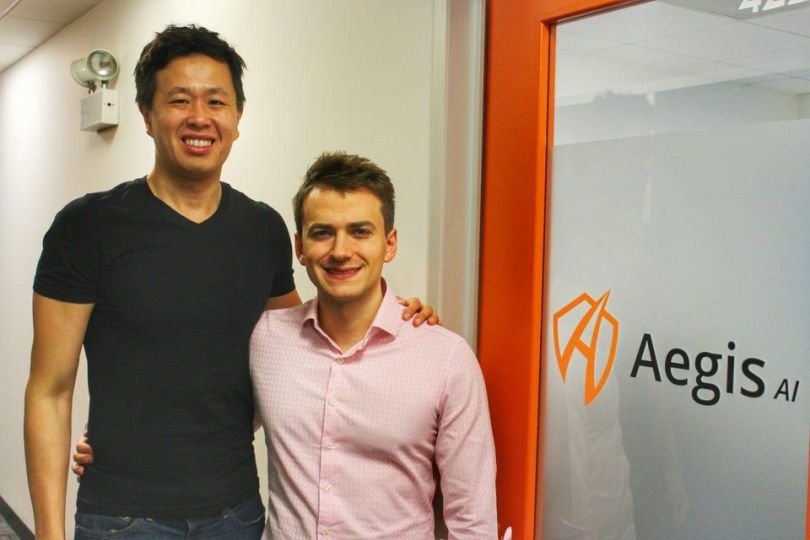 When it comes to preventing gun violence, security cameras can only do as much as the people watching them. That's a problem, since missing something big only requires a momentary slip in attention.
Aegis AI, however, believes it has a solution. Rather than relying on people to continuously watch a feed, the company has developed an AI software that can detect guns in real time using security footage and notify emergency personnel. 
We built a system that uses your existing security process." 
That solution has caught the attention of investors. On Monday, the company announced a $2.2 million seed round to get its AI weapon detection software into the hands of more customers. The company, which is headquartered in New York and has an office in Chicago, plans to improve the product's implementation, said Ben Ziomek, co-founder and CPO of Aegis AI.
"The seed round allows us to invest in our technology to make it faster and easier to implement," Ziomek said. "It allows us to create smooth onboarding experience so we can reach the right customers."
Sonny Tai and Ziomek launched Aegis AI in 2017 to eliminate gun violence. It's a mission close to Tai's heart, Ziomek said. Tai had grown up in South Africa, which has one of the highest rates for gun violence in the world, and had lost a family friend to a shooting. 
After serving in the Marines, Tai looked for perspectives about how he could help eliminate shootings, and that's when he came upon developing an AI system. Working with Ziomek, the duo spent the last year-and-a-half scraping the internet and working with security organizations to train its AI on thousands of hours of video. 
That enabled them to create an AI that can identify a gun at 99 percent accuracy. Once a gun is detected, the system is trained to notify security personnel or police and provides them with real-time updates on the shooter's location.  
The company also built its tool so that it can integrate with existing security measures to save customers money, Ziomek said. 
"Most other companies in the security space wants to rip out your security cameras and install their own stuff," Ziomek said. "We built a system that uses your existing security process." 
For now, the company is focused on providing its lightweight and affordable solution to schools and healthcare offices, who often spend millions of dollars on security measures. They plan to hire four people, bringing their total headcount to 10.
Bling Capital, Upside Partnership and Tensility Ventures Partners participated in the round, along with the University of Chicago through the New Venture Challenge.