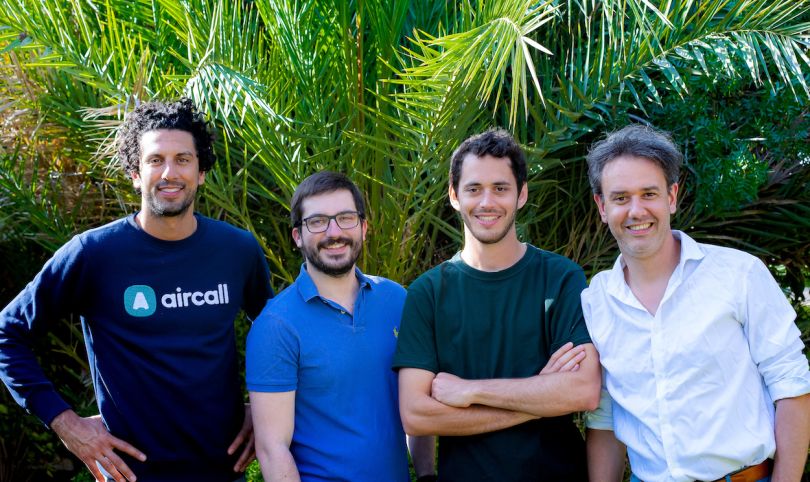 Aircall, a company that helps businesses manage their millions of customer support and sales calls, announced Wednesday it closed on a $65 million Series C round led by DTCP with participation with new and existing investors including Swisscom Ventures, Draper Esprit and NextWorld.
Aircall's cloud-based software was created to arm customer support and sales teams with the information they need to keep customers happy and close more deals. The platform pulls relevant data about the person on the call and their relationship with the business, analyzes it and integrates the information into the tools the business is already using, replacing outdated systems with more collaborative ones. The idea is that, if the phone call is no longer siloed, then folks will spend less time logging calls and pooling information themselves, and more time with their customers.
"We built our product in a radically different way from other phone systems out there," CEO and co-founder Olivier Pailhès told Built In. "Essentially, our core belief is that people want to use the phone integrated into all their other tools. You don't spend your whole day talking to people, you work on your email and Slack and your CRM and Salesforce. But whenever you do receive the next phone call, Aircall will be there and we'll connect to all the data you have about the company and the person calling you."
The company has about 5,000 customers, representing a wide range of industries, including e-commerce, food and beverage delivery and financial services. Brands like UNTUCKit, Birdies and Expensify all use its platform. Pailhès says about 1,000 of those customers were added in just the last two months in the midst of the COVID-19 pandemic, when remote work has forced us to rely on cloud-based software like never before.
"[The platform] takes about a minute to get set up and it's extremely flexible, you can use it on a computer, a mobile phone or tablet. Because all the software is built in collaboration and around data, you can really easily share information about any conversation you have and track it afterwards," Pailhès said. "We're designed for work from home. Although that was not our intention to start, we've created a very flexible product you can use anywhere. So that has proven to be very, very interesting for many companies."
This funding round brings Aircall's total capital raised to $100 million and puts its valuation at "closer to half a billion dollars," according to a company representative. Pailhès says this $65 million will be used to innovate the product and expand into new markets in Asia and South America. Plus, the company is actively hiring in both its New York City and Paris offices, with the goal of growing the team substantially in the next two or three years.