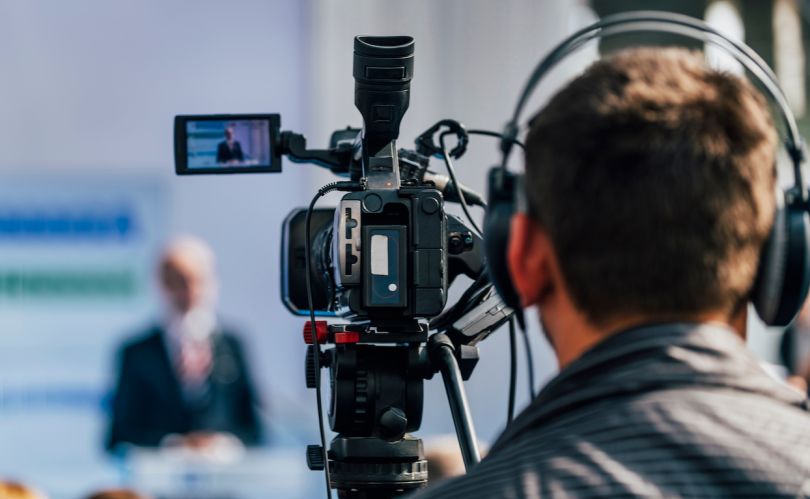 About 10 years ago, Lindsay Stewart was a television news producer, working for outlets like Fox and ABC. In that time she often found herself head to head with a problem that made her job nearly impossible: a lack of quality video footage.
"You walk into a newsroom and your bureau chief or boss or whomever gives you an assignment, and sometimes that assignment really just doesn't have a lot of video associated with it," Stewart told Built In, "which is a problem when you're in the TV business."
Back then, the easiest solution was to mine social media for suitable clips, but even that wasn't perfect. Sometimes there was no relevant footage at all. Other times Stewart would request permission to use a clip on a site like YouTube, then bump into other reporters at competing stations requesting the same clip.
The only way to avoid situations like these was to send a crew out herself to capture images, which is expensive and time consuming.
"You cannot be everywhere at once, but you still need that video," Stewart said.
That's why she co-founded Stringr, a platform that allows users to source, edit, publish and monetize video. With a network of more than 120,000 freelance videographers who respond to custom requests in real-time, Stringr allows users to ask for virtually any video they want in any location. They can also browse the site's archive of thousands of clips, which are available for instant use. From there, users can preview, download and edit the videos as they please.
To date, Stringr's footage has been used by networks around the world, including CNN, ABC, Fox and NBC. The NYC-based company has also raised a total of $8.3 million from investors like Associated Press, Thomson Reuters and McClatchy.
"We're able to fill a basic need, right? You need more video, you're trying to gather more with less these days," Stewart said. "I think that's why you see these incumbents in media like the Associated Press and Reuters investing in us. They know that what they have done in the past they've done well, but in order to kind of expand their tentacles and really cover news the way they want to into the future, having partnerships with or at least the existence of companies like ours is pretty important."
This is especially true in 2020. Although it was originally launched in 2013, between the lead-up to the presidential election and the ongoing pandemic, Stringr has certainly proven its worth over the last several months.
In terms of the pandemic, like many other workplaces, newsrooms are operating remotely, so editing tape and piecing together a show has to be done virtually. Stringr's cloud-based platform and suite of transcription, editing, captioning and publishing tools makes that easier. Plus, news outlets aren't able to travel as much as they used to — not to mention the budgetary constraints. This means sending designated camera crews to a location has gotten even more tricky than it already was, so they are having to rely on Stringr's team of freelancers even more.
Similarly, Stringr has allowed news outlets to cover this year's presidential election more extensively. Because the company has videographers all over the country, a network in a big city like NYC or LA can still cover an event happening in smaller markets like Nebraska or Wisconsin effectively and efficiently.
In the end, Stewart says this has the potential to both democratize media, as well as help voters feel less separate from one another. With more expansive coverage, news outlets can highlight voices that may not have otherwise been heard.
"Because I covered politics on a national level, I got to go to big cities and small places. I realized that most people's concerns are very, very similar. They might vote differently, but at the end of the day, they care about the same things," Stewart said. "But when you think that your neighbor in a distant city is so different from you, it's easy to point your finger and say 'I don't believe what that guy believes.' What [Stringr] does is it gives voice to the concerns and priorities of a lot of different kinds of people."
Looking ahead, Stewart says Stringr is not just going to be a resource in the world of television news, it is also expanding into marketing, advertising and originals as well with its companion production house Embed Studios. The goal is to fundamentally change the way people tell stories.
"If we were to fast forward a decade into the future," Stewart said, "I hope that [Stringr is] really allowing people to tell more stories easily. The incumbents aren't always the incumbents. New people get to come in and do something creative and wonderful."