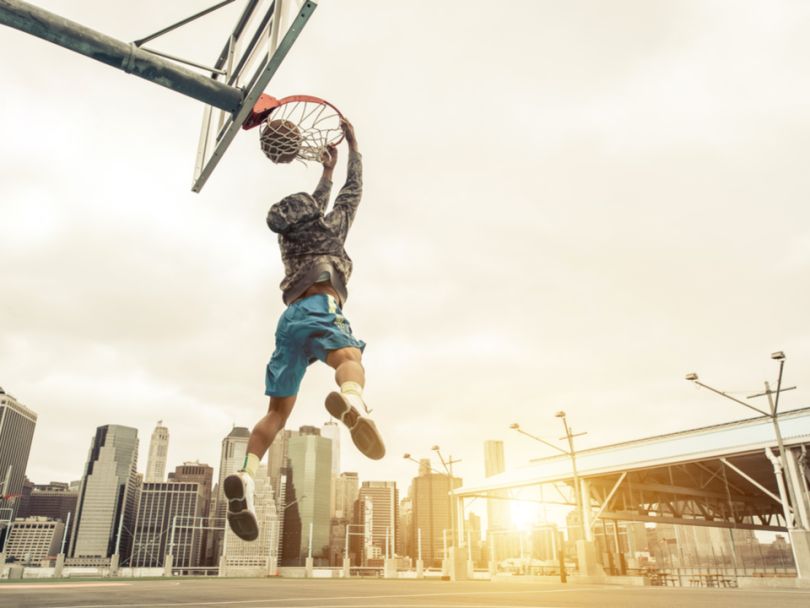 There's nothing quite so distinct as ESPN. If you haven't tuned in to SportsCenter lately, here's a quick recap: a handful of individuals stuffed into off-puttingly tight suits shout things like "moving the chains!" into the void. While this form of sports journalism has its time and place, statistics prove the genre is no longer resonating with the next generation of sports fans.
It is in this gap — the place between a love for sports and a frustration with sports media — where Overtime takes center stage. The Brooklyn-based company just raised nearly $10 million in its Series A round, and is poised to become the platform of choice for young athletes and sports fans alike.
Overtime was founded in 2016 by Dan Porter, who formerly served as CEO of mobile game developer OMGPOP (remember Draw Something?) and Head of Digital at WME | IMG. Since its inception, Overtime has built a flourishing following as the premiere source for high school basketball content, with increasingly frequent forays into major league coverage.
[Overtime features] the next generation of stars that traditional media doesn't have time for."
Porter told Built In NYC that Overtime is intended to be a peer-to-peer network, with young sports fans interacting with young players in a meaningful way. Porter explained that Overtime sheds the spotlight on "the next generation of stars that traditional media doesn't have time for."
Amidst the latest player highlights and trick shots, Overtime also brings a unique sense of humor to the mix. A recent video features Shaquille O'Neal's two sons, Shareef and Shaqir, competing in a dance-off all while dressed in Sumo suits. "[Overtime] creates content in a new, fresh way that is very different than what traditional media companies offer," said Porter.
The styling of the videos draws heavily on popular YouTube and Instagram pages — and the formula is clearly a success. Capitalizing on this success are Overtime's investors, who just bolstered the company's $2.5 million seed round with an additional $9.5 million, bringing the company's total backing to $12 million.
It's not just the financial figures that point to Overtime's promise, though — it's the people behind them. Leading the recent Series A round was Andreessen Horowitz, returning investor Greycroft, and Golden State Warriors forward Kevin Durant, arguably one of the most popular players in the NBA (and arguably the player with the best shoes).
Fresh funds in hand, Porter told Built In NYC that Overtime plans to build its team and continue its robust content production and distribution — all taking place from the Overtime HQ in Dumbo, Brooklyn.
NYC has the creativity, the energy and the media presence."
"NYC has the creativity, the energy and the media presence," said Porter. "We wanted [Overtime] to capture the energy of NYC basketball."
Currently, Overtime takes the form of both a website and an app, all plugged into the company's YouTube channel, where hundreds of thousands of views are the norm. Overtime's Instagram and Twitter are equally buoyant. The content across these channels is a mix of user-generated videos and those composed by the Overtime editorial staff.
Perhaps what truly sets Overtime apart is an ethos that is deeply tied to a love of the game. As Porter put it, "We don't focus on scores or teams or stats — we tell stories."