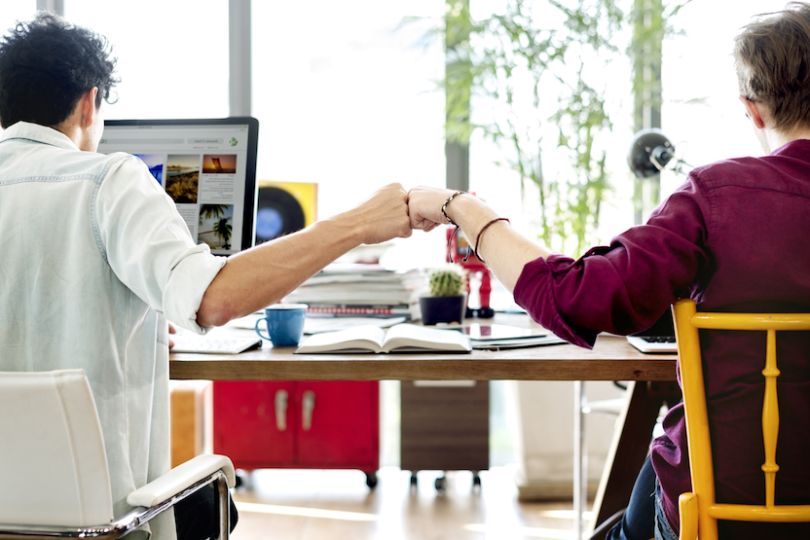 Sales professionals are, almost by definition, a competitive group.
While virtually every sales job has some sort of commission system to keep employees invested in their own success, the real pros usually have a few additional tricks up their sleeves for staying motivated. We talked to sales professionals at some of NYC's leading companies and learned what they use as incentives.
Jen Lupton has worked at Grubhub in some capacity for the past 14 years and knows a thing or two about keeping herself motivated even after all that time. She told us her best tips, as well as how Grubhub helps incentivize the team to do their best work.
How does your company motivate you to hit or exceed your numbers?
We do all sorts of competitions across the sales department to keep all teams engaged and doing their best. For example, we started a March Madness bracket-style competition called "pitch perfect," where our east and west coast sales teams compete to make the most sales. Those who make it to the final four get the first pick of the conference locations, like Las Vegas or Miami. We also hold a biannual gathering for our entire corporate team to meet in our NYC offices. We use these gatherings for brainstorming and thinking about new ideas that will help land new business.
How do you keep yourself motivated?
I picked up running a few years ago and it's a great way to decompress after work. Since I'm a goals-oriented person in my professional life, running allows me to make and beat personal goals that I can set for myself, like running the Brooklyn Half. I'm also probably the only person my age who enjoys a good jigsaw puzzle, but I swear they are relaxing and motivating at the same time.
As an account executive at BetterCloud for the past year and a half, Elliot Silverstein has gotten creative with the ways he stays motivated. One way that never gets old: A nice steak dinner on the company's tab.
How does your company motivate you to hit or exceed your numbers?
Russell Sachs, our chief revenue officer, is an unbelievable motivator and coach. When it comes to getting the team pumped up and ready to perform, he does a wonderful job of highlighting the opportunity in front of us. Fortunately for our team, we are also in a period of substantial growth and as a result, every quarter presents a chance to achieve new revenue records, which is incredibly motivating. We're coming off two of our strongest net-new sales quarters in company history, and we've recently started a "Sales and Steak Tradition." The week after a successful sales quarter, we all get dressed up and head to one of New York's iconic steak restaurants for a feast. Nothing says "sales excellence" like a case of the meat sweats.
How do you keep yourself motivated?
I came to BetterCloud from a larger, publicly traded software company, so what keeps me motivated every day is the opportunity that I have to contribute, in a dramatic way, to the success of our company. As an individual contributor, closing one of our largest net-new sales deals can make the difference between hitting our team quota or completely blowing it out of the water. I also love traveling and exploring the newest restaurants around the city, so having a nice commission check to fund those activities doesn't hurt.   
Enterprise Manager Lalita Boonnoppornkul has held two different sales positions during her time at Stack Overflow, and has used a number of different methods for staying focused and high-performing. She told us all of her tricks, from placing bets to traveling the world.
How does your company motivate you to hit or exceed your numbers?
What I love about our sales team is that we're all really hard workers and we strive to make each other better. We rotate teams (we call them "pods") quarterly so we can get to know one another and learn from our unique and diverse styles. To incentive us, our managers often set up friendly competitions and the winning teams get prizes, happy hour or half-day Fridays, etc. One time I won an Oculus VR Headset! Sometimes we make bets amongst ourselves – I won a year-long bet for most revenue generated and my opponent had to prepare breakfast for me for a whole week. It was glorious!
How do you keep yourself motivated?
I enjoy working out during lunchtime to break up the day and clear my head. Sometimes a few coworkers and I take workout classes together after work.
I also love traveling and eating new foods so I've set a pretty ambitious goal for myself to travel at least once a month to a new city, state or country – I'm happy to report that I've been hitting this target each month since January 2017! My next few trips include Portugal, Cabo, Hawaii, Montreal, LA and hopefully either New Zealand or Europe in December!
For Account Executive Chloe Riley, motivation lies in the pizza (and business trips to Las Vegas don't hurt, either). She's been with Slice for the past year, and uses the company's mission — to support and empower local pizzerias — as an incentive to be the best at her job.
How does your company motivate you to hit or exceed your numbers?
The sales team is consistently praised by people at the executive level as well as by other departments in the company-wide meeting held every other Friday. Individually, we receive verbal recognition and praise on a daily basis, and we're also rewarded with incentives when we hit certain numbers. Most recently, I had the privilege of traveling with our CEO, Ilir Sela, and many other executives to Las Vegas for the Pizza Expo. I was one of two salespeople selected to go because I had greatly exceeded my sales goals. It's amazing to work at a company that never lets hard work go unnoticed.
How do you keep yourself motivated?
The impact that Slice has on mom-and-pop pizzerias is profound — what I do every day really makes a difference, and it's incredible when you get to see it increasing their bottom line. In a sales role, you have to be invested — passion drives the action. I love that I feel so strongly about small businesses and helping them grow because it makes the job an easy one.
As an SDR on a new team at Yotpo, Ashley Rosenberg uses the unchartered territory as a way to stay engaged. She told us exactly what she does to keep motivated.
How does your company motivate you to hit or exceed your numbers?
Being on the mid-market team at Yotpo is in and of itself a motivator to hit and exceed numbers. As we are a new team, everything we do is being done for the first time. As a high-school athlete, I also have the mindset of being a strong teammate — I never want to let my teammates down, so I am driven to do my best and hold up my end of the deal. Fortunately, our team also feels like a little family and we truly enjoy each other as friends and colleagues.
How do you keep yourself motivated?
I am definitely a self-motivated person, and with that comes a fiercely competitive nature that drives me. My love of sports and being active has even led me to have a couple side hustles in fitness. I'm a personal trainer and fitness instructor at modelFIT in my free time. As a former personal shopper, I also keep "my eye on the prize" and focus on the big ticket items I want to buy with a big commission — Louboutins are a personal favorite!
As the first employee hired at SpotMe's NYC location, Sandrine Jabouin knows a thing or two about self-motivation. From champagne to Italian getaways, she has a few tricks for staying productive.
How does your company motivate you to hit or exceed your numbers?
Our company's global business development's target goals and actual numbers are displayed at the home page of our Salesforce. When new business is made, our entire team gets notified and that allows everyone to recognize and celebrate success. This visual display naturally creates a competitive nature and motivates me to exceed my numbers. We also have a strong professional development plan: Internal promotions are frequent and encouraged.
How do you keep yourself motivated?
​While there is champagne ready to pop when a new business deal is closed, one of the biggest perks and motivators of working at SpotMe is the travel. Our clients are based all around the world (including Italy!), and I get to plan client visits and attend the events our app supports. I also do my best to keep a good personal/professional life balance, so I make it a point to add exercise and volunteer work into my schedule.