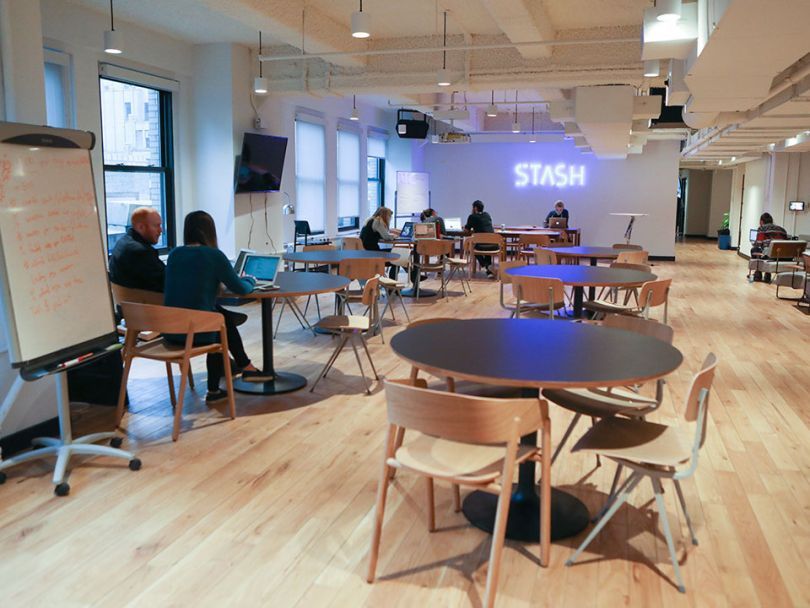 Ask any twenty-something about investing, and you're almost guaranteed to be met with a deer-in-the-headlights look. But what if investing was as easy as spending money?
Stash, a mobile-first financial services platform, aims to curb your fiscal fears and make investing and managing money easier, thanks to the launch of their new rewards program — and a cool $65 million in funding.
Called "stock-back," Stash's program bridges the gap between banking and investing by allowing users to receive "points" when they make purchases with their Stash cards, tied to mobile-based banking accounts from Green Dot Bank.
Eighty percent of Americans are living paycheck to paycheck."
Basically, when users buy goods with their Stash card, they will receive points that can go toward fractional stocks in the companies they're shopping at, or shares in ETFs approved by Stash. So if you shop at Amazon a lot, or use your card to pay your Netflix bill, you'd receive a fraction of those companies' publicly-traded stock.
"Eighty percent of Americans are living paycheck to paycheck," said Stash co-founder and president Ed Robinson in a statement. "Stock-back is our way of utilizing Stash's smart, patent-pending technology to help people build better financial habits and invest in their future. Our ability to give customers the opportunity to save and build portfolios that mirror their spending behavior and preferences is incredibly powerful."
Stash will make money through the debit card interchange fees while funding the share purchases.
The funding round saw participation from existing investors, including Union Square Ventures and Breyer Capital, as well as a private institutional investor. Stash did not disclose the name of the latter.
Stash currently employs over 200 people in NYC and his hiring across engineering, data, marketing and operations.