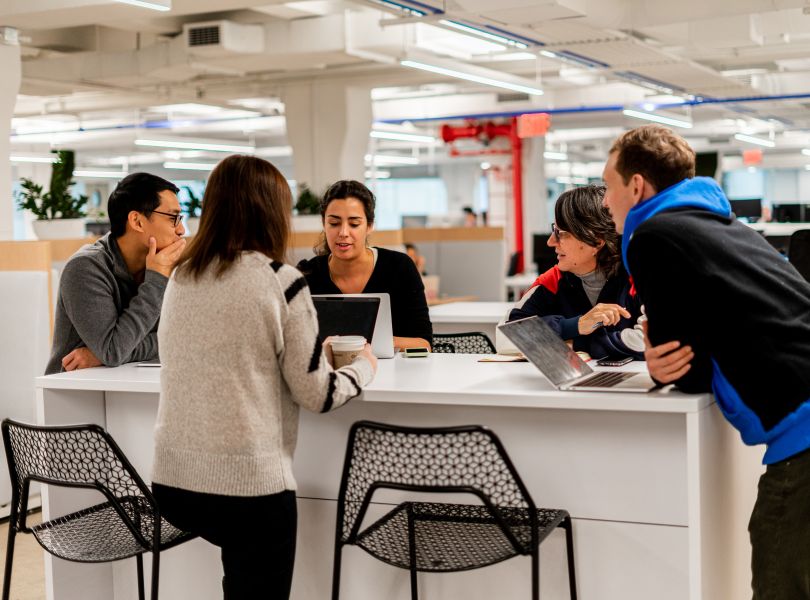 For executive women in tech, sharing advice is one of the best ways to help other women reach senior level positions. In 2019, only 4.8 percent of CEOs are women on the Fortune 500 list. If the numbers are to become more level, there's a need for women in leadership roles to manage and invest in other women.
We asked five women leaders to tell us about the obstacles they've experienced while scaling their startups. They shared tips on designing a review process, training engineers to interview candidates and creating autonomous teams. Here's one more tip: Don't be afraid to get your hands dirty.
Or as Maayan Roth from Flatiron Health said, "When you join a company that early, you have to build everything from the ground up."
Here's what else they had to say:
1. Build From The Ground Up
 "When I joined Flatiron Health as a software engineer, I was the 17th employee at the company." said Vice President of Engineering Maayan Roth. "Today we're more than 1,000 people. When you join a company that early, you have to build everything from the ground up. In order to do performance reviews, you need to design a review process and write a job ladder. If you need to scale hiring, you need to train engineers to conduct effective interviews. You can't take the existence of anything for granted like you would at a larger, established company. If you notice something missing, you have to take the initiative and create it."
2. Do Whatever It Takes
"When I joined from Uber, during my first six months, we were a team of four. We regularly joked that we were the smallest multinational because our global team still fit in a taxi. Even as we've scaled now to operations over 45 countries, we've maintained a lean profile by design. At an early stage, everyone is expected to contribute to the big-picture vision while simultaneously sweating the details. On a daily basis, you have to flip a switch from thinking like the senior executive to thinking like the junior analyst. Part of being successful is recognizing your accountability for both extremes and taking pride in your contributions regardless of how strategic or tactical they may be," said Jantsch.
"Once you cross the $10 million revenue bar, instrumenting the business becomes a priority. Fitting software-as-a-serve metrics into what we do, holding the team accountable to key performance indicators and building strong processes were a good starting point. Then, our attention turned to building a model based on the last three years that would allow us to not only forecast the future, but also accurately pinpoint growth levers, areas of investments and capital requirements." 
"As a company, we have made the conscious decision to not rely on VC funding. Bank financing is an entirely different game, and together with my team, we turned our model into a rigorous business plan that helped us secure significant debt financing for our future growth. We tend to think CFOs are part of a support function, but we can often be the driving force behind the strategy," said Rapin. 
3. Delegate, Delegate, Delegate 
Maayan Roth, Vice President of Engineering at Flatiron Health: "One of the biggest challenges that we faced when rapidly scaling our business was figuring out how to structure our teams to promote autonomy and velocity while maintaining business and domain context. When you have a very small team, people always know who to go to if they have a question, but as the team gets larger, those informal communication channels get unwieldy. We've found that development teams work best when you can give a small group of people a clear goal without a lot of dependencies and let them run with it, without needing to coordinate with a lot of other folks. The challenge for us was continuously figuring out how to partition and repartition our product and technical surface area so that those autonomous teams could exist," Roth said.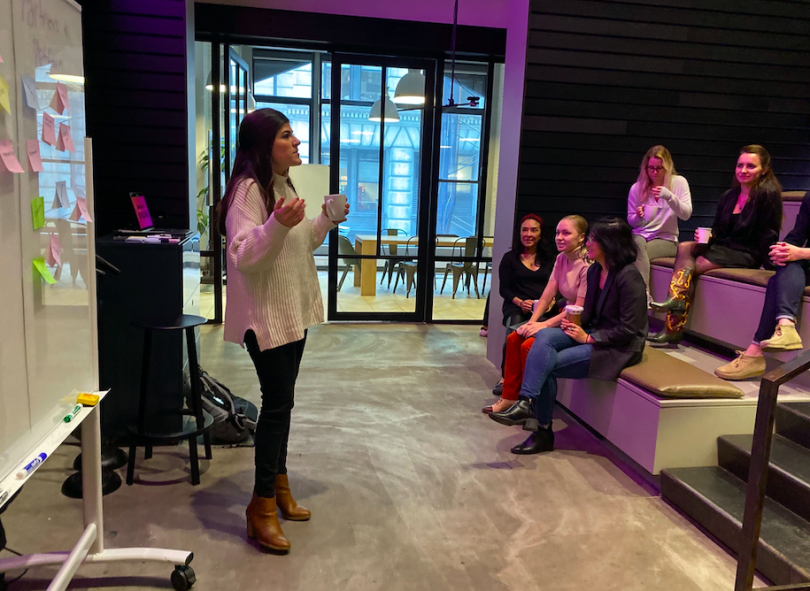 4. Manage Your Culture
"As we've expanded into new countries, we've had to learn about each new market and adapt, while still keeping to our core values and mission," said Sagazan. "I experienced this personally when I moved to New York from Paris and had to adapt in my day-to-day life as well as on the business side. We've had to understand the different cultures and norms of not only business practices but also of our people as we added to the team. One of the ways we have managed to maintain our culture was to hire a culture officer who champions the happiness crew and other initiatives to keep our values and culture thriving while still adapting to local norms."
5. Find Your People
Alix de Sagazan, Co-Founder and CEO of AB Tasty: "As a co-founder, I've been involved in a lot of elements of scaling the business, but the most important thing I've realized is to be surrounded by great people and the right recruitment is key. It's so important for my co-founder and me to have people on our team that we can rely on as business partners, who  drive the company values and mission just as we do."
"We haven't always made the best decisions in bringing someone into a role, and sometimes it's taken much longer than we anticipated to fill a role. However, when we've found that right person, the impact on our growth has been invaluable."
6. Always Be Scaling
Daphne Rapin, CFO of SpotMe: "One of my first challenges was to build a solid finance team. SpotMe has grown fast in the last five years, and with growth comes complexity. We expanded our finance group from a three-person team with a wide range of knowledge to a larger team with specialists focusing on specific processes." 
"Anything that was slowing down orders, frustrating employees or customers, or that was simply inefficient was redesigned from scratch. We built systems or selected tools for pretty much anything we do, from purchase approval and budget tracking to a complete automation of revenue invoicing and operations."
7. Make Communication Clear and Strong
"Unqork grew from a team of six to a team of more than 160 in two years. In order to scale, we had to constantly assess the support and delivery model with each milestone — this included calibrating the profile for hiring, identifying where and what level of processes we need to create and giving our team the room to do their jobs." 
"Along the way, what we learned was to always communicate. We may not always agree, but it's important to communicate with our peers and teams to ensure we're all marching towards the same goal," said Tran.