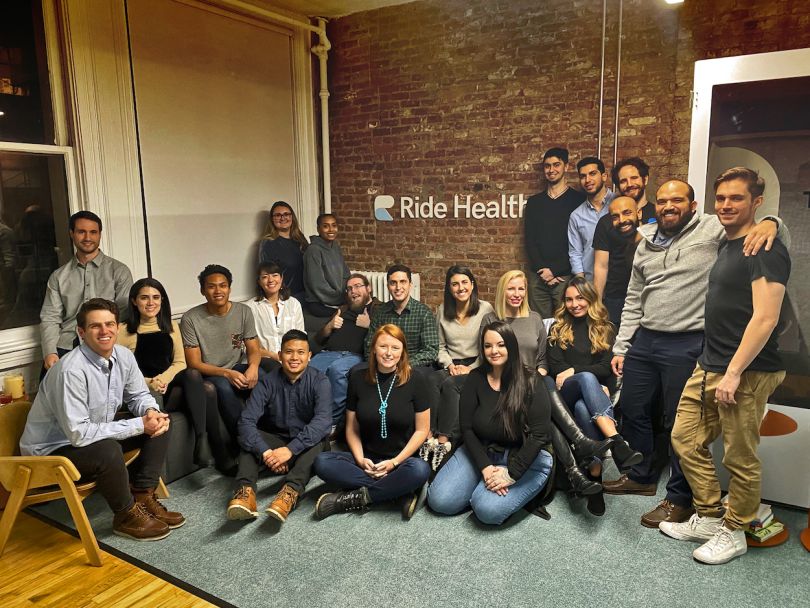 For healthcare providers, no-shows come with a high cost.
First, there's the money. A 2016 study showed no-shows cost one group of 10 regional hospitals more than $28 million during a single year. Then, there's the cost in terms of poorer health outcomes — patients that miss appointments are more likely to be hospitalized and visit the emergency room. 
Unfortunately, there's more behind these no-shows than people simply forgetting appointments. 
For poor people, elderly folks and those with mobility challenges, a trek to the hospital can pose impossible obstacles. The same goes for getting home after an appointment or extended stay. 
Ride Health CEO Imran Cronk noticed this issue when he was volunteering at a North Carolina hospital and saw a recently discharged man approach the nurses' station and ask how to get home. Today, his healthcare transportation startup operates in 30 states, and he expects to be in all 50 this time next year.
Ride Health announced today a $6.2 million Series A funding round to propel its expansion. This marks the company's first institutional fundraising. The round was led by Activate Venture Partners with participation from Newark Venture Partners, Anthro Ventures, BioAdvance, Leading Edge Ventures and Startup Health.
"It's an exciting time for healthcare organizations that are impacting the social determinants of health," Cronk told Built In. "Now, perhaps more than in the past few years, people really understand the important roles these solutions play in helping healthcare organizations meet the holistic needs of their populations."
Ride Health contracts with transportation providers — from big names like Uber to local mom-and-pop businesses and public transit agencies — to get patients to and from their appointments. Unlike legacy services that end their involvement once rides are booked, Ride Health's platform integrates with its contractors to keep tabs on each trip and monitor for hiccups. 
Beyond reducing no-show rates, the platform also boosts transparency, Cronk said. Until this point, the workings of medical mobility services have been obscured by a lack of consistent data. By shifting patient transportation logistics from call centers to a tech-enabled platform, Ride Health hopes to simplify tracking and reporting for its hospital clients.
"It essentially takes the experience that you might have with a modern day transportation network company like Uber or Lyft and brings it to the entire medical mobility ecosystem, which has never existed before," Cronk said. 
Hospitals foot the bill for Ride Health's services, but they make that money back in cost savings on no-shows and delayed discharges, according to Cronk. One New Jersey hospital saw a 700 percent return when it implemented Ride Health at its primary care units. At Penn Medicine in Philadelphia, the company reduced delayed discharges for qualifying patients in inpatient facilities by six hours, on average. 
Benefits like these save money for insurance providers, as well. In fact, one of Ride Health's main targets for growth in 2020 is managed care plans like Medicare and Medicaid. These plans have long provided transportation, but that doesn't mean those services operate smoothly, Kronk said.
"Even though transportation has less than one percent of spend for that benefit, it accounts for the majority of complaints and grievances, as high as 60 to 70 percent. So it really impacts member satisfaction," he added.
Ride Health, on the other hand, seems to be doing well with member satisfaction. Although its current customer base is relatively small, Inc reported, it's never lost a customer. 
"We want to be the system that every touchpoint of the care continuum uses to manage transitions of care and mobility for their patients," Cronk said. "So we built our platform to be interoperable across all of these different stakeholders and to be used from within their systems of record. And we think that interoperability and integration layer is going to be key to our ability to scale."
In conjunction with the new funding, Ride Health plans to add 15 to 20 employees to its New York City team, including sales, product, engineering and business development roles. Its current headcount at its headquarters is 30.
As a company at the intersection of healthcare and transportation, Ride Health cannot avoid the waves of change on the horizon, Cronk noted. But the startup is taking steps to make itself indispensable, no matter what mobility looks like in the future. 
"We have no dependency on any specific business model," he said. We're a mission-driven organization with the idea that we can help every patient everywhere get access to the care they need."