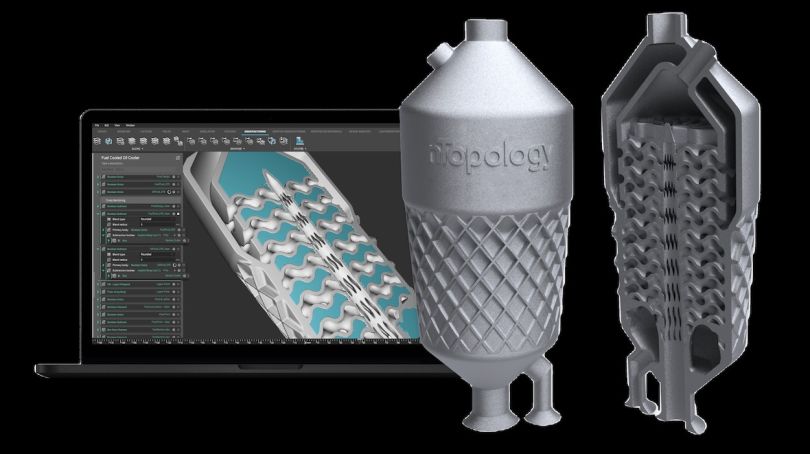 nTopology, an NYC startup that develops software used in the design and manufacturing of 3D-printed machine parts, announced Tuesday it closed on a $40 million Series C funding round led by Insight Partners.
Founded in 2015, nTopology allows engineers working at the hundreds of companies that use its platform to quickly design complex structures that are strong, lightweight and easy to manufacture. The goal of the company, says nTopology CEO Brad Rothenberg, is to be the "toolmaker," a conduit that helps players in the aerospace, automotive, medical and consumer industries advance.
"We're the one that makes the tools that our customers use to solve problems that are critical to humankind," Rothenberg told Built In. "So, it's not so much about what new feature nTop is going to be adding, but it's more like what are the products that we're enabling with our software?"
Lately, the company has helped do everything from redesign a complex mini turbine made by Sierra Turbines to manufacture lightweight parts on the Orion spacecraft made in part by Lockheed Martin. Over the next five years, nTopology anticipates innovative engineering companies will be producing about 30 percent of all parts in the advanced manufacturing process, and expects its platform to be used in the design of the majority of those parts.
This $40 million investment comes at an interesting time for the digital manufacturing industry, which has been ripe for change over the past several decades, according to Rothenberg.
"If you look around you, pretty much everything has been designed in an engineering software stack and computer. What's happened over the last 15, 20 years is there's been a profound shift in manufacturing, specifically from subtractive manufacturing to additive manufacturing. This shift has basically increased the complexity of the parts that you could design, and the legacy engineering tools that were built in the late '70s and early '80s are not able to really take advantage of those new manufacturing technologies," Rothenberg said. "Any time in history where there's been a big shift in the way that we as humans make something ... there's a platform shift that happens. nTop represents this new platform for engineering the most advanced products in the world right now."
Rothenberg says this fresh funding will be used to scale nTopology globally. The company is also hiring, looking mainly to grow its sales, marketing and R&D departments. These roles are mostly located in its New York office, but are also available to folks living in other states as the company shifts toward a "hub-based model" in the wake of the pandemic.