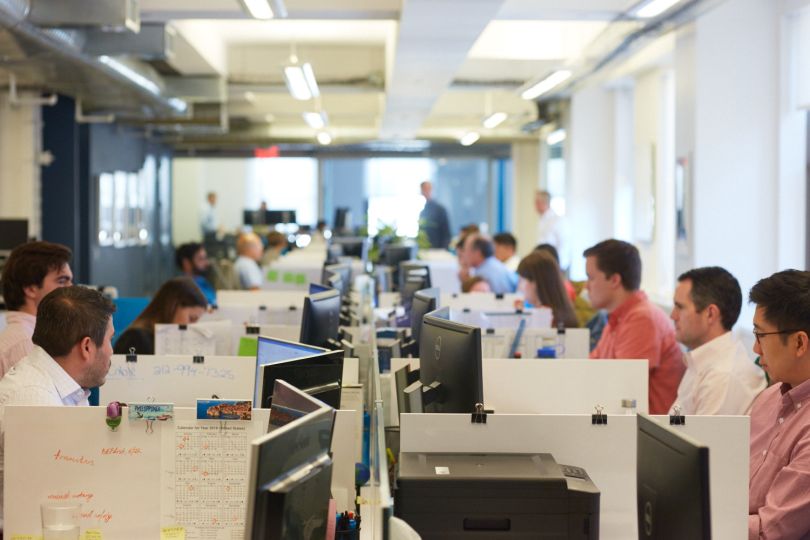 Longevity in New York City is a rare concept. Restaurants close, jobs fluctuate, buildings get demolished, and the "it" spot rotates around the city like the earth around the sun.
However, careers in tech are starting to root deeper as employees align their personal goals with their professional growth. New York's tech ecosystem now accounts for more than 291,000 jobs and generates over $124.7 billion in economic output, according to NYC International Business. So knowing how to attract the biggest portion of this employment pool can be crucial.
"I have stayed [in my position] for reasons that fulfill me professionally, personally and that tap into the ways I like to work, collaborate and engage with others," said ThoughtWorks' North American Head of Product Kathy Buttler. "I have worked here longer than any other job I have had."
Take a closer look at these seven rapidly-growing tech companies hiring in NYC and see why employees are deciding to stick around for the long haul.
By analyzing massive amounts of data through machine learning, algorithms and data visualization, a large enterprise can uncover figure-driven predictions about its future success. CB Insights aims to build technology that helps their customers guess less and win more.
Staying ahead of the trends: "The main reason I wanted to work at CB Insights was the product and the market," Rahill said. "This is still the same six years later."
"Our product identifies startups and emerging technologies to help clients form their innovation and their buy, build or partner strategy. Our market is growing each year as technology is constantly disrupting industries, so we see more and more companies care about what we do and want to get ahead of the digital disruption. It's exciting to work at a place where our product team is always evolving our offerings to serve the growing needs of our clients."
Driving change: "I started at CB Insights when there were about 30 of us because I really liked to build and help scale. In my current role, I am helping build out a new team to align account managers and sales reps in order to grow our largest customer base. I am a very results-focused person so I am most excited about helping us increase our revenue as a result of this initiative!"
Founded in 2007, Trustpilot is a digital review platform bringing businesses and consumers together to inspire transparent collaboration. Customers and business owners exist symbiotically to promote informed shopping and improved experiences through honest feedback. 
Living the mission: "One of the main reasons I accepted this job was because of the work culture and people," Gonzales said.
"I joined when the company had just rebranded, and you could tell how passionate people were about being at a company like Trustpilot — everyone I interviewed with really believed in Trustpilot's mission. Everyone was also just really nice and open about working here, so it made it really easy for me to choose Trustpilot."
Growing up: "It's been exciting to see how much Trustpilot has grown while I've been here the past two years. I'm excited to see Trustpilot expand and gain even more traction, especially in the U.S."
"We're always looking to improve our product, and I believe that listening to our own customers' feedback is so important. That's why I'm excited to be working closer with our customers this year to build out a new advocacy program, where they can openly share their experiences and insights."
Teachers Pay Teachers is an online marketplace for educational resources. More than 85 percent of U.S. teachers utilize the edtech platform to exchange instructional materials. 
Aligning goals for impact: "When I chose to join Teachers Pay Teachers, I was looking for a customer-driven company and the chance to feel like I could make a positive impact for others while learning and having fun along the way," Henderer said.
"TpT is this and so much more. It was ultimately TpT's vision of the impact they could have on K-12 education, the amazing teacher community on the platform, and the people that sold me."
Looking to the future: "What excites me most about where TpT is going is the opportunity we have to help make a difference in the lives of millions of educators and students around the globe. Whether it's creating new ways for teachers to find the resources they need, making engaging digital tools for the classroom or creating ways to foster community among educators, there are so many new products and offerings we get to experiment with and build that can help make an impact."
NYC startup iCapital Network is a fintech investment platform transforming how alternative investments are bought and sold through tech-based solutions. 
Investing in employees: "When I applied to iCapital, I was looking for an organization that invests in their employees and recognizes talent," Patel said. "I could see during interviews that iCapital was that kind of place, but it was also much more."
When it came time to make a decision, I accepted my role based on the culture of inclusion and collaboration that was evident among iCapital team members. Leadership models these values, and it sets the tone for the entire company. At every level, colleagues are eager to lend a hand and share their knowledge and experience."
Contributing at every level: "iCapital is growing quickly. The company encourages all employees at every level to contribute ideas that can help improve products, processes, and most importantly, better serve clients. I am excited to have these opportunities to help take iCapital to the next level. My success is the team's success, which leads to the company's success."
Every member of a team might have a role, but every team might not have a hierarchy. At global technology consultancy ThoughtWorks, colleague accountability is the drive behind personal and professional success. 
Working autonomously and collaboratively: "I have stayed at ThoughtWorks for reasons that fulfill me professionally, personally and that tap into the ways I like to work, collaborate and engage with others," Buttler said. "I have worked here longer than any other job I have had. One of the key reasons is a very flat, but highly collaborative, organization. I do not have a 'boss.' Instead, I am accountable to my teams, my accounts, my org leadership, my service line, and my colleagues across different disciplines. I am held to success metrics via ongoing feedback from all the people I work with, so I have goals for leadership, individual contribution, teamwork, and selling." 
"Many of my personal strengths and attributes help me thrive here. Our leadership is incredibly transparent; we know more about our business and its performance than I have experienced at any other company."
A passion for customer experience: "I am excited about our go-to-market strategy that is based on service lines. Specifically, we have a customer experience service line that speaks to the 22 years of digital consulting work I have done for dozens of companies. My company recognized my passion and affinity for this type of consulting work and gave me a leadership role in helping define the offering. While challenging, this opportunity and type of work also is very fulfilling to me."
Better.com aims to fix the "broken homeownership system" by combining proprietary technology with a seamless customer experience in order to save their customers money. 
Disrupting tradition: "I am passionate about working at companies that disrupt traditional industries, and that's exactly what Better is doing," Motto said. "While researching the company and speaking with multiple (now) colleagues during my interview process, it was clear from day one that Better has only just begun disrupting the traditional mortgage process and housing industry. Being able to provide opportunities for underserved groups is a feat in and of itself that Better has already accomplished. 
Additionally, as a woman in tech, it was important for me to see strong female executive leaders in the workplace. Having a chief product officer, chief compliance officer, head of operations, and now a chief technology officer that are all inspiring women with a seat at the table was a massive deciding factor when I accepted the job at Better."
Supporting one another: "My product operations team is responsible for ensuring the product, design and engineering teams have a best-in-class product development process and are effective in how we all work together cross-functionally. Our primary goal is to produce highly impactful experiences for our customers that homeowners and homebuyers benefit from.
"I'm truly inspired by the work that my team does every single day to allow our product managers, engineers, designers and data scientists to move fast, iterate and launch more innovative products that will continue to set us apart from traditional lenders." 
Sealed believes in making home improvement upgrades attainable and affordable for homeowners. By covering upfront costs of installation, this real estate fintech organization aims to solve the problems that make houses too hot, too cold, or too wasteful with energy-saving upgrades like insulation, HVAC and smart tech.
Making a positive impact: "During my job search, I was looking for a role at a company where I could use my degree in environmental science, I was surrounded by mission-driven peers, and I could make a positive impact in the world," Polacek said.
"Sealed checked all of those boxes, and after meeting the people I'd be working with, I knew that they would offer me ample opportunities to grow. I saw the potential in Sealed's product and the passion from my peers — and knew that Sealed was the right place for me."
Opportunity for growth: "I'm excited to continue developing my skills at Sealed in a management role with a strong grasp of the product. Some of these skills involve spearheading training, coaching our sales team and developing internal sales processes.
"I'm most excited for Sealed to continue to develop and refine the product offering. Our product was already great leagues ahead of the competition, but I'm excited to see how it will get even better by providing customers even more customization and flexibility."