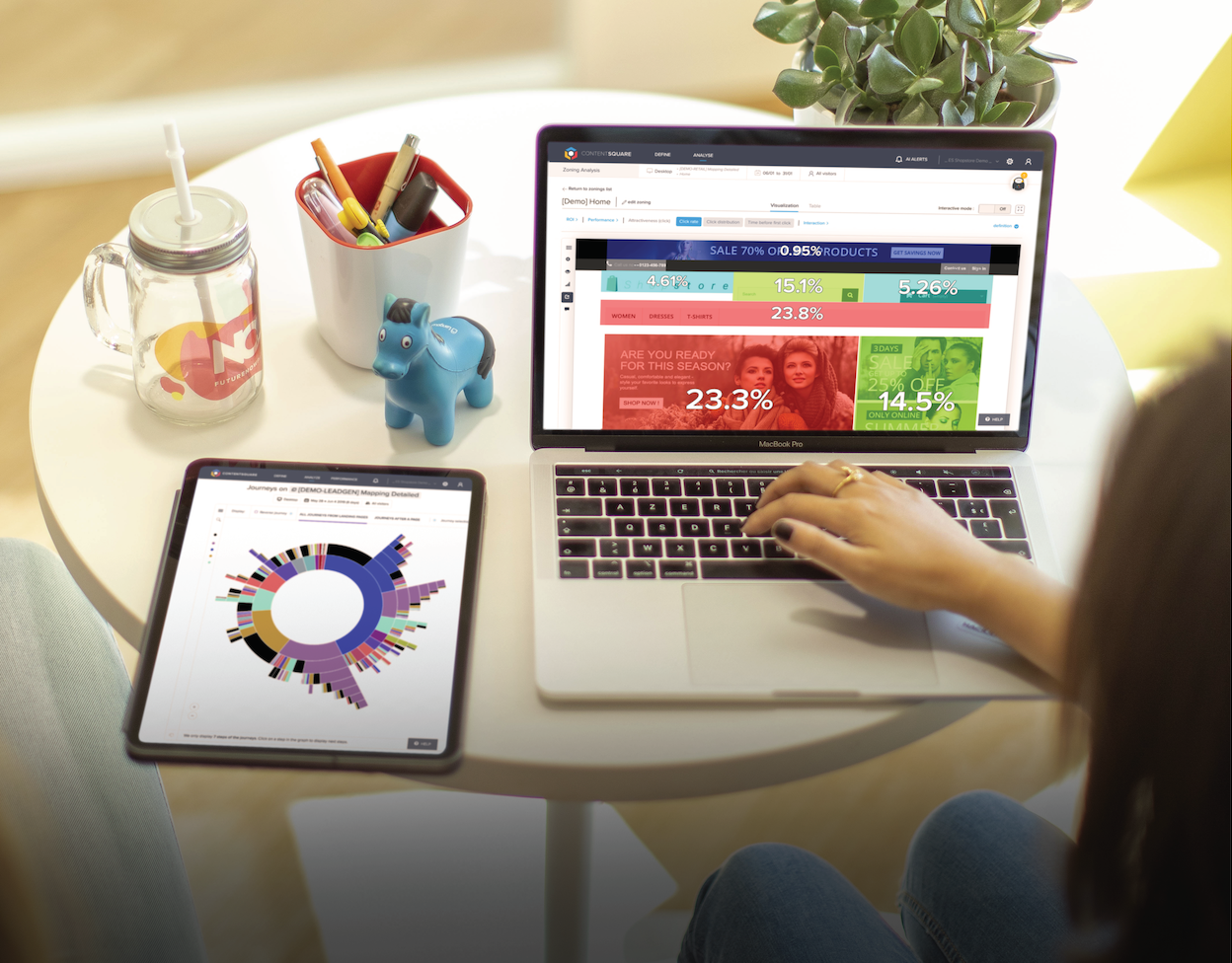 Contentsquare, a digital analytics startup that helps businesses better understand how and why users interact with their apps and websites, announced Wednesday it closed on a massive $500 million Series E led by SoftBank Vision Fund 2. This round comes just one year after the company announced a $190 million Series D, and brings its total valuation to $2.8 billion. 
Founded in 2012, Contentsquare aims to take a big bite out of the predictive analytics sector, which is projected to be worth more than $21 billion by 2025. The Paris-headquartered company's platform gathers trillions of anonymous web, mobile and app interactions, then converts them into actionable insights and recommendations that can help businesses increase engagement, growth and, ultimately, revenue. The goal is to help companies better understand what their customers are doing and why so they can make more informed decisions.
In the year since Built In last caught up with Contentsquare, the company has grown substantially, increasing its global headcount by 40 percent and acquiring two companies — web analysis startup Dareboost and digital accessibility startup AdaptMyWeb. Over the last four years, Contentsquare says it has grown its annual recurring revenue rate by more than 120 percent, and it now works with some 750 global brands, many of which are Fortune 100 companies in the retail, entertainment, travel and finance industries. 
Contentsqaure's founder and CEO Jonathan Cherki says a lot of this recent growth can be attributed to the "drastic increase" in online traffic that has been climbing for years and accelerated amid the pandemic. According to Cherki, the "new world" will only grow more and more digital.
"It has been difficult for everyone with Covid. But if there is one positive outcome, it is the acceleration of the digitalization of the world," Cherki told Built In. "I really feel like this is the very beginning of our opportunity. Our job is not just to become one of the biggest companies in the world, but also to positively impact the world we are working in."
With this in mind, Contentsquare has also recently launched its own nonprofit foundation to help promote digital accessibility in areas like education and corporate social responsibility, as well as a new incubator to help fuel the growth of other influential tech startups.
"By democratizing access to actionable customer insights, Contentsquare empowers businesses in every sector to build better digital experiences for everyone," Yanni Pipilis, a managing director for SoftBank Investment Advisers, said in a statement provided to Built In. "We're excited to partner with Contentsquare on its journey as one of the global leaders in UX optimization."
Looking ahead, Contentsquare will use this fresh funding to further advance its platform, fuel its geographic expansion (particularly in Asia), and accelerate its go-to-market strategy. Cherki also says the company plans to hire another 1,500 people total over the next three years across its U.S. headquarters in NYC and offices around the world.