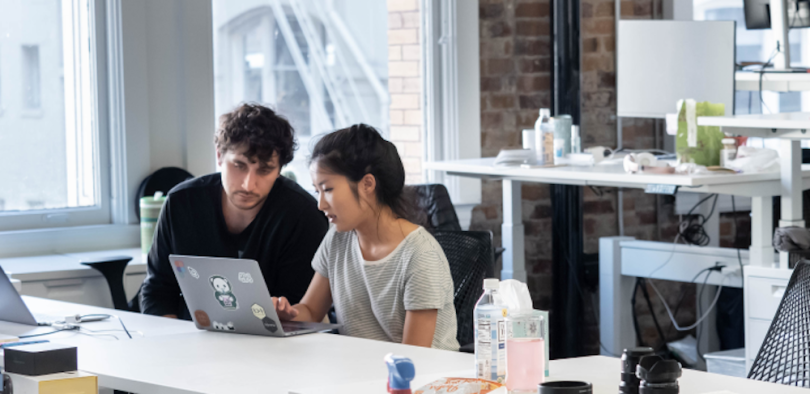 Figma, a San Francisco tech company that develops web-based design software for major brands like Airbnb and Dropbox, has officially opened a new "hub" here in NYC in an effort to grow and diversify its team post-pandemic.
"New York is a big city, and it's very diverse. Figma was really making a bet that we would be able to attract a diverse talent pool that might otherwise be hard for us to attract, especially post-pandemic," Katie Szeto, a product manager at Figma who will be relocating to NYC, told Built In. "It's a really fun city where people are going to want to be after the pandemic."
Plus, some of Figma's largest customers are based here in NYC, including the New York Times and Spotify, so this new hub will give the team an opportunity to be closer to these businesses as well, Szeto added.
Right now, Figma has about 40 people in and associated with its NYC hub, and a company spokesperson said that it plans to double headcount by the end of the year.
Szeto says that the vision for all of Figma's hubs (it also has ones in San Francisco and London) is that it can support all roles and areas of the business, adding that Figma is "growing like crazy" and hiring across all departments, with a particular emphasis on its sales and product development teams.
Not to be confused with the traditional office space of the pre-pandemic before-times, Figma's hubs are designed to accommodate its new hybrid work model. In this model, each employee — or "Figmate" — can decide if they want to be fully remote or associated with a specific hub. Those who are aligned with a hub are expected to go into the office a minimum of two specific days a week, meaning they will be the same for everyone in the office. This is to maximize what Szeto describes as "serendipitous collaboration," which can only happen in an in-person environment.
"You don't get those moments of serendipity if you come into the office and it's just a ghost town. By coordinating the days that employees come into the office, the hope is that we'll just maximize the chances of that happening," Szeto said. "I think every employee is going to go on this journey of figuring out, 'OK, where do I do my best work? What fits best with my life?' And this system supports that."
Of course, Figma isn't the only company to roll out a model like this amid the pandemic. Industry leaders like Amazon, Microsoft and Google have all announced their own return-to-office plans, and none of them require employees to come in five days a week. However, Figma does appear to be one of the first companies to announce a hybrid return-to-office plan. Figma CEO and co-founder Dylan Field first announced the plans in a blog post last August — a mere five months into the pandemic — saying an internal survey informed the decision.
To get a complete picture, Figma gathered both personal stories and hard numbers through write-in and multiple-choice questions, asking about everything from commute habits to productivity levels during the pandemic. In the end, after consulting with some other hybrid companies, Figma landed on the model it has now.
"Looking ahead, we're thinking a lot about how Figma's culture needs to change so we can adapt to this hybrid world," Field said in the blog post. "While this decision feels 'right' to me, it's hard to know exactly how this will play out over time; we need to find ways to measure if it's working and adjust if it's not."
Indeed, whether this hybrid model will stick around for the long haul (and how it will evolve) is anyone's guess, but Szeto seems optimistic about the model's future — at least when it comes to Figma.
"People's expectations around how work should work have fundamentally changed, and I don't think that's a one-time phenomenon," Szeto said. "I think it will last for quite some time, and I'm bullish that it will work."