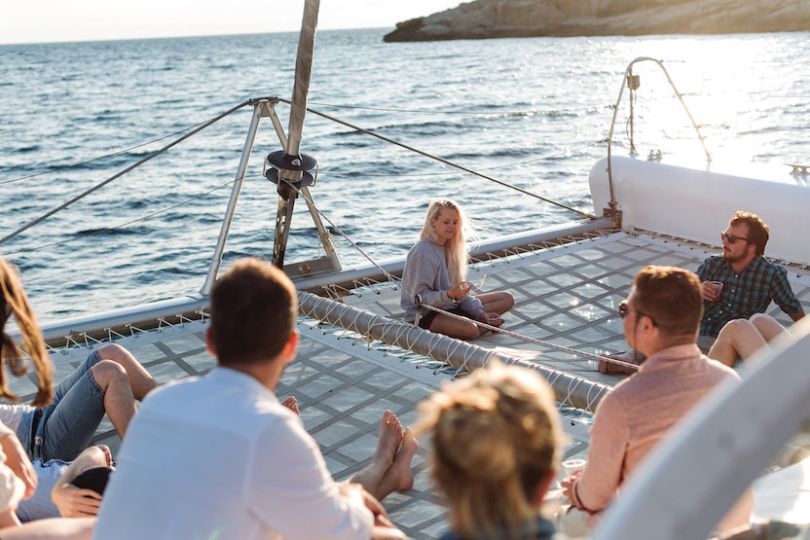 Data company Unacast didn't get to where it is today by enforcing a professional dress code or running a too-tight ship for its employees. In fact, there's a "no-shoes-allowed" policy in all of the company's office locations, and the only ship it ran was a yacht during the company off-site in Ibiza.
Instead, the company attributes its success to its Norwegian roots — meaning team lunches, unlimited vacation time and no shoes are the norm. By keeping an open, lax environment across its NYC and Oslo offices, the company is able to focus more on what really matters: keeping employees happy while increasing the bottom line.
Product Manager Kaylin Zeuske told us more about the office's Norwegian culture and, of course, what it was like to be on a yacht in Ibiza with the entire company.
You started with Unacast somewhat recently. What was your first impression of the company's culture, and how has it measured up since?
My first impression was how laidback everyone was and how much people truly, genuinely enjoyed coming to work every day. I think my first impression was right — everyone's respect for one another, what we do, what we know or don't know, and who we are, has been evident since I started.
How does having offices abroad influence the way the company operates?
Well for starters, we take a lot of red-eye flights, given the fluidity of movement between the Oslo and NYC office! There are many companies that have roots elsewhere, but Unacast is unique in that the Norwegian culture is very present in the company culture. We aren't siloed due to distance like I have seen at other companies.
Besides the more obvious culture indicators — like how we don't wear shoes around the office — the workplace is also made to feel like an extension of home and a place where we can be comfortable to do our best work. On a deeper level, respect and quality is a core part of our culture. It's evident in everything we do, from the products that go to clients to internal documentation. Everyone produces and expects quality work.
It's amazing to work with a unique group of people from all over the world and see so many places — whether it's Ibiza, Oslo, NYC, or anywhere in between."

 
How do these values affect the team's productivity?
We believe that everyone in the company has value, and everyone's input is respected. At the same time, the honesty and humility that Norwegians are known for enables us to solve problems that matter and not spend time on the ones that don't. These values translate very clearly into the respect we have have for each other's time in the office, as well as outside of the office.
This makes it easier to be productive while we are at work, which gives us more time and freedom to feed our souls with activities outside of the office, like spending time with family and friends, and investing in outside hobbies and interests.
Rumor has it your latest company outing was in Ibiza. What was one specific story from that trip that you'll always remember?
I can't believe we went! On my first day, before I had even gotten into my emails, my boss said, 'You have to book your Ibiza flight today.' It was such a fun surprise. Even though I was still newer to the company, it was great to celebrate how far we have come and map out what this next stretch of time will look like for us.
My favorite memory was from the last night, after we went on a sunset boat cruise. A few of us went out to have some tapas and wine. The food was absolutely incredible but, most importantly, I really enjoyed spending time with my new coworkers. We were an eclectic group from different offices with different roles — we wouldn't have gotten a chance to spend time together in traditional office roles. It was a unique experience and an unbeatable way to bond.
How is your experience at Unacast different from any other team you've been a part of?
The energy and the drive to succeed is so evident in this team. Not only do we all want to do our best and help Unacast succeed, but everyone is also invested in helping one another be successful.
What are some of the most unique or valuable perks of working at Unacast? 
I think the most unique perk of working at Unacast is definitely the culture we have. One of our core values is to "be your own CEO," and part of that is actively contributing to what we're creating. Being part of a team that is growing so rapidly means having the opportunity to contribute in a tangible way.
In addition to that, it's amazing to work with a unique group of people from all over the world and see so many places — whether it's Ibiza, Oslo, NYC, or anywhere in between.