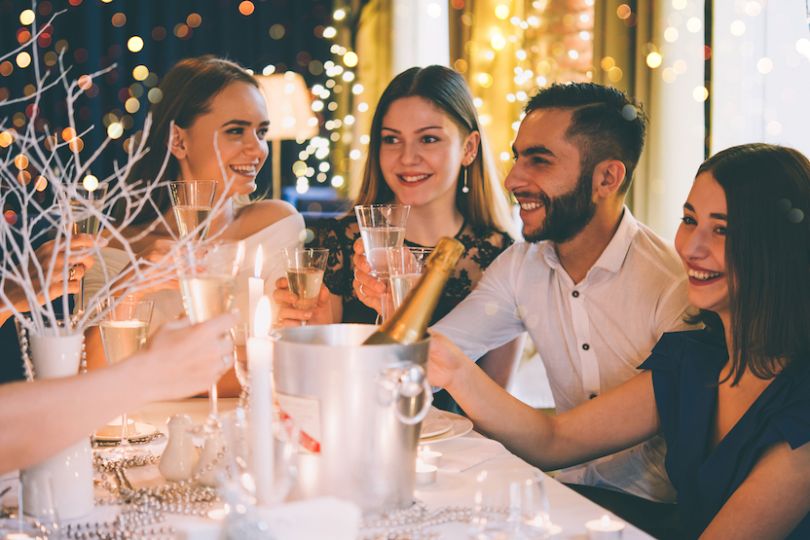 What's better than dressing up and letting loose with your coworkers to celebrate a great year? Doing it all on the company's dime, of course. NYC tech startups gathered their whole teams together for parties full of fancy cocktails, great food and sweet dance moves. Take a look inside some of their Gatsby-level celebrations.
Men's grooming company Harry's throws exactly the type of party you would expect it to: a classy dance party at a hotel, complete with a fireplace and heartfelt toast from the co-founders. Senior Recruiter Sofia Lyubarsky explained more.
Where was your holiday party this year, and what were some of the night's activities?
We held our holiday party at the Jane Hotel in the West Village. It was cozy with a fireplace, an upstairs and a downstairs bar, and a ton of dancing. As always, our co-founders Andy and Jeff made a heartfelt speech, there was amazing food, and even if there wasn't an official dance floor, we made it work. Harry's loves to dance!
What was your favorite memory from this year's party?
My favorite memory was the impromptu dance party. The Jane was super flexible and allowed us to move all of the living room furniture aside so we could dance the night away in front of the fire.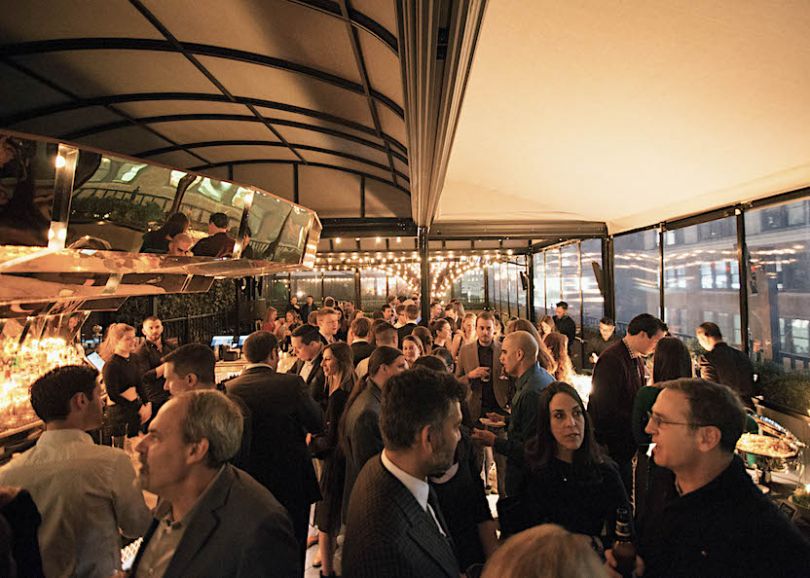 It's only fitting that Movable Ink, a visual experience platform for marketers, would plan a holiday party packed with beautiful decor and stunning views. Carly Laniado, senior manager of talent acquisition, explained what's in store for the team when they celebrate the holidays next month.
Where is your holiday party this year, and what are some of the night's activities?
Our winter party this year is at Second Floor and it will be in mid-January. We have our winter party coincide with our yearly company kickoff so all of our employees in every office and remote can come together to celebrate the previous year's wins and get excited for the upcoming year. We always make sure the venue has amazing views and a fun vibe — nothing stuffy — and we don't have a seated meal so everyone can mingle. One of Second Floor's coolest features is that it has a 30-foot screen across the plaza, where we'll show fun photos of employees taken over the course of the year. We are also renting vintage lounge furniture to keep the vibe eclectic.
What was your favorite memory from past holiday parties?
Our party last year was at the Moxy Hotel rooftop, Magic Hour. They had a carousel, mini golf and an amazing panoramic retractable glass roof. Towards the end of the night, they opened the roof so we could see the Empire State Building while "Empire State of Mind" played in the background. It was a great send-off to a great night!
Expense management platform Abacus went to the Moxy Hotel for their annual "Aba-stravaganza," which featured dancing, fancy cocktails and lots of messy appetizers. Product Specialist Team Lead Syeda Tarannum described the scene.
Where was your holiday party this year, and what were some of the night's activities?
Our Aba-stravaganza holiday party took place in a basketball court-turned-bar at the Moxy hotel in the Financial District. We spent the night nibbling on appetizers and drinking signature cocktails, all while listening and dancing to a playlist curated by our very own team.
What was your favorite memory from this year's party?
I want to say my favorite memory was seeing my coworkers let loose and have a great time together, but it was really watching everyone eat mini chicken and waffle bites while spilling the hidden maple syrup all over their hands, cheeks and fancy party clothes. We all got a great laugh out of it!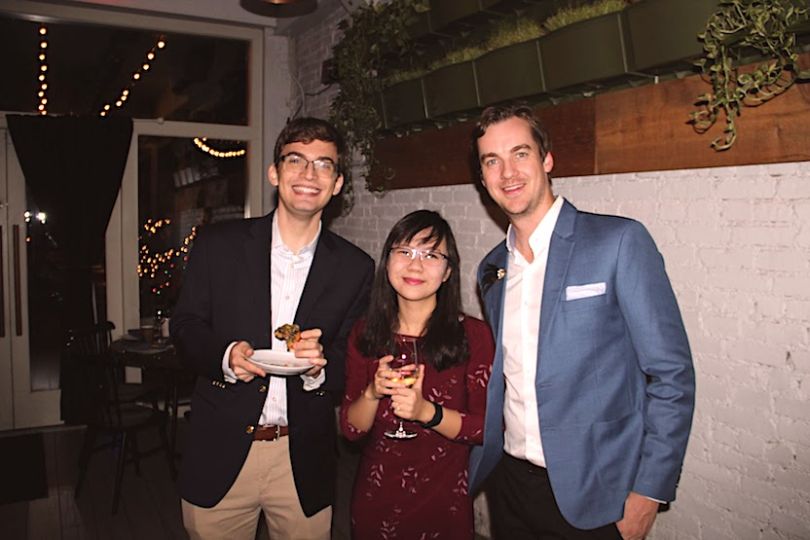 Work management platform Asana celebrated the holiday in Brooklyn with an elaborate dinner and cozy nightcap. University Recruiter Diana Peña Peñaloza went over the highlights of the night.
Where was your holiday party this year, and what were some of the night's activities?
Our New York celebration was at Olmsted, a beautiful restaurant in Prospect Heights, Brooklyn. We had an incredible multi-course dinner with speciality cocktails and ended the night making s'mores on the heated patio.
What was your favorite memory from this year's party?
Everyone's energy! We truly celebrated how much we've grown and accomplished in the past year as a small but mighty team that represents Asana's East Coast hub. We even had a little booklet of "2018 by the numbers" of some of our favorite quirky things about our people and culture.