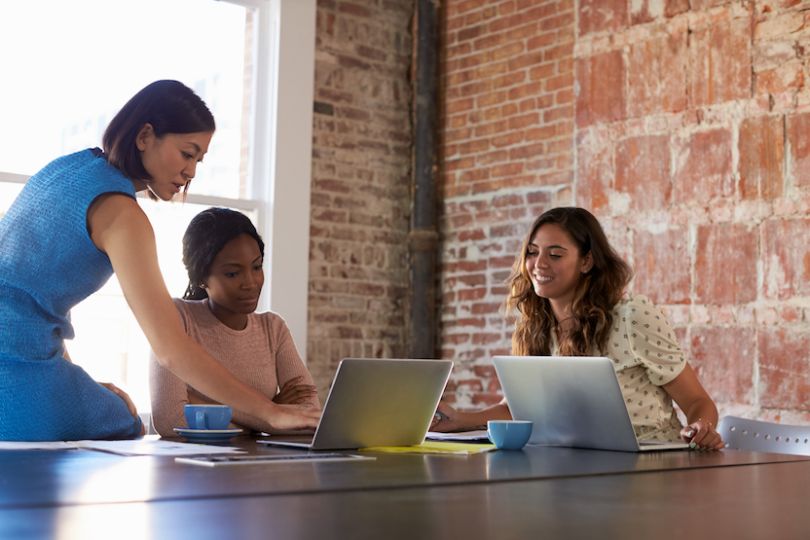 Though the numbers are steadily leveling out, women are currently underrepresented in sales, which reflects statistics of the tech scene as a whole. We talked to women who are salespeople at seven companies across NYC to learn how they broke into the field, and what recommendations they have for others. 
Inside Sales Manager Kanika Laroia has been at Box for close to five years — the same amount of time she's been in sales. She walked us through her experience in the role, and gave other women tips for feeling confident in their selling skills.
Share the story of how you got into sales.
I graduated from college with the intention of starting a career in PR and landed my first full-time job as an account coordinator at a tech PR agency. While I loved the thrill of securing media coverage for our clients, I found myself wanting to do more than high-level pitches for their technology. I wanted to become an expert in the value of their products in the market. When I voiced this to friend working in tech sales, she was convinced sales would be a great fit for me. I ended up attending a Box recruiting event with her and spoke with some incredible sales reps, including one who also had come from the PR world. I decided to take the plunge and applied for the SDR role at Box. Four years later, I couldn't be more grateful that I did.
What is the biggest challenge you've faced in your career, and how have you worked to overcome it?
One of the biggest challenges I faced was a lack of confidence in my abilities and the value I bring to a team. It's incredibly easy to come up with reasons to doubt yourself or feel less qualified than a peer for a promotion, but that doubt will only hold you back from reaching your full potential. I started a brag sheet to track my strengths, areas I've been working to improve and responsibilities I've taken on outside of the job description. The list helps remind me that I can afford to take risks and job responsibilities greater than what I first thought possible.
Any advice or tips for other women pursuing a career in sales?
Build a network of women in the same field as you! While the number of women in sales continues to grow, we are still the minority in enterprise software sales and sales management. By seeking out other women in this industry, you'll learn so much from hearing about their experiences and leveraging their advice in challenging situations similar to your own. The women I've met are some of the brightest, sharpest people I know and they've served as cheerleaders, mentors and sponsors throughout my sales career.
Director of Enterprise Sales Heather Castrillón encourages other women to follow in her footsteps and reach beyond their comfort zones. Though she's been at fintech company Riskified for two years, it's her first experience in the startup world. She explained how the unknown is rarely as scary as you might think.
Share the story of how you got into sales.
I started my career working in real estate PR and quickly realized I wasn't feeling fulfilled. I spent a lot of time reading and writing about successful brokers and salespeople, and I knew I could be a part of the action, so I took the leap. My first sales job was with a market research company before moving into to the startup world. I've been with Riskified for about two years now.
What is the biggest challenge you've faced in your career, and how have you worked to overcome it?
Finding a role that consistently pushes me has been the biggest challenge I've faced. I'm the kind of person who needs to have a new hill to climb every day, and the positions I've had in the past haven't provided that. I've been looking for a dynamic company where every day is different and where I can see the impact my work has on the company's success. I've overcome that by not settling for good enough. With Riskified, I've found a role where every day brings something new.
Any advice or tips for other women pursuing a career in sales?
Be assertive, never stop learning and own your success. Read up on the different methodologies out there and don't be afraid to take risks or challenge the status quo. Learn to trust your gut and be comfortable with being uncomfortable — you'll often be surprised at the positive results you can achieve once you reach beyond your comfort zone.
VP of Sales Jennifer Langholz started her sales career in an unexpected way. She started as an entry level sales rep in the food and tech space after creating a recipe blog. From there, she managed sales teams at Breadcrumb and Toast POS, worked her way up to VP-level, joined hospitality startup BentoBox, and the rest is history.
Share the story of how you got into sales.
Before pursuing a role in sales, I had worked at a credit union for six years. I realized that I wanted to find a career that was goal-oriented, fulfilled my appreciation for connecting with people, and most importantly, incorporated my personal love for food and hospitality. Without any connections to leverage in the foodtech space and no prior sales experience, I started a recipe blog to help my resume stand out when applying online. I started as an entry-level sales rep selling POS technology to restaurants, where I learned as much as I could about sales and the industry, and haven't looked back since.
What is the biggest challenge you've faced in your career, and how have you worked to overcome it?
Sales is often about repetition, both as an individual contributor and a sales leader, and it's easy to get stuck in the weeds and operate on autopilot. While you can likely hit your goals if you get very good at repetition, it's impossible to take both individual and company performance to new heights without constant reevaluation, self-reflection and thinking 10 steps ahead. I have found it game-changing to dedicate both personal and team-time to these goals.
Any advice or tips for other women pursuing a career in sales?
Sales positions can vary across companies and teams. It's important that you know what your core reasons are for pursuing sales, and be honest with yourself about your strengths and weaknesses. Once you know that, find a position that aligns with and leverages those things. That's where the magic happens. If you go into a transactional sales role when your strength is relationship-building, you'll find yourself frustrated or failing. You'll also find that what motivates you changes throughout your sales career, so be aware of those changes and address them as you go.  
Senior Account Executive Portia Tse has been in sales for more than 18 years and worked at companies like Dow Jones, Datamonitor Mintel before ultimately joining event success platform Bizzabo. She told us why it's so important to embrace being a female in a male-centric role.
Share the story of how you got into sales.    
Getting into sales was an accident — a good one. My first job was as an assistant account manager with content syndicator YourNews in London. I've since continued to work in sales at companies like Dow Jones, Datamonitor, Mintel and more. After 18+ years in the profession, I wanted to continue to build my expertise and continue to work with new clients. When I came across Bizzabo, I immediately wanted to be a part of the company. When I met the team, there was an ease in the communication, culture and process.
What is the biggest challenge you've faced in your career, and how have you worked to overcome it?    
Figuring out my priorities (both personal and career-wise), building trust (internally and externally), and belief in the solutions that I represent.  Early on in my career, I choose the sales associate role at Dow Jones despite a fear of public speaking. I had to learn how to control my nerves and build up my confidence. Every role has its challenges. When you've been in sales for a while, you tend to question everything. If you don't, you won't learn or improve and that will ultimately reflect in your work moving forward.
Any advice or tips for other women pursuing a career in sales?
Stay curious, take risks and uncover your unique selling point (USP). Be invested in your industry, the clients you engage with, what your team and extended team are working on, and set yourself up with industry alerts in order to stay current. The best in sales are not out to just get the sale — they are truly invested in how they can make an impact on those they work with.
Don't be afraid of trying new roles or industries and take recommendations from your mentors and peers. While you're told to trust your gut, also trust what others see in you when they extend an opportunity. A part of my USP is in being female. There is a shortage in the salesforce so you should absolutely embrace it and not think that you're at a disadvantage.
When in college, Senior Sales Development Representative Gabrielle Hartmann had a different vision for her career. But now that she's in sales at marketing tech company Yotpo, she can't imagine a more dynamic role. She explained the challenges she has faced, and how she advises others to triumph.
Share the story of how you got into sales.
I studied exercise physiology in college and had no intention of going into tech sales, until my junior year where I found myself in a summer sales internship to get college credit. I talked with thousands of people that summer and found that sales is about connecting and building trust with people and understanding the decision-making process for different types of individuals. Being in sales is also a great way to learn an industry and stay up-to-date on trends, so it keeps your job dynamic and stays exciting.
What is the biggest challenge you've faced in your career, and how have you worked to overcome it?
When I had first started at Yotpo, I had a really slow start in the role. I tried to have the perfect outreach for every lead and what I realized very quickly is this role is not about being perfect, but about finding the right companies. I had to shift my mentality to take the pressure off myself and put trust in the system. Sales development is truly a numbers game and the way to be successful is to balance quality work with perseverance.
Any advice or tips for other women pursuing a career in sales?
Be a person that people want to work with every day. Sales can get very competitive and it's easy to lose sight of the team's and the company's goals when you are trying to hit your own. If you focus on doing what's best for the company, you'll find that you're not only helping the entire team hit their goals, but you're also exceeding your own and gaining allies who are rooting for your success as well. Seek out as much advice as you can and strive to be the best seller on the floor, not just the best female seller.
Before Senior Account Executive Courtney Packard became a model employee at adtech company GroundTruth, she faked it until she made it. She walked us through her early years in sales and how she came out on top.
Share the story of how you got into sales.
I began my career as a freelance production assistant for sports television, but after two years, I wasn't feeling secure in that role. It was a lot of weekend work, a lack of benefits, and I never knew where my next job was. My two best friends were in sales and thought I would be a natural fit. So when I saw a college friend post a role on his social media, I jumped on the opportunity. I went through the interview and became the 13th salesperson at AOL's Patch.com. In the beginning, it was a lot of learning and imitating salespeople around me, but eventually, I found my way.
What is the biggest challenge you've faced in your career, and how have you worked to overcome it?     
Being laid off was a major challenge. When it happened, I experienced a huge sense of failure and doubt in myself. After the shock wore off, I came to understand that the things that happen to us do not define our value. I believe this is the most valuable lesson I've ever learned. As a salesperson, you are going to fail more times than not and hear "no" more often than you hear "yes." Your ability to find the lesson in the present situation, and move on, is what will define your long-term success. A year-and-a-half after I was laid off, I won Salesperson of the Year!
Any advice or tips for other women pursuing a career in sales?
If you have an opinion, idea or question, speak up and share it, no matter how uncomfortable it may make you. My heart still pounds and my hands still sweat most times I speak up with a different viewpoint in larger meetings, which is why I know I have to do it. The way we continue to grow is by making ourselves uncomfortable, and sharing different viewpoints are vital for companies to continue to innovate. What you feel and what you have to say matters.  
Strategic Account Executive Caroline Thompson fell into sales and hasn't looked back. She's been at SaaS Operations Management platform Bettercloud for almost four years, and consistently outperforms others despite not fitting the stereotypical salesperson mold. She explained to us how it's advantageous to be a woman in the tech industry.
Share the story of how you got into sales.
After college I had no job prospects, so I reached out to anyone who was willing to get coffee and talk to me about their career. I had never considered a career in sales — having been a writer, I assumed I would end up in marketing — but person after person suggested I try it. Eventually someone agreed to forward my resume to their HR department and I landed my first job. It involved making 200 dials per day and taking credit card numbers over the phone, but I stuck with it!
What is the biggest challenge you've faced in your career, and how have you worked to overcome it?
I don't fit the mold of a stereotypical salesperson, and I've struggled to overcome that. In the past, people have made the assumption that I'm too relationship-oriented or not assertive enough for sales. I don't believe it's held me back, but I have felt the need to work harder to prove myself.  
My strategy has been to let my work speak for itself. I know I have the drive to be successful, and the great thing about sales is that there is a scoreboard. It's easier to overcome those stereotypes when I'm outperforming my peers quarter after quarter.
Any advice or tips for other women pursuing a career in sales?
Many of the skills that set great salespeople apart from good ones are skills that tend to come naturally to women: emotional intelligence, strategy, attention to detail and active listening. In 2019, people don't want to be "sold" — they want to buy from someone they can trust. My advice is to listen to your instincts. It's still important to grow and push yourself out of your comfort zone, but trust that you know what is needed to win the deal. If you work for a company and leadership team that values its customers, they'll also value you.