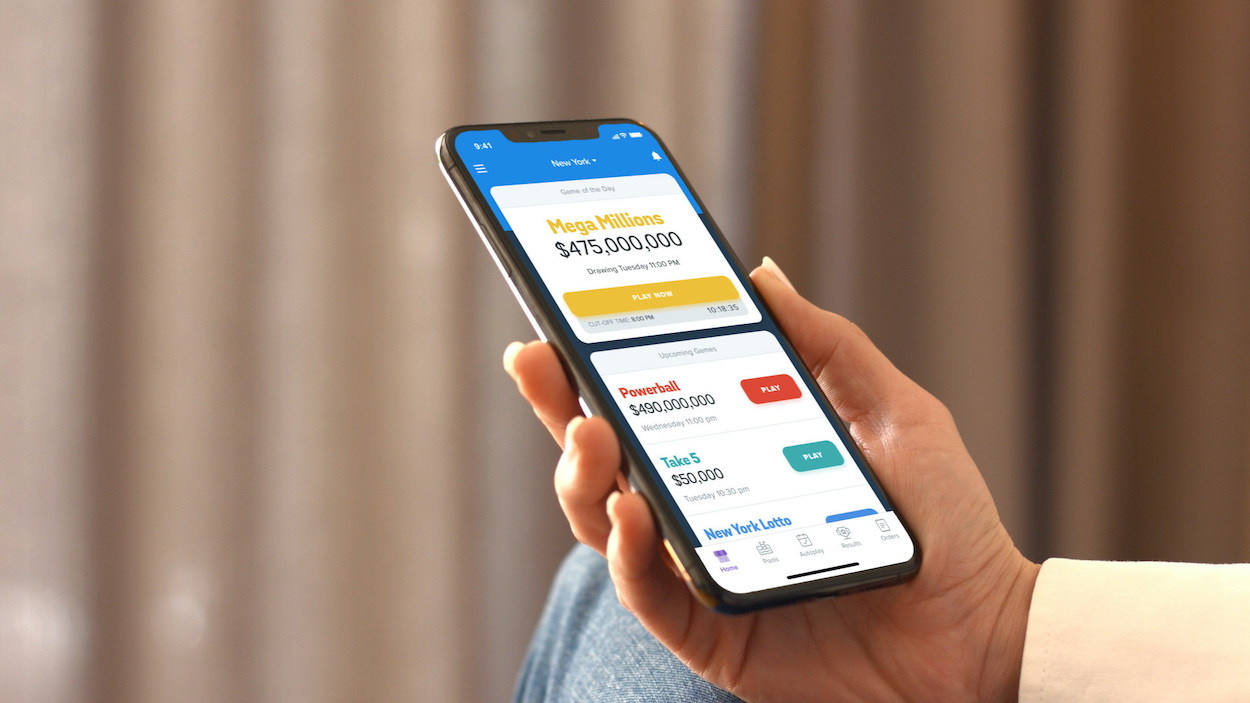 Jackpocket, an NYC startup that lets people play the lottery on their phones, announced Tuesday it closed on a $50 million Series C funding round. The company has also recently won regulatory approval in New York and New Jersey, as well as eight other states, making it the first and only licensed third-party app in the U.S. to provide official state lottery tickets.
Founded in 2013, Jackpocket aims to usher the decades-old tradition of state lotteries into the 21st century. All users have to do is choose their preferred game and numbers, and Jackpocket buys the lottery ticket from an official lottery retailer. A digital version of the ticket is available for view on the app, establishing the user as its sole and rightful owner, and the paper ticket is stored in a fireproof safe, according to the company.
Jackpocket says winners collect 100 percent of the money and any winnings under $600 go to their account on the app. If it's more, the physical ticket is delivered directly to the user.
Over the years, the app's user base has been growing steadily, especially among younger players. In fact, the company claims an "overwhelming majority" of its users are under 45 years old. When Built In talked to Jackpocket in 2019, its app had made a soft launch in Texas and its user base had grown by 150 percent. Now that it has been licensed in New York, its usage has really taken off — user growth in January alone surpassed the entirety of 2020, according to the company.
"Our growth over the past 12 months highlights our ability to reach a new demographic of lottery players looking for fun and safe mobile experiences," CEO and founder Peter Sullivan said in a statement. "Lottery is the next major form of entertainment to go mobile, and Jackpocket is proud to lead that movement by partnering with state lotteries and legislators in the pursuit of a more accessible, convenient, and responsible lottery experience."
This Series C round brings Jackpocket's total funding raised to nearly $80 million. Investors include major firms like Raine Group, TEGNA Ventures and Gaingels, as well as high-profile individuals like Will & Grace star Sean Hayes and NY Islanders owner Jon Ledecky.
The money will be used to grow the Jackpocket team and launch its app in new jurisdictions, as the company positions itself to reinvent an industry that Gordon Rubenstein, managing partner at Raine Ventures, says is worth $300 billion.
"Jackpocket's success is a testament to their deep understanding of the lottery consumer and regulatory environment, their cutting-edge proprietary technology platform, and clear vision for the future of mobile gaming," Rubenstein said in a statement. "From our experience in real money gaming, we fully expect Jackpocket to become a household name, and are delighted to partner with them as they continue to expand."