Digital Analytics Giant Contentsquare Just Acquired Hotjar
The two industry leaders will join forces to serve companies of all sizes, from SMBs to large enterprises.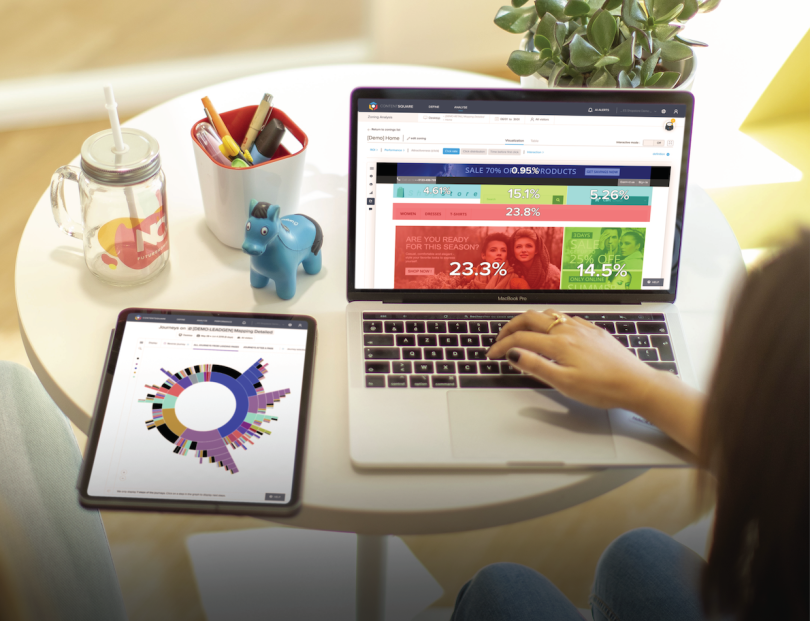 Contentsquare has announced that it just acquired Malta-based Hotjar, another key player in the digital analytics space — bringing it one step closer to its mission of creating a world where "every digital experience is deserving of love," as Contentsquare CEO Jonathan Cherki puts it.
"We have a long-term goal of democratizing digital data so every organization — large or small — can capture data insights and leverage them to improve their brand and customer experiences," Cherki told Built In via email. "You don't need to have the budget of a Fortune 50 to deliver excellent online experiences to your customers."
This news is coming hot on the heels of Contentsquare's $500 million raise led by SoftBank Vision Fund 2 in May, which brought its valuation to a whopping $2.8 billion, and caps off what has been a very busy year for the startup. In recent months, Contentsquare has launched three new products, acquired three other companies, and launched a nonprofit to help promote digital accessibility.
Today, the Paris-headquartered company counts major brands like Microsoft, Adobe and American Express among the hundreds of enterprises using its AI and predictive analytics software. Essentially, by monitoring customer engagement through things like scrolls and clicks, companies can better understand their behavior, identify issues on their sites and apps, and solve them.
Hotjar takes a similar approach, but tends to focus on small and medium-sized businesses. By joining forces with Hotjar, Contentsquare hopes to serve companies of all sizes, supporting the rapid digital transformation of virtually every industry amid the ongoing global pandemic.
"Being closely connected to Contentsquare will provide a channel for Hotjar's midsize customer base to access enterprise-level technology and have a partner grow alongside them," Cherki said. "Together, we'll help guide digital transformation in e-commerce and deliver data-powered, personalized digital journeys at scale."
The new joint company will not only open up Contentsquare's resources to smaller businesses, it will also help the companies pool their collective data to better serve their existing customers.
"With the amalgamation of data from both the mid-market and enterprise, Contentsquare will better hone technology and speed innovation to respond to real market challenges and needs as they evolve, providing strategic and future-proof solutions to our customers," Cherki continued.
Although the terms of this deal were not disclosed, the companies said in a press release that the newly combined entity will comprise about a thousand people. And while both companies will "work closely together," they will continue to operate independently for the "foreseeable future."
Meanwhile, Contentsquare is continuing the hiring spree it initially announced in May, with the goal of increasing its global headcount by more than 1,500 people in the next three years. In his email, Cherki described North America as a "key market," so it will be opening up many of these new positions at its U.S. headquarters in NYC and its office in San Francisco. He added that Hotjar is planning to recruit 230 people by the end of 2021 as well.