Since the days of high school, the idea of working on a group project has always been a point of contention. 
And, as the working world grew up and entered the workplace, the problem never really went away — thankfully, monday.com seems to have found a solution. Through its collaborative team management platform, teams of five to 5,000 have been able to create a stream of efficiency in whatever they do.
Behind the tool is a team of obsessive account and product managers who are working to make our lives a little easier. We caught up with them to learn about what makes monday.com an essential platform for collaboration.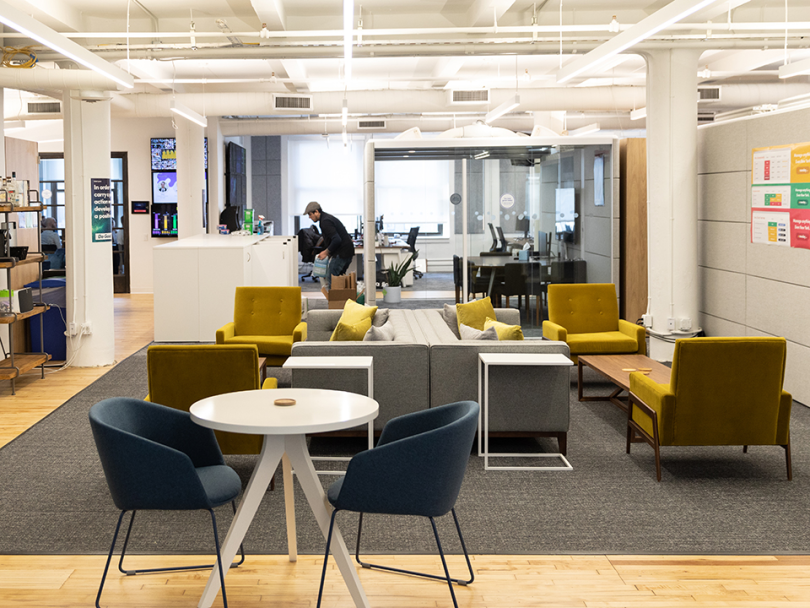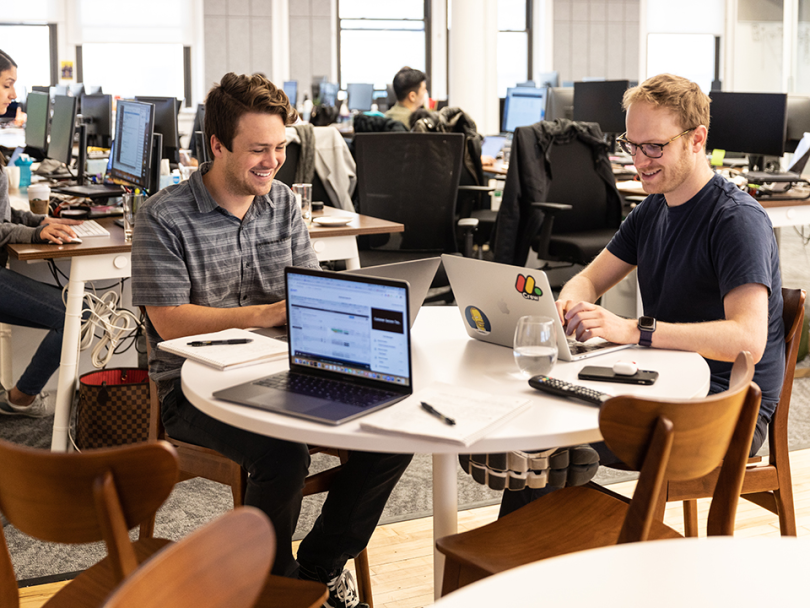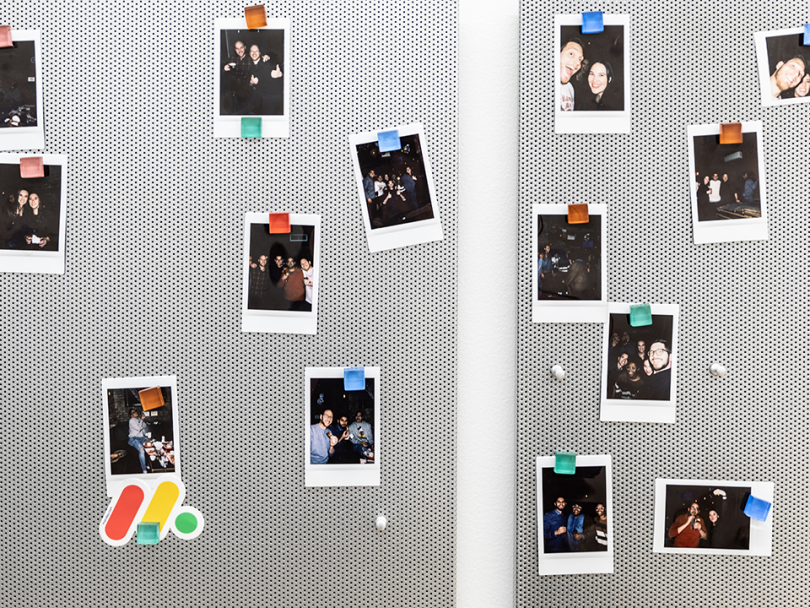 FOUNDED: 2014
EMPLOYEES: 220; 50 locally 
WHERE THEY DO IT: New York City
WHAT THEY DO: Their team management solution — think interactive spreadsheet meets virtual Post-it notes meets a glorified grocery list — connects people to workplace processes. 
WHO'S ON MONDAY.COM: Probably someone you know, as well as companies like Wix, Philips and WeWork and over 60,000 paying companies from every industry and vertical. 
TRANSPARENCY IS KEY: Everyone is aware of exactly how the company is performing at any given moment, whether it's their marketing spend, how many active users there are currently on the platform, or how many new sign-ups the company sees per day (which is about 10,000).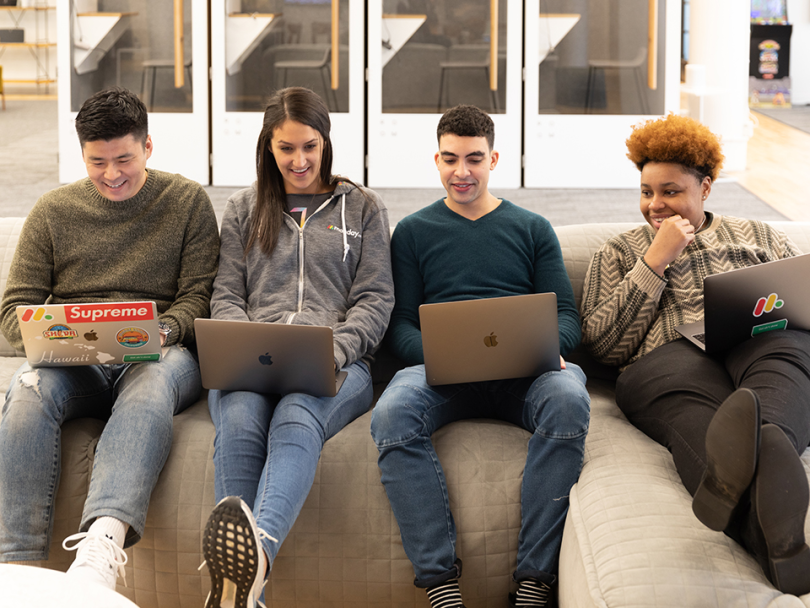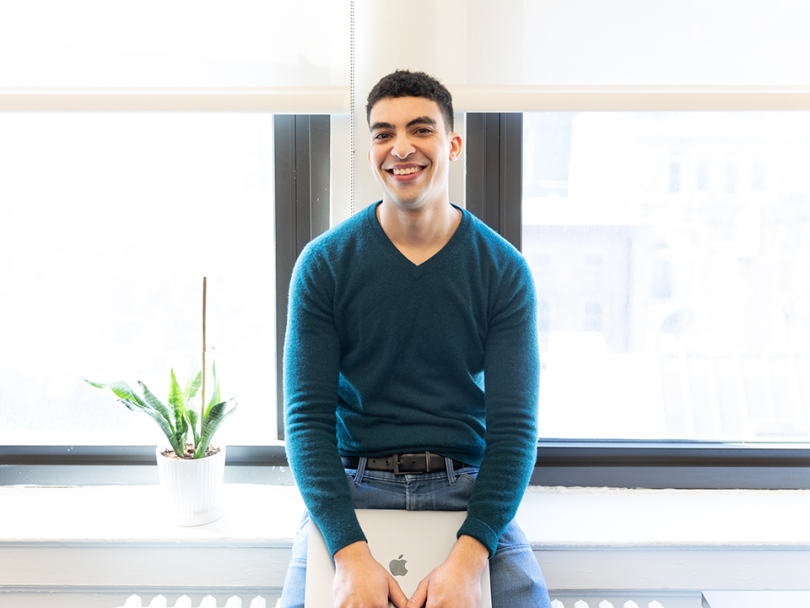 Hans Andrew Parker, Mid-Market Account Manager
Hans' work is two-fold: When companies reach out about using monday.com, Hans guides them to the perfect solution for their problem. If the company exceeds a team size of 50, he ensures that they're ready to use monday.com in the most efficient way possible. 
BEYOND WORK: Hans loves to cook. "I bring the heat with some lamb chops, and I make a mean spaghetti alle vongole," he says. 
Your team is a very new team to monday.com. What challenges have you faced related to that, and how have you overcome them? 
Our team is very new  — in fact, I'm only the second person in my current position. This is an awesome chance to show the company why product consultants are key at this point in time, where we're gaining a ton more traffic and sign-ups than ever before. Potential clients need someone to show them value specific to their industry and department, rather than just watching a quick tutorial or basic webinar. 
There is a lot of learning on our end, keeping up with new use cases and features, but one way we've tackled this is by making the learning experience a team effort. Every Monday through Thursday evening, a different member of the consulting team will present any new features with an example use case. As a team, we sit and talk about how this could be useful to our clients.
In other words, we are not pushy salespeople: Our goal is to actually find the best solution for your team, department and company."
You have a zero-commission sales team, which is very much against the norm in any industry. How is this structure beneficial to team members and the company as a whole? 
Monday.com treats us very well and, besides excellent base pay, fair equity, great benefits and catered breakfast with a fully-stocked kitchen, everyone treats each other with the utmost respect, which in turn shapes our interactions with clients and prospects. In other words, we are not pushy salespeople: Our goal is to actually find the best solution for your team, department and company. 
This also allows us to work well with each other: If someone needs help in any department, you know they're not asking with any additional motives. There is absolutely no unhealthy competition at monday.com — but that's not to say that there isn't a bit of fun competition.
You aren't just driven by numbers, but by how you and your team can improve Monday.com's processes. How does that work in practice?
About three months ago, I would often have clients ask if there was a way for certain aspects of monday.com to be automated. With one particular client, we rolled out automations in beta mode in less than two weeks. I reached out to several of the inquirers to see if they wanted to try them out and the response was phenomenal. Another two weeks after that, automations were rolled out to everyone. We move fast here, and it's all thanks to clients who care and consultants who listen.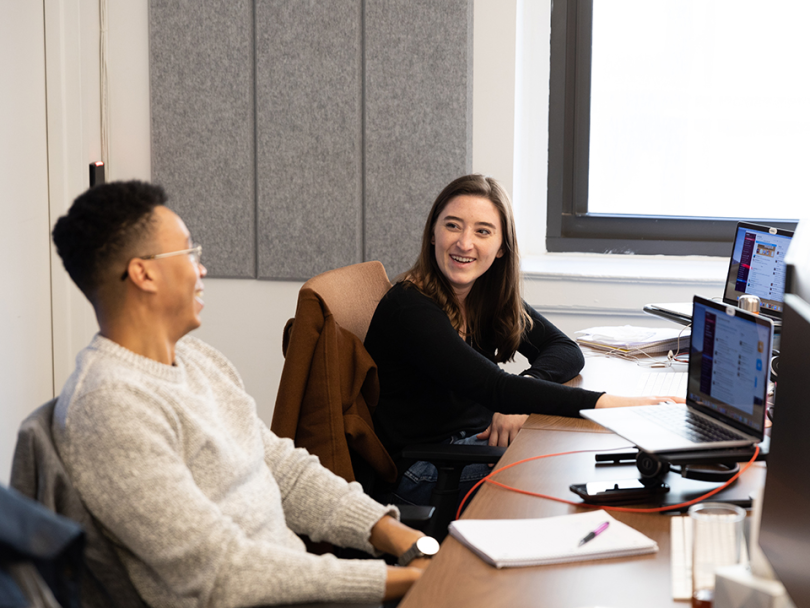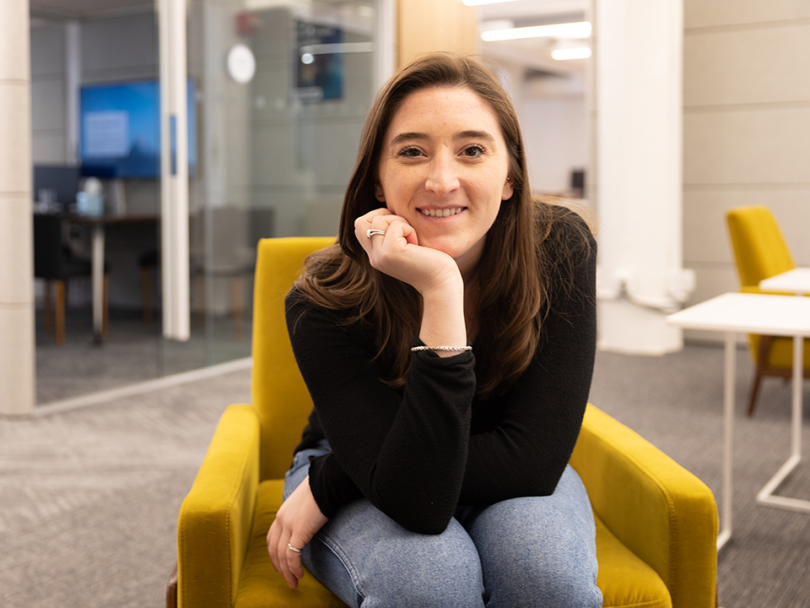 Lauren Spera, Enterprise Account Manager
Lauren manages and builds relationships with existing enterprise accounts at monday.com, aiming for long-term adoption and growth. "I want us to exceed our goals and always strive to be better," she says. 
BEYOND WORK: A runner and reader, Lauren said these pursuits help her become a more calm and grounded person, which in turn helps her be her best self at the office.
Your team made a transition from a sales team to a consulting group in August 2018. What did that transition mean for your team?
We stopped focusing so much on every single lead that we received and honed in on ones with more potential. We get about 8,000 sign-ups per day, and there is just no way we can touch every one of those individuals. It helps you to prioritize by focusing on accounts with high intent and engagement, as well as opportunities for growth. All of the consultants focus on this method, which then lends itself really well to the account management roles.
Monday.com lets all team members drive change within the actual product. What features or processes has your team been able to suggest and see put into action? 
We have one board we use internally to track vacation days. Early on in my time here, my manager and I were thinking, "How cool would be if, on a vacation board, you're listed as on vacation so that on all other boards where you have tasks assigned to you, your profile picture would 'gray out'?" Well, he just announced in a recent morning meeting that this is happening! 
It's always fun for me to watch someone go from little knowledge of how to use monday.com to full expert in a short amount of time."
How do your colleagues collaborate across teams?
There are tons of opportunities to collaborate. A coworker who is on the customer success team and I have been training a customer and their group on the platform. It's always fun for me to watch someone go from little knowledge of how to use monday.com to full expert in a short amount of time. This really speaks to the level of knowledge my coworker has about the platform and our ability to communicate that — and it was even better when this customer showed us a hack we had not yet thought of.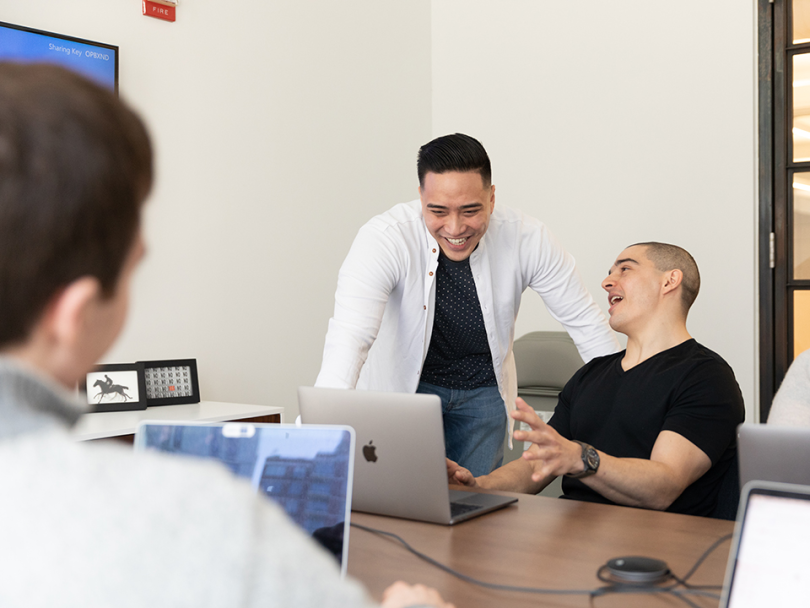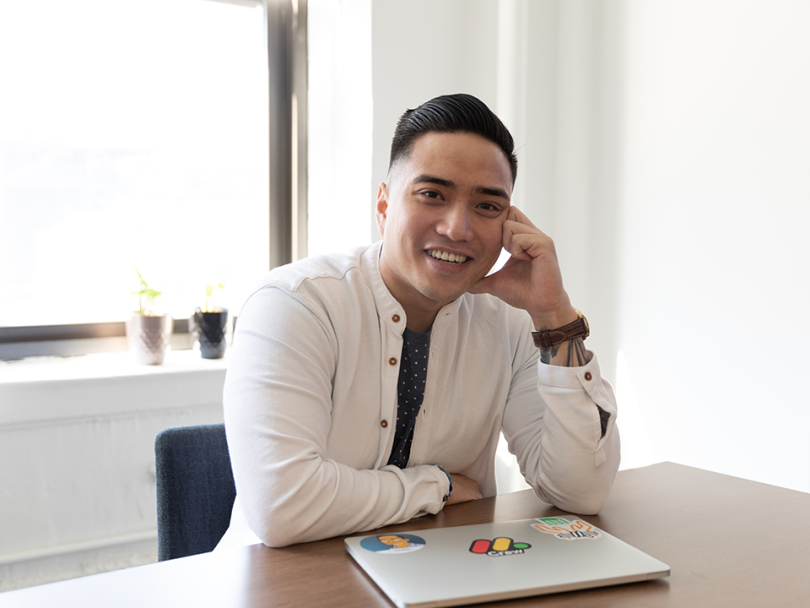 Nate Sebastian, Senior Product Consultant
Understanding prospect and client pain points is a huge part of Nate's day today. After all, most people buy project management software for a reason. "I like to compare it to prescription or over-the-counter medication — you usually don't buy medicine just to have it," he says.
BEYOND WORK: You'll see Nate in the gym after a day in the office — a routine he's maintained for the past 15 years.
You're constantly working with clients to get to the core of what they need. What's that like? 
I'm currently working with one of the largest streaming services in the world, and it's truly been a pleasure working with them to get a solution in place. Having one central hub to communicate with producers, editors, designers, marketing managers and leadership — all within the context of a project or task in an easy-to-find way — has been incredibly valuable. 
In addition to the communication aspect of monday.com, features like deadline management, resource allocation, task management and customizable notifications they can create — due date reminders, task and project handoff and email integrations — have helped efficiency. They find themselves no longer chasing people around, filtering through long email threads and wondering where things are, as everything is in one spot, complete with a visually friendly interface.
Every new employee during my tenure here has fit in seamlessly and has really flourished and blossomed into a great contributor almost immediately."
If you look at your to-do list, what is one thing you love to do?
The best part is walking through those doors and seeing the people we work with. Every new employee during my tenure here has fit in seamlessly and has really flourished and blossomed into a great contributor almost immediately. It's very refreshing to see. The exchange program where we send employees to our HQ in Tel Aviv also plays a role in that — to see the culture and company that was built there firsthand was an amazing experience.