Is a company really "like family" if they don't help you assemble IKEA furniture after you relocate to a new city?
Kin + Carta might be a strategy and consulting firm with several locations, but its small, boutique New York office is composed of a dedicated team that's willing to help each other — even outside of work. 
"This may seem strange to some people, but this is representative of the New York office and Kin + Carta in general. When you ask for help, help is given — no matter how hard the work is," said Will Hindenburg, director of solution delivery.
Yes, that includes deciphering IKEA instructions that are comprised entirely of drawings and arrows: When Hindenburg and his family relocated to the city, they hosted a furniture building party. In a striking display of teamwork and solidarity, his new coworkers showed up to gleefully lend a hand.  
When Kin + Carta opened its doors in New York years ago, it did so to grow the business. But, the opportunity to build an office from scratch — and the culture along with it — was something that drove many people to join the team. 
"Most of us were attracted to join because of the unique opportunity to grow an office and build a culture where we feel comfortable, included and challenged," said Gabby Manotoc, a UX design consultant. "That energy and drive is still very much alive today." 
So, how exactly does a global company with an office in one of the largest cities in the world stay nimble and close-knit?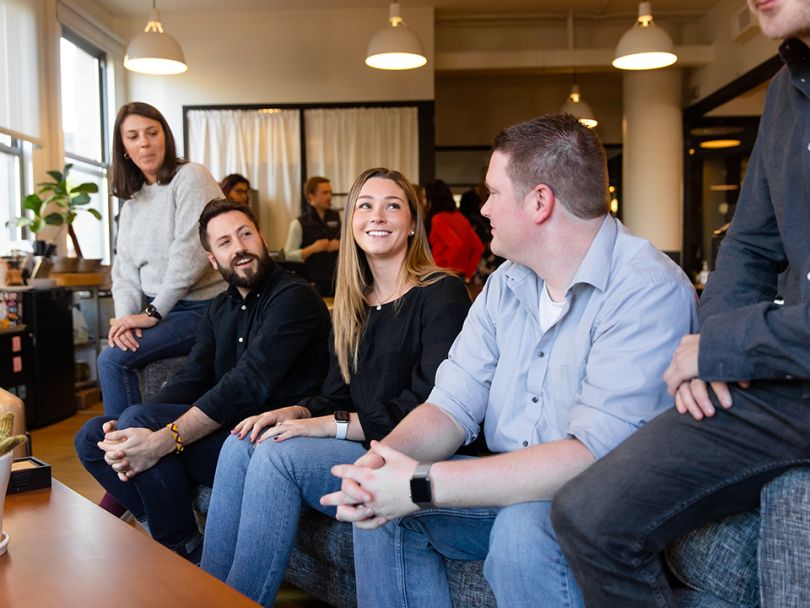 Meet the Players:
What she does: Aside from a more traditional design role, Manotoc helps her clients build their own design teams by providing them with tools, information and guidance. 
What she's up to: "I'm currently working on a mobile project for a health insurance company. I've really enjoyed tackling obstacles that people face within the healthcare system. It's a nice reminder of why I got into UX in the first place — because I wanted to help people."
What she does: Cifarelli spends her time finding leads and building relationships with new clients. 
What she's up to: "My role is to focus in specific industries, which means I am finding new digital trends specific to that space. Using this research, I create a targeted message and share a little bit about who Kin + Carta is and how we can be a part of a client's transformation."
What he does: Hindenburg is a problem-solver — he takes feedback provided from the customer experience team and works to build, iterate and test an improved product. 
What he's up to: "I am currently working on a project for a health insurance company in NYC. Our goal is to improve the CX for this company's members by delivering a world-class experience."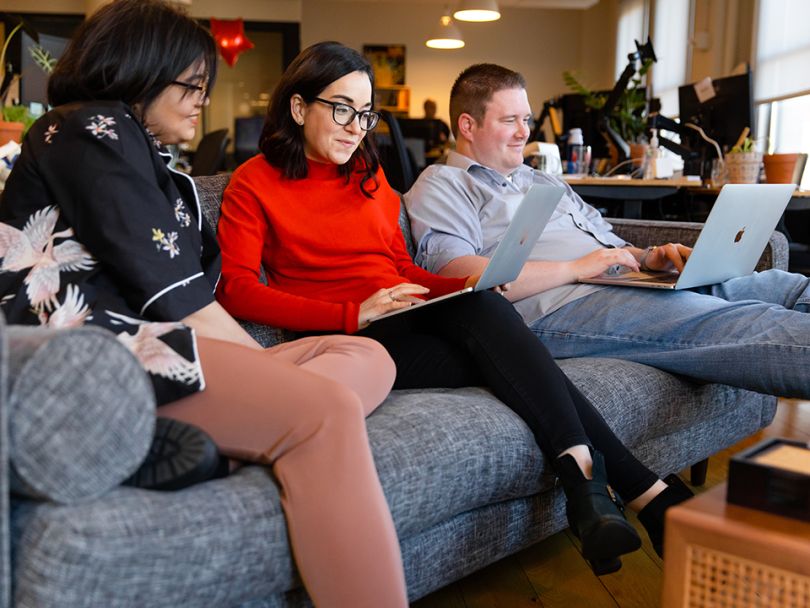 Gabby and Will, you've been at Kin + Carta for a few years. What's changed since you started?
Manotoc: When I was hired at Kin + Carta, I was the fifth person in the New York office. I saw it as a once-in-a-lifetime opportunity to take a stab at building an office, a culture, a UX team and my own career. There was a lot of trial and error of how we wanted to grow the office, how we were going to sell projects, and how to make sure we still had time to build relationships with one another. 
We're definitely more established today. We have almost 20 people in the office from a diverse set of backgrounds. We've been able to hire people that don't just fit into our culture but add a lot of new, diverse perspectives to it. When you get along with the people you work with, it's much easier to get work done. 
 
We've been able to hire people that don't just fit into our culture but add a lot of new, diverse perspectives to it."

Hindenburg: I started at Kin + Carta in Chicago back in 2012 and, at the time, Kin + Carta was a much smaller company. I knew everyone and we were just about to hit our second growth spurt. Since then, we've grown a lot and the scale has allowed me to meet new, talented people every day, which has been great! 
Kin + Carta NYC reminds me of Kin + Carta Chicago in 2012 — a talented, close-knit group with lots of potential. The talent is amazing at both offices, but the NYC team is getting ready to scale for growth. It's a culture of learning, building and serving others. 
Maggie, you're relatively new to Kin + Carta, having been there for about seven months. What's it been like so far?
Cifarelli: The NYC office is one big family that welcomed me with open arms. There have been many office lunches, happy hours and events that almost everyone participates in. One of our executives even hand-delivered me my laptop!
At first, I thought it was going to be hard to connect with my team in Chicago and Buenos Aires while also connecting with the NYC team, but it ended up being much easier than expected. I have built strong, personal relationships with each one of my team members and I talk to them every day. 
And Will, you relocated to Kin + Carta's New York office from Chicago. What's that transition been like?
Hindenburg: What really sold me on the relocation was the people and the projects. The people were warm, open and direct, which I really appreciated, and the office was overflowing with talent. There was a great opportunity to help grow the office and bring some of the engineering culture from Chicago.
When my family and I moved into our new apartment, we had three pieces of big furniture from IKEA to assemble. If you have ever put together IKEA furniture, you know how daunting of a task it is. So I put out an open invitation for an "IKEA Build House Warming Party" to everyone in the NYC office. The vast majority of the office showed up to help assemble furniture, meet my family and show support for our move. This may seem strange to some people, but this is representative of the New York office and Kin + Carta in general. When you ask for help, help is given — no matter how hard the work is.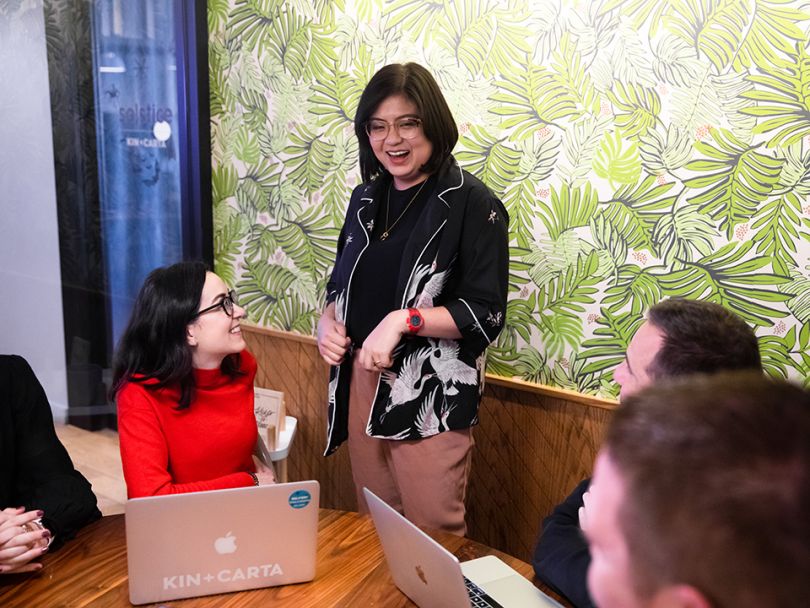 That is serious dedication to teamwork! Maggie, you mentioned earlier that you work closely with the Chicago and Buenos Aires offices. What's that like? 
Cifarelli: As the only business development coordinator in the New York office, I have a lot of interaction with the other offices. The global business development team comes together every morning. Each team member has the opportunity to speak briefly about what they did yesterday, what they have planned to accomplish today and to share if they have any blockers. This helps everyone stay connected and allows the team to provide support when necessary. Even though we are separate, everyone at Kin + Carta shares the same goal and positive culture. 
 
The NYC office is one big family that welcomed me with open arms."

How have you grown since you joined the Kin + Carta team? 
Hindenburg: Kin + Carta has provided me with a long string of great mentors who have helped me grow and have set me straight when I needed correction. One of the cool things about my job is that I am able to teach others, and I have lots of opportunities to help them learn and grow through empowering them in their current position. This means I get to see people who I have mentored become leaders and then move on to empower others. Eventually, you realize that those around you have surpassed you in every way. And at Kin + Carta, we want that!
Manotoc: Looking back, I've grown a lot faster than I could have imagined in the three years I've been at Kin + Carta. When I first joined, my goal was to become a better UX designer and to learn more about product development. In addition to that, I've learned how to become a better communicator, a better representative for the practice of UX, a better collaborator and a mentor — all things I didn't expect.
Aside from work, are there any extracurricular activities you enjoy with your team? Are there any office activities you're involved in?
Manotoc: I lead the philanthropy committee in NYC and coordinate our annual day of volunteering. This was something that originated in our Chicago office but is now celebrated globally at Kin + Carta. We have a program with the Educational Alliance to help students at a nearby middle school with homework, as well as an online tutoring program to help first-graders in Brooklyn learn to read. In the next few months, we'll have some animal rescue events, which is something that I'm personally very passionate about.
Cifarelli: I recently joined the social committee at Kin + Carta, which has been a great way to meet people outside of my team and to have a voice. I have also planned a few health and wellness events for the NYC Office as a part of the wellness committee. One was a boxing class a few blocks away from our office. It was fun and challenging — and we all felt it the next day!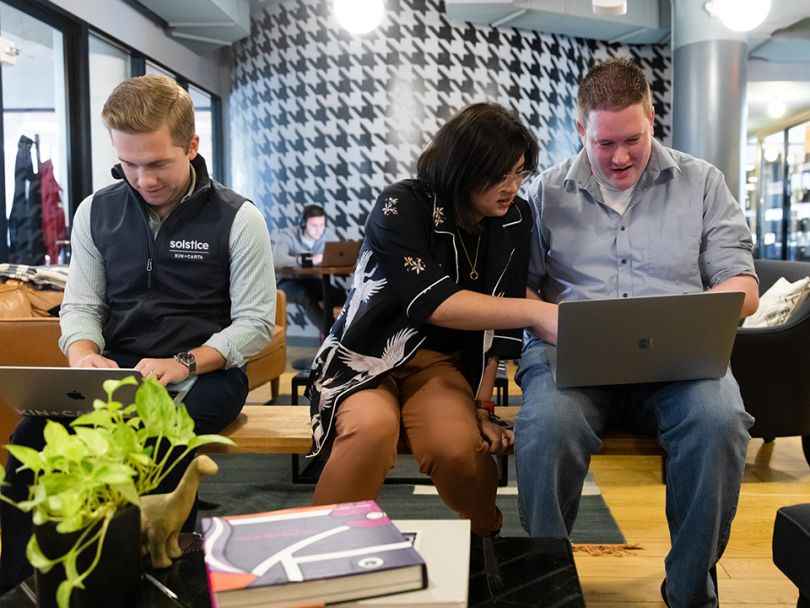 One more question: Kin + Carta itself is not a small company, but your office is. What's it like working at a small office that's part of a larger company? What makes it special? 
Manotoc: I love working in a smaller office because I've truly been able to build deep personal bonds with my coworkers. We're also fortunate enough to be in a position where we have the financial, operational and brand support of the larger company. We're able to ask for support where we need it and look to the learnings from our colleagues in different locations on how they built their offices to inform our decisions.
Cifarelli: We are a small team, so we have fewer cooks in the kitchen and it is easier to talk about and work through new ideas. Everyone has the ability to share ideas without it being overwhelming because we are such a small group. This leads to great team development because you are able to take the best aspects of each idea to ultimately come up with new, innovative ways that incorporate everyone.