Like most ambitious salespeople, Rachel Archer was looking to progress her career.
Over the course of three years, she had accepted three new positions — each one a step up in her professional journey. However, unlike the majority of her peers across the industry, she found upward mobility without leaving her company.
That's largely because Sisense, a business intelligence software company, pours a significant amount of resources into making sure it's a place people are able to develop professionally.
"It's really rare to find a company that is this committed to each and every individual's success. Sisense is one of those companies that will give you the flexibility to pivot in whichever direction you're looking to go," Archer said. 
When companies lack that focus on growth, professionals can turn to job-hopping as a way to see their careers progress. According to a study conducted by Robert Half, a large staffing agency, nearly three-quarters of millennials feel like job-hopping is a viable fix for common workplace woes, including stagnation. 
As it turns out, life on the sales team at Sisense is anything but stagnant. 
"My career has progressed more in the last two years than it did in the past six in my previous role," said Robert Lendensky, manager of U.S. sales at Sisense. "I think the opportunity for mobility in an organization like Sisense that, from the very top-down, is willing to invest in its people — that is where you want to be."
So, how does Sisense do it? While there are a lot of variables that go into creating any company culture, the sales team highlighted four key areas that have contributed to their individual and collective success. 
Meet the team:
"The product brought me to Sisense. The more I did my homework, the more innovative I found the platform and the technology that we're working with to be. It was pretty clear to me that it was truly one of a kind."
"What really drew me to the organization was the leadership team. I met several members of them and was really just enamored with what I saw."
"What attracted me to the business was that I used to work in data analytics in a similar role and I love the industry. I love the momentum that the analytics has right now, and in sales in general. I just love helping people to make decisions that are good for them."

4.) Provide robust training 
Upon arrival, every new salesperson at Sisense completes a four-week training bootcamp.
The first two weeks are mostly administrative: Everyone is set up with outreach and sales tools like LinkedIn Navigator and Salesforce, learns about the company and its founders, and gains a high-level overview of Sisense products.
In weeks three and four, sales reps gain a more comprehensive set of tools through lightning talks, role-playing exercises and in-depth question and answer sessions with seasoned experts within the company. 
After the month-long bootcamp, salespeople at Sisense say they're prepared to speak intelligently and confidently to their clients and ultimately excel in their position. 
Allen Mutia: Everybody has different ways of learning. When I got to Sisense, there were a lot of videos, sharing of product knowledge and slides and background PowerPoints, which are great. We also role-played and would go back and forth on the most common objections that we would hear. 
I believe that your ability to overcome objections is really going to determine how successful you're going to be in any sales role. Being able to address those concerns and answer them reflexively is very important. Coming into this organization, I wanted to learn as much as I could about the product to overcome those objections and propel me toward success. 
 
Sisense very much has a pulse on what salespeople need in order to be successful."

Rachel Archer: Sisense does a really good job of bringing in subject matter experts on for each training segment. They pinpoint who's the best in a particular area and let us pick their brain. For outreach training, for example, we might have someone really well-versed in one of the tools to give a presentation on best practices with a question and answer period at the end. 
Robert Lendensky: I think part of what makes our enablement and organization so strong is the fact that it's headlined by a former salesperson. Sisense very much has a pulse on what salespeople need in order to be successful and how to get them up and running and contributing quickly — I'm not sure if that would carry the same weight if it were somebody that was exclusively from the enablement space. Having somebody that's really done the job definitely helps.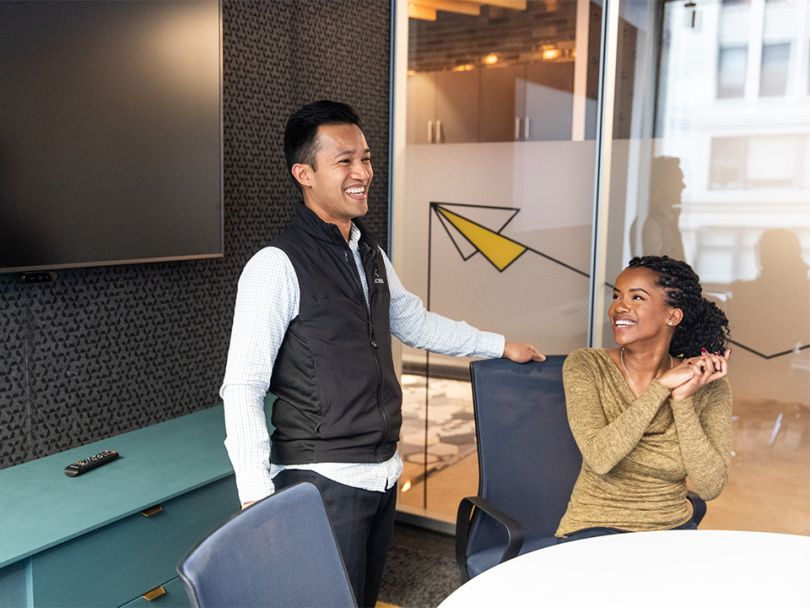 3.) Establish a clear path for career growth
Starting out as an entry-level business development rep can be tough. There's a lot of new product knowledge to acquire and, potentially, a lot of rejection to face. If a newbie can't sense that the work they're putting into the company will pay off in the future, they likely won't last long. At Sisense, rewarding hard work with career growth is a priority and being transparent on how to get to that next step is no secret. 
Sisense promotes frequent dialogue about career goals, and managers actively help their team members level up. In some workplaces, speaking openly about new roles opening up or upcoming promotions is rarely done — at Sisense, that's not the case. 
Archer: It's very well known that if you have an interest in either pivoting or moving your current position forward, that opportunity is always going to be there for you. Everyone's very vocal about what roles are open, what you need to do to get there and laying out that groundwork for you. When I was promoted, what I did was reach out to people in the position that I wanted to be in. Everyone knew and was on board — as long as I hit my numbers, I would be in a position to move into that next spot. 
Mutia: In terms of upward mobility and where you want to go as a career, you can explore those things at Sisense with a supportive environment of leaders and culture. I know exactly where I want to go and exactly what I want to do. Someday, I hope to be some type of business development manager. I love being an individual contributor, but I appreciate that this organization makes it very easy for employees to go the direction that we want to go in, as long as it makes sense on paper and we're doing the proper contributions.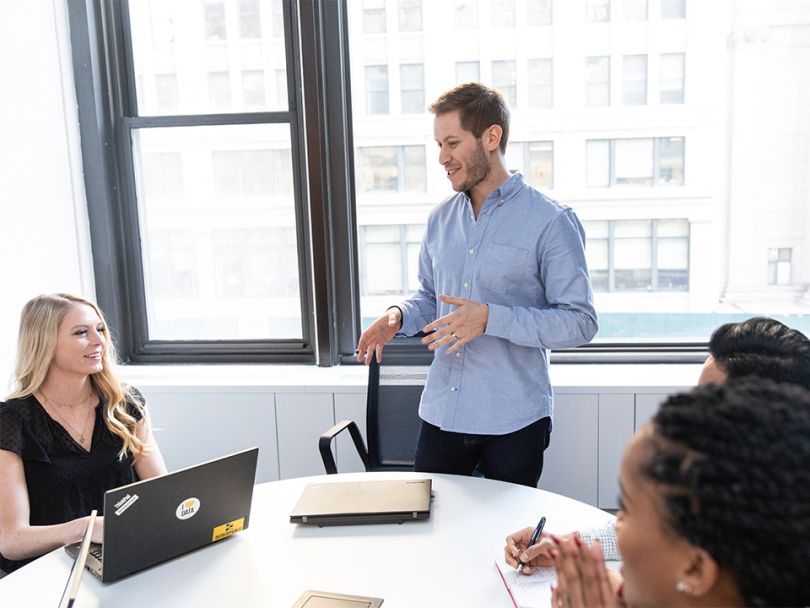 2.) Highlight individual and team impact 
To keep the team motivated and excited about their roles in the company, Sisense regularly recognizes its employees' accomplishments — not in a quick private message over Slack, but in exciting, company-wide forums. 
A quarterly sales meeting provides a means for Sisense to reflect on the successes of the previous months and lay out expectations for what's ahead. It's also a time where individuals and teams alike can be encouraged and praised for excellent performances.
These quarterly sales meetings, along with weekly "sizzles," ensure the team feels validated and excited about the work they put in. Taking this mentality a step further, Sisense kicks off every year with an internal sales conference that highlights how everyone's hard work has affected their coworkers, as well as their clients.
Mutia: I love the fact that Sisense pulls out all the stops when it comes to recognizing and appreciating their employees. The reality is people want to be appreciated, praised, included and loved more than they want to just make money. If you're in an environment that's conducive to that, then that's a recipe for great success and a longer tenure at a company. If you want to join an organization that will recognize you for your hard work and will appreciate the hustle, Sisense is the place to go.
A new sales model
Sisense has traditionally relied on inbound sales, an approach that has been highly successful. Building on that success, the company has poured resources into building a sales model that utilizes inbound and outbound sales, or as they put it, allbound. "When I think about this from a leadership perspective, I think it's a move that will really allow the team to continue to grow as salespeople," Lendensky said.
Lendensky: The customer presentations at the sales kickoff are always the most impactful presentations. We always discuss things like business impact and understanding a customer's needs but hearing it in a true, real-life example helps materialize it for everybody. These customer stories and testimonials really resonate with what we're talking about all day, every day with our prospects.
Archer: I always want to make sure that, genuinely, what I am doing is actually making a difference and I'm not selling something that straight up doesn't work. Seeing the difference that Sisense makes in their business and what it does for the clients personally is really important. We have people talking about how they've gotten raises, promotions and how they've changed their lives personally by implementing a tool like Sisense.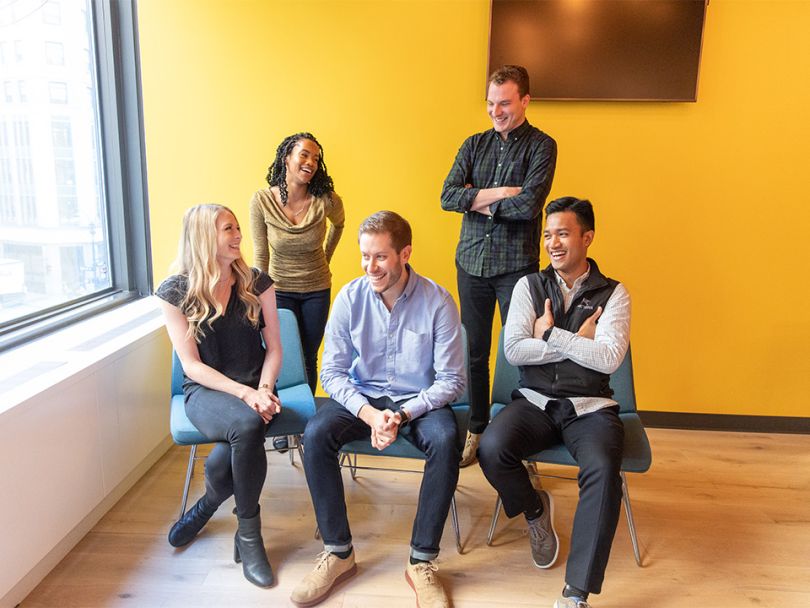 1.) Foster a collaborative environment
"Workplace collaboration": it's a term that gets thrown around a lot, but for the sales team at Sisense, it's an important element of their success. On the surface, sales is a profession that seems to favor those who are able to work independently to hit their targets. But by sharing information and encouragement, Sisense reps can help their teammates improve and gain valuable insight from those who have more experience. 
Archer: At Sisense, somebody was always there to support and help me understand how things work and how we all work towards the same common goals. The kickoff especially is a really good opportunity to bring the whole entire sales organization into one place, get acquainted with people that you wouldn't normally meet from other offices and give us an environment to share tips and tricks and network with colleagues who might be doing things a little bit differently than we are.
 
Sisense is really enabling us to go the direction that we want to go in."

Mutia: My manager Eden certainly equipped and enabled me with all the materials, and then some, that I needed when I first started. There was never a lack of resources or a lack of information. I feel like I've been getting tremendous support. My manager is listening a whole lot to what is it that I want, and Sisense is really enabling us to go the direction that we want to go in.
Lendensky: My first boss at Sisense, now the regional vice president of our European market, was really a leader and mentor to me in the beginning stages of my career here. He was basically like a father figure to me and one of my business mentors. Additionally, some of my closest friends at this company are people in our Arizona office — people that I would love to work with for the rest of my career.