At Brooklyn-based healthtech startup Zipari, the workweek tends to end on a high note — literally.   
"We always have a personalized song that has to do with the theme of the roundout," said Sasha Khan, director of product marketing. "It makes Zipari a fun environment."
"Roundouts," or townhall-style meetings, close out each Friday at Zipari. But don't conflate good-hearted revelry with a lack of importance: team members at Zipari say the weekly meeting is an indispensable forum for knowledge-sharing, creative exchange and quality facetime. The concept has been ingrained in the company's DNA since its founding in 2014, albeit in a different iteration.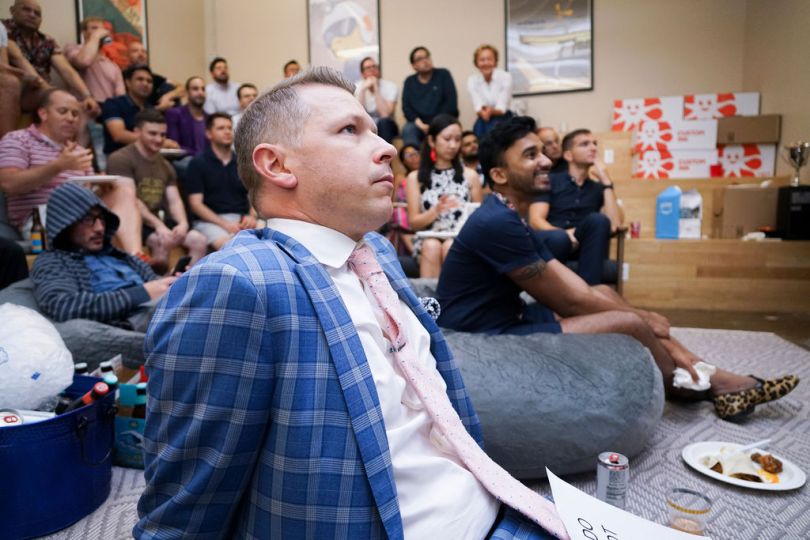 What began as Founder and CEO Mark Nathan's more casual and less produced meetings gradually came to life as structured team gatherings, where employees unwind — or test their foosball chops — over beer, wine and food before receiving company developments, sharing product demos and recognizing teammates. 
"I've worked at other companies where they've tried to do something similar," Khan said. "At Zipari, it's been the most successful because there's a lot of production that does go into it, and there's a lot of thought behind it."
And the appreciation isn't just unique to Khan — for her, Front End Technical Manager Eric Rho and Client Delivery Analyst Yetunde Duro-Emanuel, the roundouts are much more than just an appetizer to the weekend. From busting down silos to building up culture in real time, here are the roundout-reaped benefits that illustrate the company's values while propping up its employees.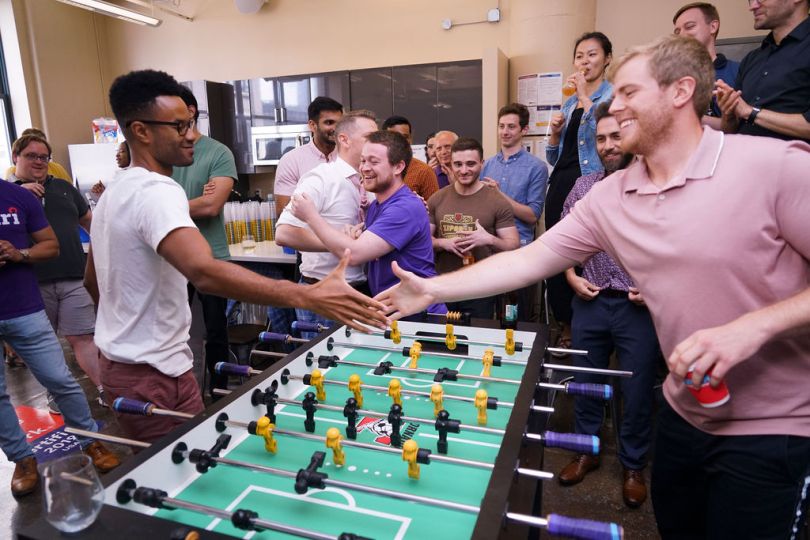 They break the ice — in a good way
No matter how streamlined an organization's cross-functional communications are, it's near-impossible for employees to be abreast of everything that's going on from nine to five.
As a dedicated time for getting employees company-wide in one space, roundouts prevent the silos and structures that might typically buffer teams. Not only does that let an engineer learn from a marketer, and vice versa, but it encourages team-building by introducing colleagues to one another.
For Khan, that was paramount when first joining Zipari. 
"It was a really good experience for me starting out," Khan said. "I sat next to someone that I didn't know, who was in a different department and had a conversation with them to get to know them on a more personal level. I started developing some of those relationships with some of my teammates." 
A-to-Zipari
Since launching in 2014, Zipari — which endeavors to bolster the relationship between insurance carriers and consumers through their health insurance specific customer experience platform — has experienced explosive growth. The Dumbo-headquartered startup kicked off 2020 on a strong note, announcing a $22.5 million Series B funding.
They validate employees' contributions 
Roundouts commence with shoutouts spotlighting employees — as nominated by their peers — whose work embodies one of the company's core values. That not only sets a positive tone at the moment, but team members at Zipari say it helps cultivate goodwill in the long term, as employees know that their efforts and contributions are not only noticed but championed. 
What's more, spotlighted employees receive a special pin depicting the value — "focus on people" or "always deliver on time," for example — with which their contributions align.
 
It's a good way to get pulled out of your little world."

"You carry that with you," said Khan, a pin collector herself. "There's a symbol for it, so it really adds value to some of that pride, and I really love that part."
Rho, similarly, appreciates the intent behind shoutouts. 
"This is the only company I've ever worked at that did that — it's nice to know that you're appreciated," Rho said. "When it's company-wide, where the CEO is talking about particular employees or certain teams, it does make a surprising amount of difference."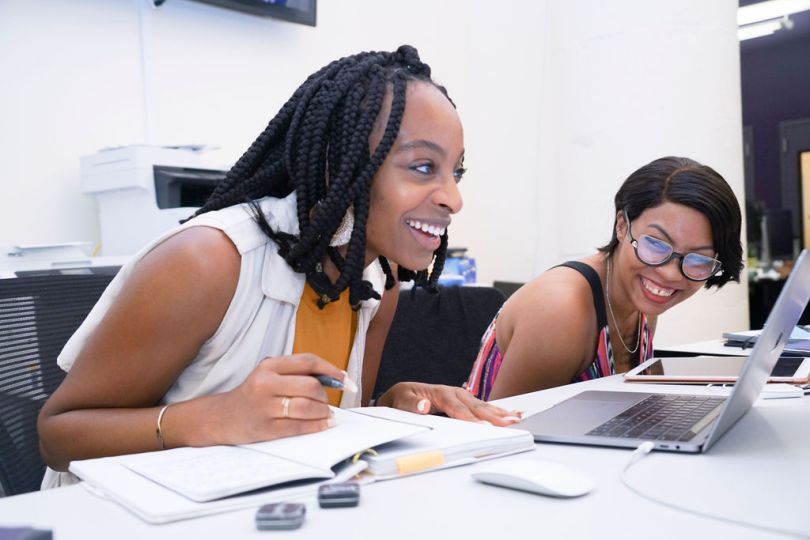 They foster transparency and empower employees
Updates from leadership aren't the only form of knowledge-sharing that goes down at roundouts. Product demos are frequently incorporated into the programming. 
For Duro-Emanuel — who, in her words, sits at "the intersection of product and account management" — it's a feature that provides a broad, institutional view of current developments. 
"It's really great for getting deeper insights into what others are working on," she said. "Being able to bridge the gap between products that you're currently working on and really seeing where the synchronicities are is pretty exciting." 
 
It's really great for getting deeper insight into what others are working on."

As a product marketer, Khan also feels that the demos pay noticeable dividends.
"For me, my main job is to make sure that our products are accurately described within the market," she said. "These demos do a fantastic job of simply making my job easier and putting the information on a platter for me."
As a result, whether it's a product demo or C-suite update, the roundouts outline a clear picture of the goings-on of the company.
"It's a good way to put things into perspective," Rho said. "It's a good way to get pulled out of your little world, your little screen while you're programming and know, why am I building this? What is this feature? How does this help members of a health plan stay healthier, and basically make website navigation easier?"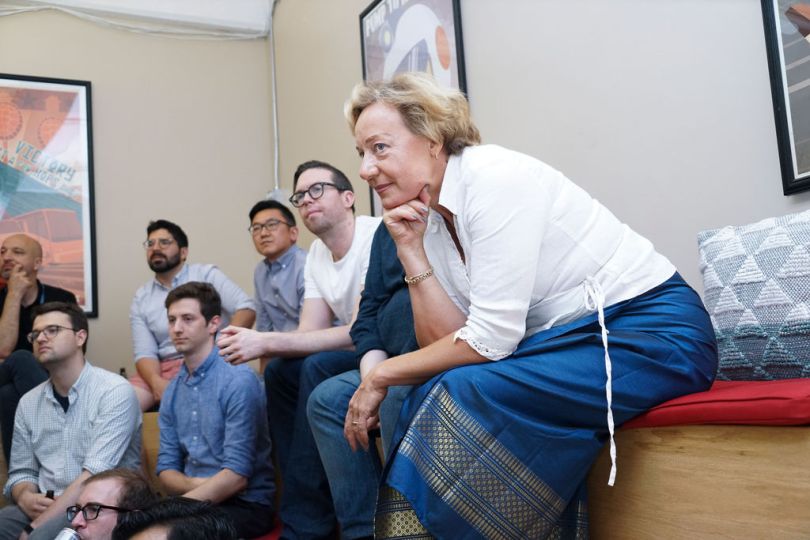 They cultivate culture in the face of growth
It's the evergreen challenge all up-and-coming startups face: as a company expands, culture can contract. 
As employee No. 35, by his account, Rho has witnessed that negotiation.
"The larger the organization gets, the more you have to get organized and put a lot more processes in place," Rho said. "Mark, our CEO, emphasizes the culture that we have, that we cultivate here, is pretty much up to us."
 
"With roundouts, we'll often stay later into the evening on a Friday, just enjoying each other's company."

As a result, roundouts go a long way in preserving a rich internal culture.
"It promotes the idea that this doesn't just have to be a job," Rho said. "You don't want to have to just come in, do your work, go into your meetings, and then leave, not really talk to anyone except for your basic pleasantries."
Duro-Emanuel expresses a like-minded attitude. 
"With roundouts, we'll often stay later into the evening on a Friday, just enjoying each other's company," she said. "I do appreciate that it's something that's built into the fabric of the company."
And, as Khan notes, the positive vibes evoked on Fridays pay dividends for the following week. 
"We talk about the serious stuff: clients, delivery, demos and projects," Khan said. "But then we also talk about each other, and that creates such a wonderful environment."