HR software is kind of like Battlestar Galactica. Well, kind of. 
Yujin Kim, vice president of engineering at Justworks, explains. 
"When they remade the '70s version of Battlestar, it was a reimagining but they made it so much better," Kim said. "And that's what we're doing — we're reimagining something that already exists and offering a great product." 
While it's not a hit TV show, Justworks' software is just as exciting to companies struggling to navigate the complex world of payroll, benefits and compliance. Justworks alleviates the administrative burden on businesses, so they can focus on making a difference in their space. 
Helping to scale up the tech organization is Kim, who is no stranger to spinning up impressive teams in New York. His priorities are set not only on enhancing Justworks' products — but its culture, too. 
"Before I started, I got to meet with different people from Justworks," Kim said. "Everyone talked about how great the mission is, how kind people are and how much the culture resonates across the company." 
Keeping a people-first mentality is a good school of thought for building HR software, but as Kim notes, it's also a good way to build out and retain a talented engineering wing.
"We want to grow, but we want to grow in a way that can be sustainable," Kim said. "We are not trying to make a big splash. We just want to focus on building a product that we all feel great about, our customers feel great about and our employees feel great about."
Maintaining a careful balance between what his engineers need and what the tech requires is something all leaders have to manage. Kim's philosophy is that, in order to succeed, the two often go hand in hand. Built In NYC spoke to Kim earlier this spring to learn more about the lessons he's learned throughout his career, best practices in scaling organizations and why the best way to lead is sometimes as easy as just listening to your team. 
When hiring, find people who are connected to the work
Yujin Kim: How we bring more people onto a team has to be thoughtfully done. It's really important that people connect to the mission of the company. To me, the more people can connect with building on that mission and what we're trying to do, the more motivation, grit and excitement they have in their day. We need people who really understand the products and the users, and are able to imagine how to build solutions with them in mind.
Think of hiring as a sales cycle
Kim: The way I think about hiring is sort of like going through a sales cycle: You have to have some level of branding and marketing going on and you need to turn recruitment into a sales funnel. We craft the message, try to get a better signal of what worked and what didn't work as we make a pipeline of who's going to close, and who's not going to be able to go through the journey.  We aim for simplicity, and this is a very systematic way of thinking about the recruiting and hiring process, as well as onboarding. 
Share ideas with your team before you make decisions
Kim: I've started showing my team my calendar in pie charts of what my schedule looks like. One-third of my time is spent with the senior leadership team to think about strategies. Another third is with our sales team, getting to know what's happening in the field. And the last third is getting to talk to the engineers. 
The reason I divide my time like that is that if I make quick decisions without spending enough time with the team, I would probably make the wrong decision. I stayed disciplined about not making big changes right away. I'm really about deploying ideas to those around you first because I think if you spend more time upfront on socializing the ideas, execution becomes much easier. If you think through everything by yourself and then try to execute your ideas, I think you end up running into some challenges.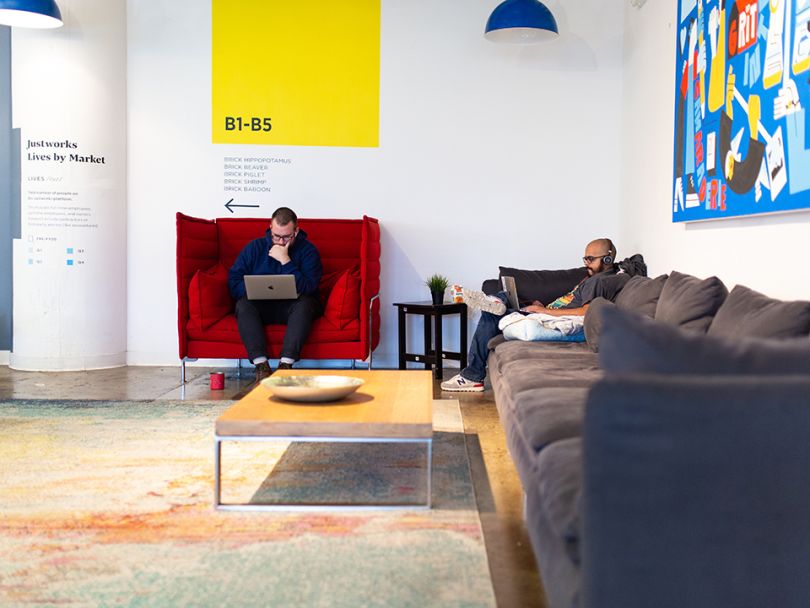 Let your team be heard
Kim: People are happy when they are being heard. You might not be able to solve every single problem — it's impossible to do that — but you need to make sure that your team is being heard and you're giving them a response. People look for accountability and transparency. If you are a good engineering leader, you'll find there's vibrant energy when people are generally happy. And the way to get that is to ask them how they're doing. 
Keep your team connected 
Kim: What sets Justworks apart to me is the collaboration, camaraderie and openness we have with the engineering managers and across all the Agile teams — it's phenomenal. Every Tuesday, we have a meeting where we share engineering-specific things. We have Friday demos where the product team can share the things they are building. The creative spirit that comes from the empowerment of the engineers creates a lot of energy. 
IN 'COGIS' WE TRUST
Wonder how Kim and his team band together to accomplish their goals? Just look to Justworks' five core values: camaraderie, openness, grit, integrity and simplicity, or "COGIS" for short.
Prioritize your tech team's culture
Kim: Different companies have different ways of approaching problems. We are trying to stay disciplined by having a smaller technical stack that we know very well. For engineers looking for a company where you can do six different programming languages — we are not that.
I used to care more about the tech stack than anything else. I would think, "I want to do X, Y and Z, so I'm going to look for a job like that." But if the team camaraderie and your management team don't keep you wanting to grow, you might be tackling the right tech but you might not be in a great environment. 
Seek out mentors — no matter how far along you are in your career
Kim: I think everybody needs a mentor. Even the best baseball player has to have a coach. People have to seek mentorship out, it doesn't come to you. I know there are some formal systems out there, but mentorship is something I'd rather keep more informal. I think that creates a more genuine and thoughtful relationship rather than relying on a structure.
If you find someone that you feel you can learn from and you have the courage to reach out, I think you might be surprised how much people are willing to help. I've done it quite a bit. I make sure to really drive the conversation so they see that I'm really being intentional and conscious of their time. 
It's not the work you do, it's how you do it
Kim: Generally, all human beings should be respected and cared for and supported. It's not about getting the work done — it's about how you get the work done. Sometimes, there's a collision between what we should do from a business perspective and what we should do from a people perspective. In the software engineering industry, we're privileged in that with a little bit of effort, we can actually satisfy both needs and maintain integrity during the entire process.