Distanced desks, wayfinding signs and hand sanitizer aplenty — the broad contours of the future of the workplace design might be apparent but forecasting the future is a tall task for those responsible.
"Right now, I think trying to have the best design for a COVID-19 situation is difficult. No one has the right answer — it's all speculation," Christina Cooper, head of workspace strategy design at Knotel, said.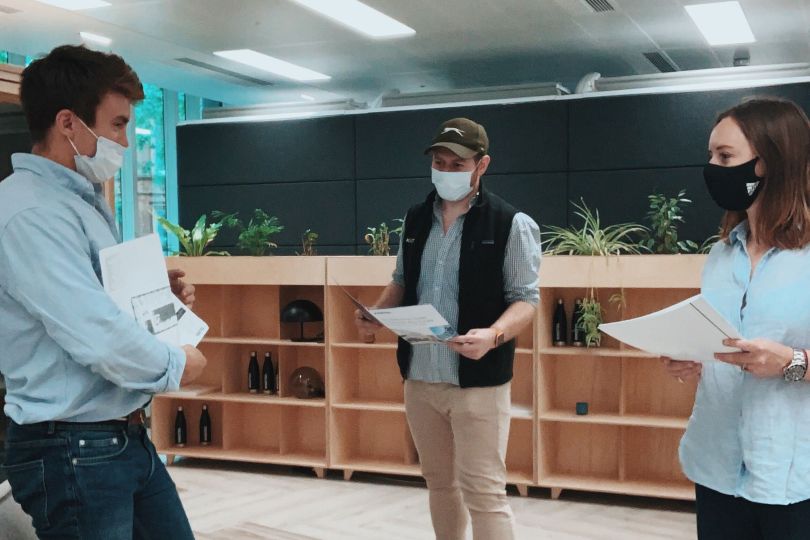 As companies navigate how they might use brick-and-mortar settings, Cooper and her colleagues at the flex workspace company — which provides tailored workspaces under shorter terms — are focused on how they might do so in a safe and compliant way. 
Creating a comfortable environment means being acutely aware of a company's respective requirements and circumstances, said VP of Product David Jones, something Knotel is familiar with.
 
What COVID-19 did was position people to think a little bit differently about their workplace, in terms of what employees need or want."

"COVID-19 changes the way we do our business, but what has always been our core competency of building for change is on display during these times," Jones said.  
According to Alexis Nunez, associate director of workspace management and technology, product and service responses to the current climate include bolstering tech for virtual tours and ticketing systems for tenant requests, while on-the-ground offers include measures like rotational cleaning services, infrastructure and security checks.
"How can we ease the burden for our customers, so they can get everything in one place, virtually, in a bunch of different categories?" she said. "We're trying to answer that question through our product right now." 
Cooper, Nunez and Jones discussed what the future might hold for the category and why product flexibility is critical amidst the pandemic-induced industry change.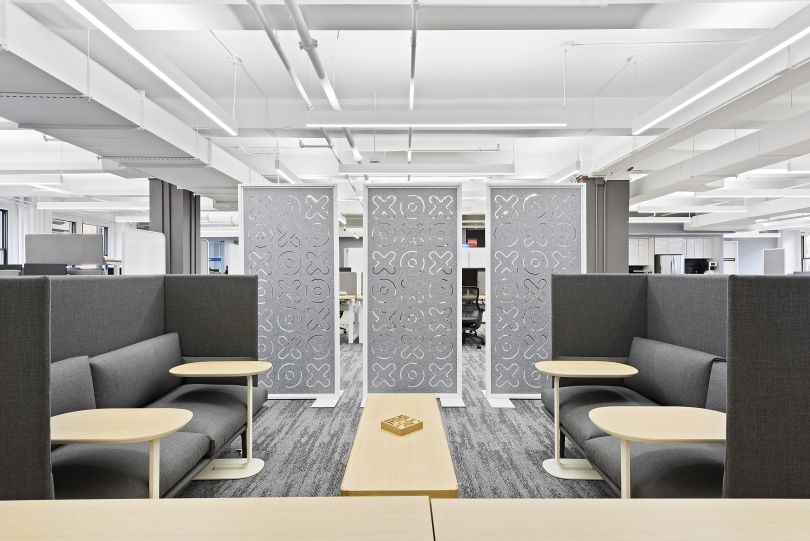 What are some of the implications of COVID-19 on the workspace category?
Nunez: I think a lot of customers, for the longest time, were looking for maximum densification in their office spaces. With the impact of COVID-19, customers are thinking about their team's safety around their space. 
Whether it's making sure that desks are sanitized, common areas are cleaned, that there are hand-sanitizing and wellness stations available, establishing a new workplace etiquette and protocols by utilization of way-finding assets, customers are thinking of how they want to interact with their environment — rather than just occupying the space for meetings and getting day-to-day work done.
Jones: COVID-19 has introduced uncertainty. How does uncertainty affect an industry predicated on permanence? By introducing uncertainty, I think that's probably going to speed up the transition to flexibility in workspace solutions.  
How might a flexible workspace present itself as a viable option to the traditional office?
Jones: A permanent HQ that was designed for a very specific set of things is very different from working with a flex provider who's course-correcting for the way the world looks now. That permanent HQ might be designed for density, it might have been designed for open office — but it wasn't designed for a pandemic. It wasn't designed to be responsive.
Cooper: A flexible workspace gives people experimental grounds not to have to take on a lease commitment but really understand why people are going to the office. Right now, health and safety are important, but there are certain things people aren't getting at home and are more willing to come in for. If they're just coming into the office to work at a desk, and they have that at home, that's not going to drive them to come in.
 
COVID-19 changes the way we do our business, but I think our core competency of building for change is on display here."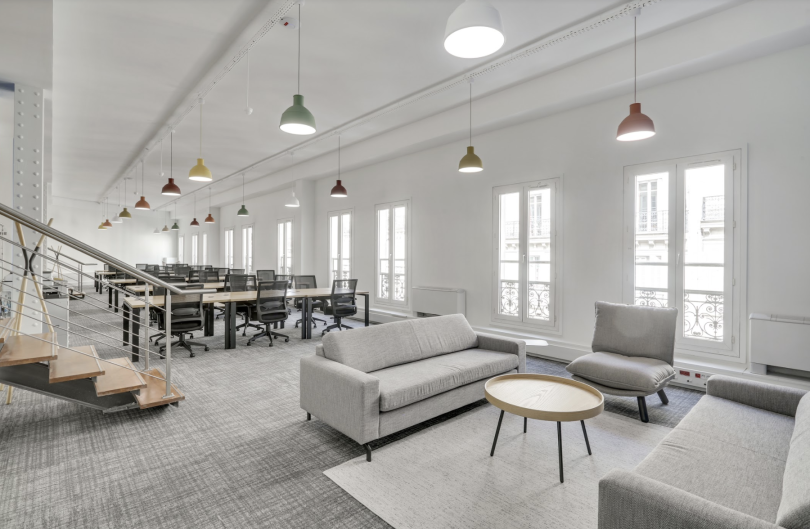 What concerns are currently front of mind for customers?
Nunez: The pain point for these organizations is understanding how to rephase occupancy back into their workspace. Based on CDC and WHO guidelines, they're looking to ensure that the health and safety of their employees are top of mind, but ultimately aiming for their employees to come back to the workspace in a time of uncertainty.
It's also understanding how the properties are upping their policies and protocols for re-entry. Are there elevator social distancing guidelines or occupancy protocols?  Are there entry/exit guidelines managed by the building to control density and flow, and what does that mean for our customers employees? Is there proper PPE (personal protective equipment) being worn at all times? What are the Knotel standards of how we enter a property and customer space? A lot of their pain points comes from understanding what the new dynamic would be upon entering a property when they access their primary workplace.
What might some of those designs look like?
Cooper: We've spent more time talking to people about human behavior in space, and how we can work with companies to change that instead of focusing a ton on the perfect design solution. Right now, I think trying to have the best design for a COVID-19 situation is difficult. No one has the right answer — it's all speculation. 
We've done a ton of wayfinding signage. We're trying to avoid giving people a lot of changes, and then just having to do it again when, two weeks from now, there's something new about the way a workspace should be designed. Even though signs on a wall telling where cleaning supplies are or which way to walk may sound simple, it's one of the best ways of handling change management so that, when people are coming back to the workplace, there's over-communication about how to use the space. We've spent a lot more time understanding our users and designing change management programs and communication systems.
Tackling Growth
"One of the key contributors to our success was ensuring all of our employees were empowered by our mission to help build better, more flexible workspaces in the age of disrupting antiquated industries," CEO Amol Sarva told Built In NYC earlier this year.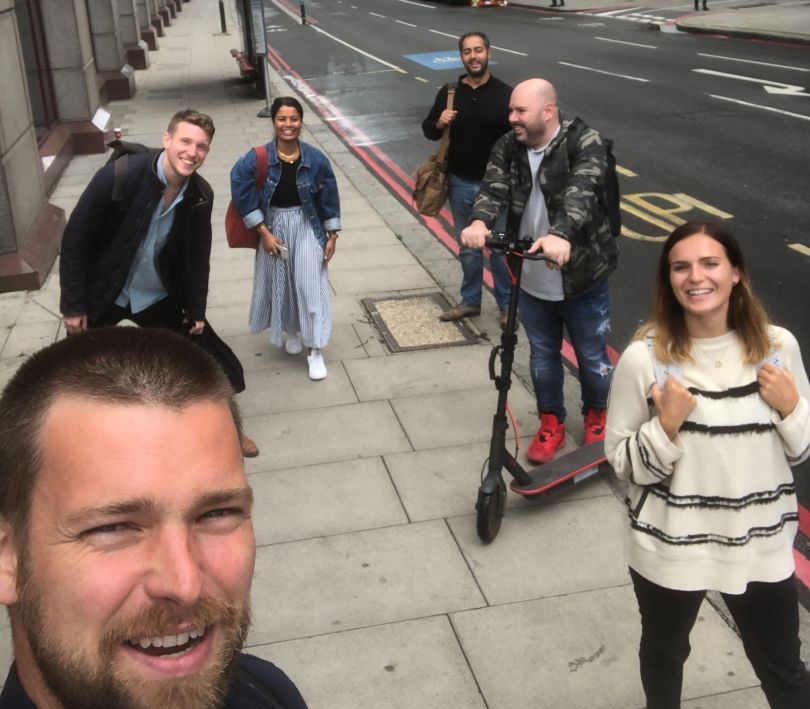 How might a flexible workplace complement a workforce that's now mostly remote?
Cooper: Even if people are going to be remote, there's still a brand component that they need to showcase — whether that's to their customers or their employees. There are cultural things that companies want to provide, which are really the things that keep employees engaged. How do you communicate your brand to your employees, and externally to candidates in the job market? 
Jones: If you look at a current floor plate [the area available for rent], there are different zones: for heads-down solo work, for collaborative and for social interaction. In each of these zones, there are settings that people work best in.
In the current environment, your heads-down settings now might be in your home, but your social and collaborative spaces — where will those live for companies? Flex workplaces provide the opportunity for those spaces to be activated within your city or near your home.  We want to tailor your spaces to how you work — whether that's centralized, decentralized or distributed. A combination of work from home and coming into work. It starts with a deep understanding of how a company wants to work.